1 Warriors Way, San Francisco, CA 94158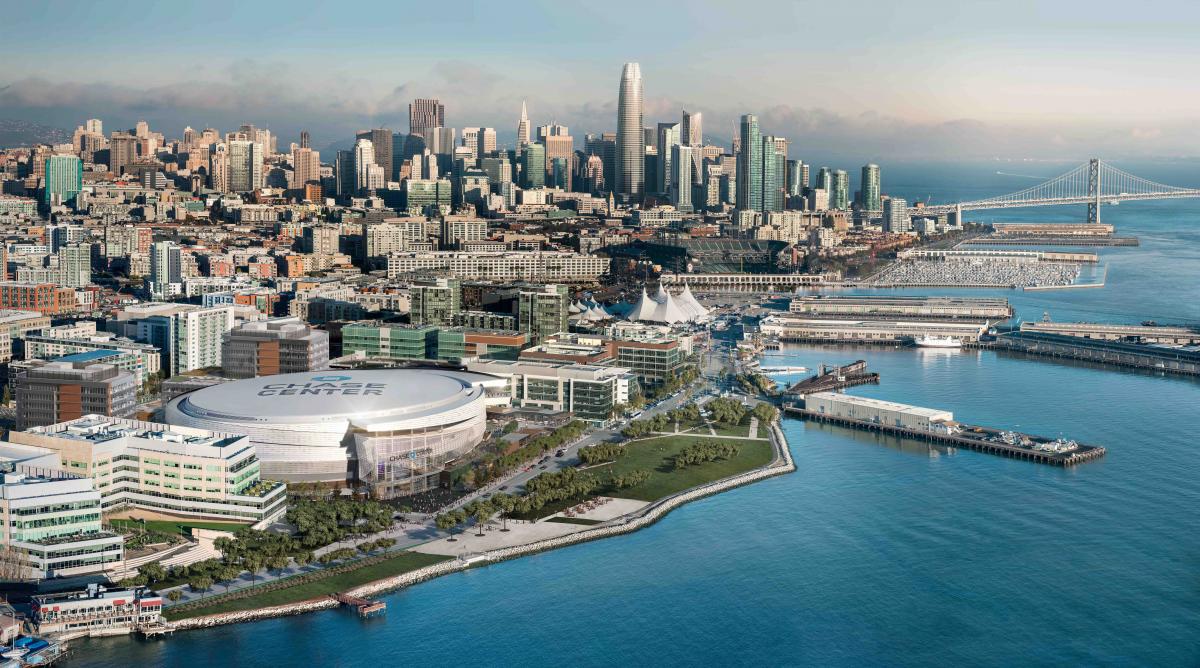 Located at the corner of 3rd and 16th streets in Mission Bay, the 18,064-seat Chase Center is the home of the Golden State Warriors, concerts and conferences. The SFMTA is working in partnership with the Golden State Warriors to ensure that Chase Center patrons can get to and from events with the minimal possible impact on residents, merchants and employers in Mission Bay and the surrounding neighborhoods.
On This Page
Transit Information
Muni is the fastest, most convenient way to get to Chase Center events and can get you anywhere in San Francisco as well as provide an easy connection to regional transit service. Your event ticket is your Muni fare, so you'll be able to ride Muni all day (excludes cable car).
Muni Event Day Service
The T Third Street line provides rail service between the Market Street Subway and Visitacion Valley.

Use the UCSF/Chase Center train platform on 3rd Street, directly west of Chase Center.

The 78X will run express service between Chase Center and 16th St. Mission BART starting 2.5 hours before an event until 1 hour after the event.
Muni Owl Service  
Muni Owl service is the late-night and early-morning bus network that serves San Francisco. It is part of regional All-Nighter service with additional coverage of the East Bay and Peninsula from approximately 10 p.m. to 5 a.m.
Route 91 3rd Street/19th Avenue Owl stops at 3rd St & Warriors Way approximately every 30 minutes.
Show your event ticket at Muni turnstiles and boarding platforms to ride Muni without charge. Both electronic and physical tickets for events – including Warriors games, concerts and other events – will serve as proof of payment for Muni service throughout the day. Keep your tickets handy to show to station agents or Transit Fare Inspectors. For more information, please visit Chase Center fare page.
BART to Muni
From Embarcadero Station, transfer to the T Third Street line to the UCSF/Chase Center (16th Street) platform.
From 16th St. Mission Station, transfer to the 78X for express service to Chase Center.
After events, please keep BART schedules in mind. BART will not hold trains.
Caltrain to Muni or Walk
Take Caltrain to San Francisco Station and transfer to the T Third Street line to the UCSF/Chase Center (16th Street) platform.

Board the T Third at the platfrom on 4th St between King and Berry.

 San Francisco Station is about a 15- to 20-minute walk to Chase Center.
After games, please keep Caltrain schedules in mind. Caltrain will not hold trains.

On weeknights, the last trains depart San Francisco Station at 10:09 p.m., 11:09 p.m., and 12:03 a.m.
On Saturdays, the last trains depart at 10 p.m., 11 p.m., and 12:04 a.m.
On Sundays, the last train departs at 10 p.m.
Taxi Stands
There is one taxi stand located on southbound Terry Francois Boulevard.

Ramp Taxis should use the loading zone on eastbound Warriors Way at Bridgeview Way.
Bike Parking
The SFMTA bike network includes several routes to and from Mission Bay. PDF Map.
Free monitored self-park bike parking is located along 16th Street on the south side of Chase Center.

Bay Wheels Bike Share stations are available around Chase Center.

Overflow bike racks will be made available at the Bike Valet.

Bike racks will also be available on public sidewalks around the Chase Center and is a convenient option to also park your scooters.
Event Day Street Closures
To accommodate events that will take place at the arena, the following street closures will be enforced:
Two hours before until one hour after each event
16th St, between 3rd St and Terry Francois Blvd

Warriors Way, between 3rd St and Terry Francois Blvd

Northbound Illinois St, between Mariposa and 16th St, will be local access only
Additional street closure 30 minutes before until 45 minutes after each event
Northbound 3rd St, between 16th St and Warriors Way
Special Event Parking Rates
During games and other major events with more than 10,000 expected attendees at Chase Center, parking meters close to the arena will charge a special event rate of $8 per hour. These rates help make more parking spots available in South Beach and Mission Bay and help reduce congestion by discouraging circling for free or cheap parking near the ballpark. For more information and a map of the special event rate area, please visit the Oracle Park and Chase Center Special Event Parking Meter Pricing page.
Garage Parking
On-site parking at Chase Center is extremely limited. We strongly encourage Chase Center guests to use public transportation.