How do Geary Boulevard Improvement Project proposals work?
Ever wonder how project proposals work, or how we know they're working? Read on below to learn about the results from the first phase of improvements on the eastern Geary corridor, and how several changes can work together to provide a faster ride and a safer street as we look to extend these benefits into the Richmond District.
How does the Geary Boulevard Improvement Project improve transit and safety?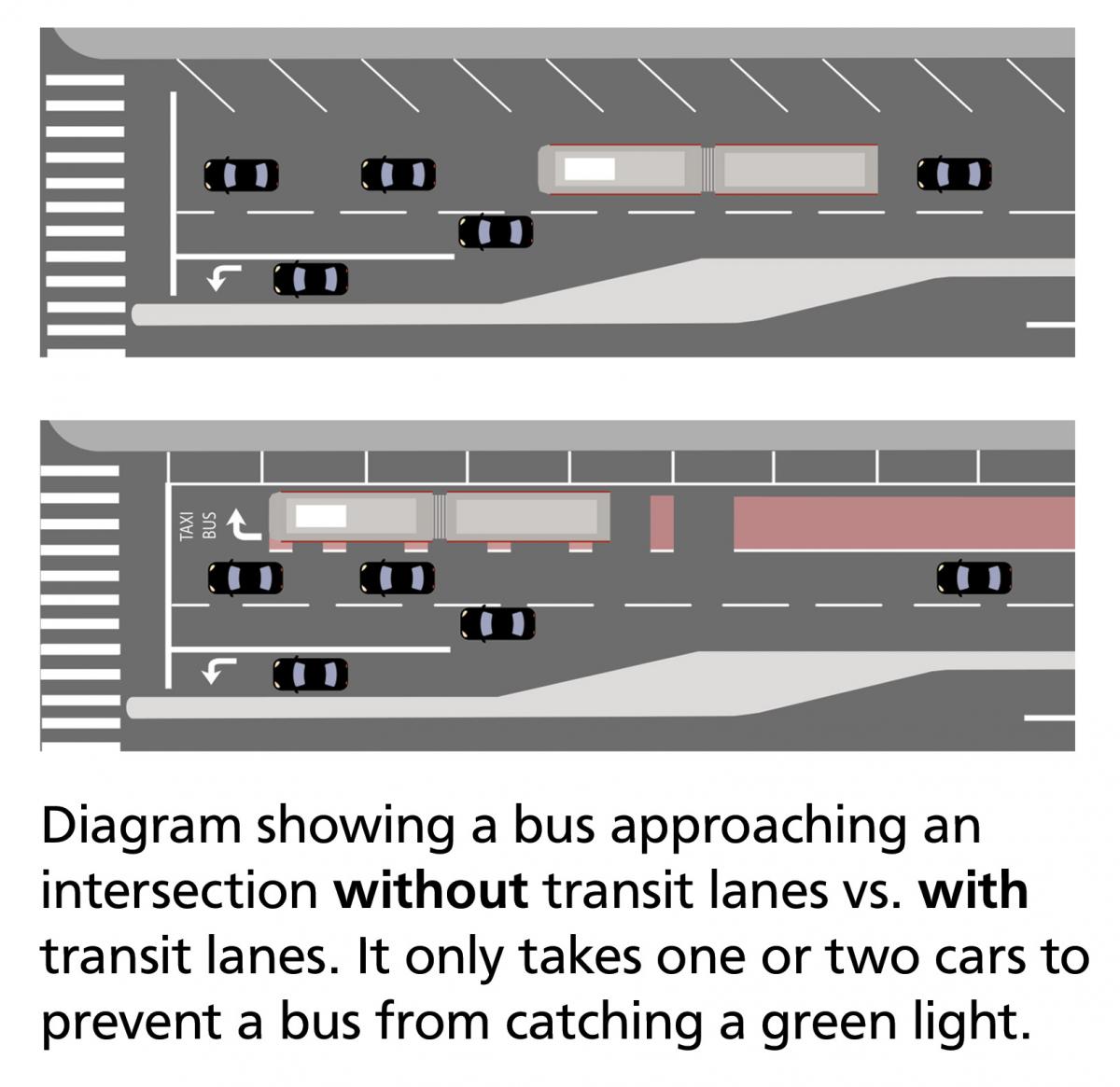 Transit lanes: Dedicated transit lanes protect buses from getting delayed by traffic. They also help buses get to the front of an intersection, which means they can take advantage of transit signal priority and spend less time stuck at red lights—even when traffic is lighter.
Bus stop relocations: Moving stops from the near-side to the far-side of the intersection (past the traffic signal) helps buses take advantage of transit signal priority, which makes them more likely to catch a green light.
Safety improvements: On average, one person walking within the project area is injured in a traffic collision each month. To address this, the project includes pedestrian bulb-outs and median refuges, which make crosswalks shorter and better protected from traffic. Other proposals include removing some unprotected left turns, retiming signals to give people walking a head start to cross the street, and daylighting (red curb at intersection corners) to improve visibility.  
Next steps
The Geary Boulevard Improvement Project is planned to go before the San Francisco County Transportation Authority (SFCTA) and SFMTA boards for approval in early 2023. Information about how to join the meetings will be shared on the project website and in future emails once dates have been confirmed.
Have questions? Contact us at ImproveGeary@SFMTA.com or 415.646.2300.
 
---

Geary Rapid Project evaluation results are in
The Geary Rapid Project, the first phase of improvements on the eastern end of the Geary corridor, was completed last fall. Now that transit and safety improvements are in the ground, we've dug into the data to evaluate how they're working. 
Metrics we looked at include bus travel time, reliability, traffic safety and impacts to people driving. Here are some of the highlights:
Up to 18% decrease in 38R Geary Rapid bus travel time.
Up to 37% improvement in 38R travel time reliability, which means less time spent waiting at a bus stop.
Coloring bus lanes red led to a 50% reduction in violations by private vehicles as compared to 2019 non-colored transit lanes.
The collision rate of 38/38R buses decreased by two-thirds and is now about half that of the citywide Muni bus collision rate.
The number of vehicles going over 40 mph (>5mph over speed limit) has reduced by up to 81%. This is welcome news, as the risk of pedestrian fatality increases dramatically at collision speeds above 30mph.
You can read more about the evaluation results in our blog. To review the complete data, check out the detailed evaluation report on the project website.