Twin Peaks Tunnel Improvements
Project Overview
In an effort to keep the Muni system in a state of good repair, an extensive rehabilitation of the Twin Peaks Tunnel is planned. Improvements include a full track and infrastructure replacement, upgrades to the fire suppression system at West Portal station, replacement of the tunnel's drainage system, and seismic upgrades to the tunnel's original east entrance (Eureka Valley station). Construction is expected to start in summer 2017.
Upcoming meetings
No upcoming meetings have been posted
Latest updates
Thursday, March 16, 2017, 1:08 pm

Thursday, July 14, 2016, 2:56 pm

Thursday, April 28, 2016, 9:46 am
Project Details
At 100 years old, Twin Peaks Tunnel needs extensive work to its interior to continue to operate safety and reliably for years to come. The tunnel's infrastructure, including the tracks, walls and drainage systems, must be maintained in a timely manner to keep up with the demands of the Muni system. Twin Peaks Tunnel is currently under a speed restriction, which slows down trains as they travel through. Replacing the tracks will lift the speed restriction and allow trains to move faster through the tunnel and speed up travel times. Seismic reinforcements will better protect the tunnel's overall structure and stability. Construction crews will be working in the tunnel to address the following improvements:
Replacing the existing light rail tracks and track fittings
Replacing the machines which operate the track switching mechanisms
Seismic upgrades to the original east portal of Twin Peaks Tunnel (Eureka Valley Station)
Improving structure support between West Portal and Forest Hill stations
Improvements to fire suppresion system at West Portal Station
Repairing areas on concrete walls and reinforcements
Replacing the tunnel's drainage system
In an effort to minimize future Muni impacts, additional rail improvement projects will be utilizing the same Twin Peaks construction windows. Pedestrian safety improvements at 19th Avenue and Junipero Serra Boulevard and the M Ocean View Curved Track Replacement (19th Avenue/Rossmoor) will utilize Twin Peaks Tunnel shutdowns to complete work on the M Ocean View train tracks. Find more information about those projects on the 19th Avenue/Rossmoor project webpage.
CURRENT STATUS (AS OF 3/15/17)
Construction is expected to start in Summer 2017. Read the latest Project Update post.
There will be 5 scheduled tunnel shutdowns in order to complete the work. Each shutdown will be up to two weeks long (between 11-15 days). During active construction, some streets around the tunnel may be blocked to vehicle traffic. The construction schedule is being finalized and will be published shortly.
Bus shuttles will run in place of the L and M lines. K trains will operate from Saint Francis Circle to Balboa Park Station. See the transit service plan overview for more information.
Pre-construction open houses will be held on both sides of the tunnel to provide information about the project, schedule and what to expect during construction. Stay tuned for more information.
Contract awarded to NTK Construction on April 5.
Staging areas in West Portal and Castro have been established to store materials and equipment, and provide efficient access for crews to minimize construction delays
Transit division is currently finalizing the service plan for K Ingleside, M Ocean View and L Taraval. During the shutdowns, bus substitutes will run in place of the trains. An overview guide to the transit service during construction can be found under the "Documents and Reports" tab above. 
Project staff are also providing project updates at several neighborhood and merchants associaton meetings. Please contact Public Relations Officer Kelley McCoy (kelley.mccoy@sfmta.com or 415.646.2551) with any questions or concerns regarding this project, or if you would like an update provided at your next group meeting. 
Neighborhood Impacts
The tunnel is located in residential and business areas and some area impacts are expected. Construction noise may be expected in West Portal and Castro neighborhoods near the tunnel entrances. When the tunnel is closed, bus shuttles will be provided to bridge affected stations. Staging areas on both sides of the tunnel will be used to store materials and equipment, and ensure that crews have the nessesary materials at hand to work quickly and efficienty.
The staging area on the West Portal side of the tunnel will be on Junipero Serra between Sloat Boulevard and Ocean Avenue, along both sides of the K Ingleside Muni tracks (see image below). The staging area will not affect transit and vehicle traffic-- trains will run regular service and Junipero Serra will maintain existing traffic lanes. To accommodate the staging area, parking on the east and west sides of Junipero Serra will be temporarily removed until construction is complete.
The MTA-owned parking lot located at Ocean Avenue and Junipero Serra will also be used for storing vital materials and equipment for the duration of construction. Streets around the parking lot will remain open and accessible.
On the Castro side of the tunnel, the areas in front of the original Twin Peaks Tunnel portals on Market Street will be used as a staging area (see image below). Bus stops affected by the staging area will be temporarily relocated during construction. The right turn onto Market Street from Collingwood Street will not be accessible. Vehicles on Collingwood headed to Market Street would need to turn onto 18th Street and Castro Street. All sidewalks and pathways leading to Castro Muni station will remain open to pedestrians.​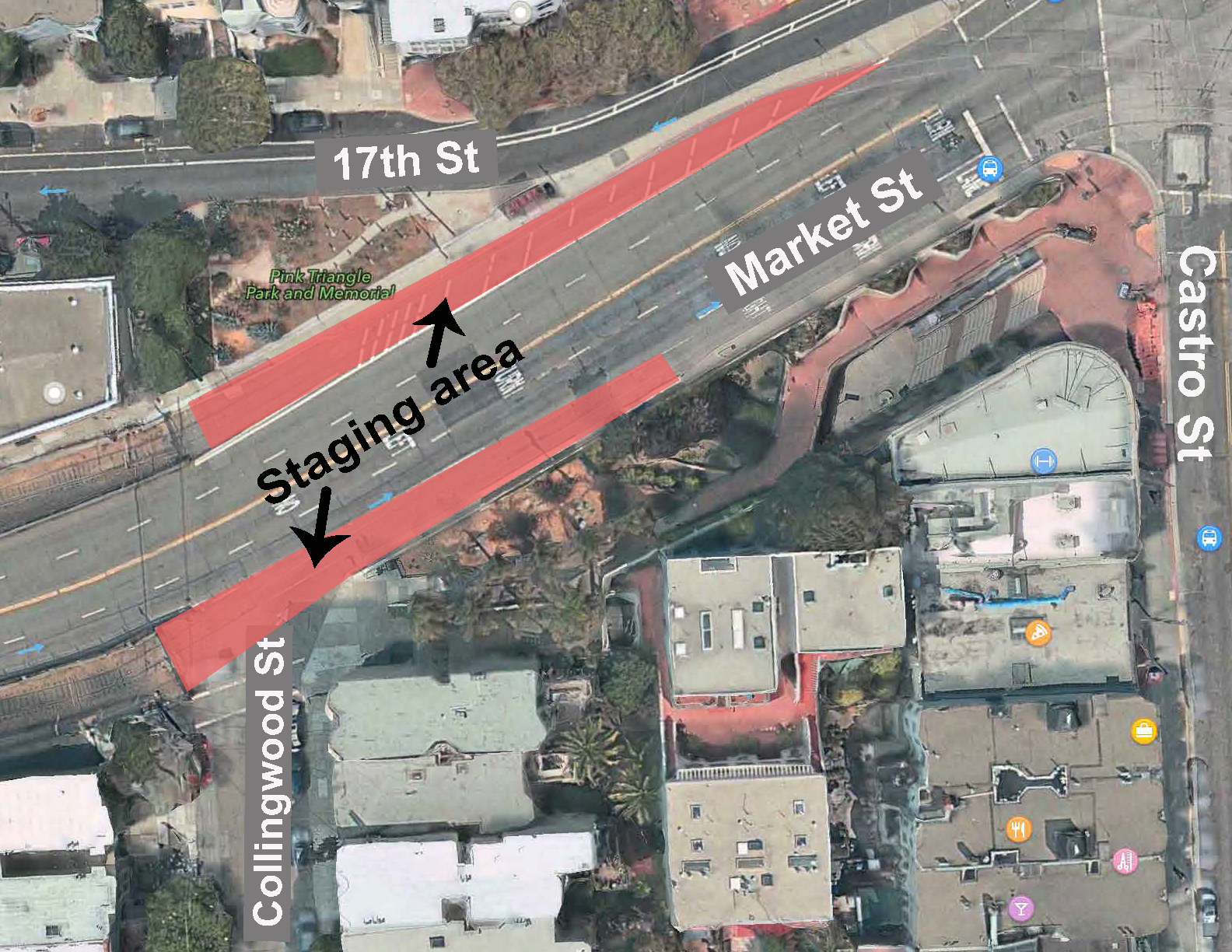 Measures to Minimize Construction Noise
SFMTA understands that while these upgrades are necesary to maintain the Muni rail system, the construction will have an impact on the neighborhoods surrounding the tunnel entrances. Noise-reducing measures from the Sunset Tunnel Trackway Improvement Project will be automatically applied to the Twin Peaks Tunnel work. These measures include:
Limted heavy machinery usage between 9 p.m. - 7 a.m. 
Mufflers on loud machines that need to be used at night
Lining gravel trucks with liners and keeping a layer of gravel in the trucks to minimize noise when gravel is poured
Generators are required to be acoustically shielded at all times
Lower decible vehicle safety beepers and use of crew flaggers 
SFMTA will work with the neighborhoods throughout the project to ensure that construction noise is kept to a minimum.  More information about the trackwork for Sunset Tunnel can be found on the Sunset Tunnel Trackway Improvement Project Page.
Twin Peaks Tunnel History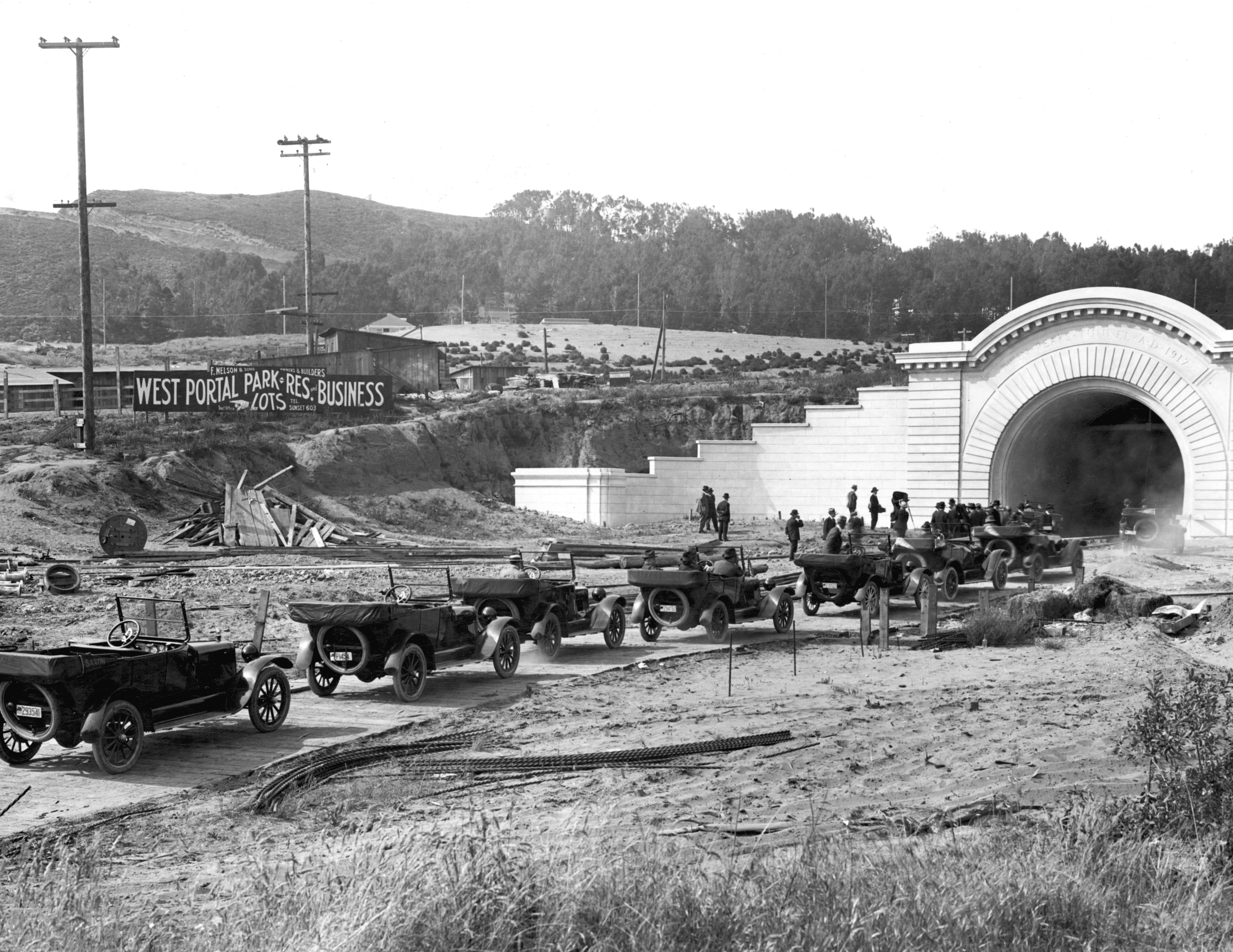 Twin Peaks Tunnel was a vital component to the growth of San Francisco and the expansion of the Muni system. After the 1909 earthquake, San Francisco's infrastructure developments grew, and city officials looked to expand the growth to the outer areas of the city, especially the undeveloped land west of Twin Peaks. In order to effectively reach the west side, city engineer Michael O'Shaughnessy decided to drill straight through the mountains. In February 1918, the Twin Peaks Tunnel opened, connecting the end of Market Street, at Eureka Valley station, to developing neighborhoods in Forest Hill and West Portal. K Ingleside and L Taraval shuttles began running soon after the tunnel opened. M Ocean View service began in 1925 and expanded as neighborhoods expanded. A bond issue passed in 1962 to build the regional BART system also included funding to build subway tunnels for Muni. The new Muni tunnels were connected to the Twin Peaks Tunnel, creating Castro station and providing a more streamlined service through the city. Today, Twin Peaks Tunnel carries over 80,000 Muni customers daily.
Upcoming Meetings
No upcoming meetings have been posted.
Past Meetings
Wednesday, February 22, 2017, 4:00 pm

Thursday, March 26, 2015,
Project Updates
Thursday, March 16, 2017, 1:08 pm
Thursday, July 14, 2016, 2:56 pm
Thursday, April 28, 2016, 9:46 am
Contacts
Public Information Officer
Receive Updates
We will send you e-mail or SMS updates whenever the following are posted for the Twin Peaks Tunnel Improvements project:
Upcoming meetings
Project updates