A Weekend of Love, Tolerance and Solidarity: San Francisco Pride Weekend
Reminder: Twin Peaks Tunnel Summer Shutdown Begins Monday, June 25
With 100 years of service under its belt, Twin Peaks Tunnel needs extensive work to its interior to continue to operate safely and reliably for years to come. The tunnel's infrastructure, including the tracks, walls and drainage systems, must be maintained in a timely manner to keep up with the demands of the Muni system. Twin Peaks Tunnel is currently under a speed restriction, which slows down trains as they travel through. Replacing the tracks will lift the tunnel's speed restriction and keep trains running reliably through the system. Seismic reinforcements will better protect the tunnel's overall structure and stability. Read more about this vital project and get information regarding service changes on our project page.
Events: This weekend a number of major events will be taking place in the city which will require numerous street closures. Information and details on what areas will be affected by this weekend's Pride celebratioins and their impacts on Muni service, can be found on our website. Along with the event surrounding Pride Weekend, don't forget that the Giants are in town facing off against Colorado and that Muni provides the easiest way to get to and from the games.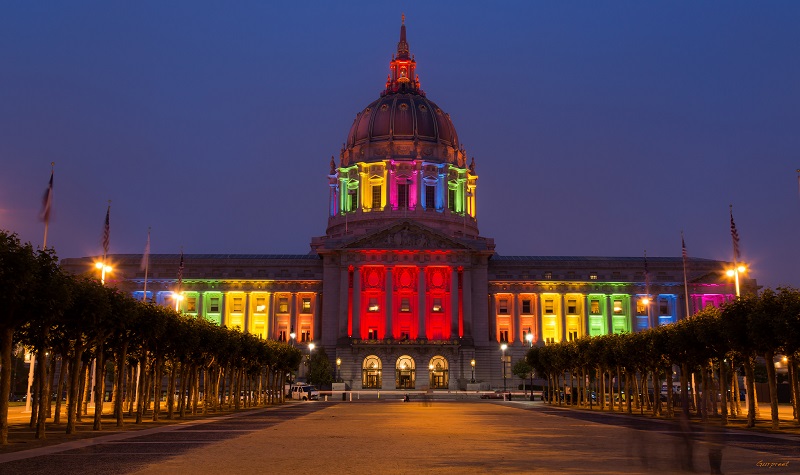 This weekend will be a rainbow of fun, love, respect and equality for all. Photo: GPS/Flickr
San Francisco Pride Weekend
Friday through Sunday, various times
Castro and Civic Center
Started to commemorate the rebellion of LGBT patrons of the Stonewall Inn in New York City's Greenwich Village in response to a police raid in 1969, the annual Pride Celebration has taken place every year since 1970. Though it has had many names throughout the decades --becoming the San Francisco Lesbian Gay Bisexual Transgender Pride Celebration in 1985 -- the event has always had the same mission: to educate the world, celebrate LGBTQ heritage and liberate all LGBTQ individuals from oppression.
The weekend kicks off, as it has since 2004, with the Trans March, San Francisco's largest transgender Pride event and one of the largest of its kind in the world, on Friday, June 22. The march will begin in Dolores Park and proceed to Civic Center and its mission is to inspire and support all trans and gender non-conforming people in order to realize a world of social justice and equality. On Saturday, the annual Dyke March will take to the streets with their message of love, community and solidarity, departing from Dolores Park at 5 PM after their rally that begins at 11 AM.
The marquee event of Pride weekend is without question the world famous Pride Parade --Sunday at 10:30 AM-- which brings hundreds of thousands of people from all over the world for a jubilant and spectacular show. The parade, with its legion of enthusiastic participants, will begin at Market and Beale streets then travel westward up Market to 8th Street where the parade will terminate.
---
How to Get There on Muni: Riders can get to the Castro and Dolores Park festivities via the J Church Line, 22 Fillmore, 24 Divisadero, 33 Ashbury/18th Street, or the 37 Corbett routes.
Those looking to join the celebration at the Civic Center may take Muni Metro to the Civic Center station, the F Market and Wharves Line, as well as the 5 Fulton, 6 Haight/Parnassus, 7 Haight/Noriega, 9 San Bruno, 14 Mission/14R Mission Rapid, 19 Polk, 21 Hayes, 47 Van Ness, or the 49 Van Ness/Mission routes. Due to multiple street closures and service re-routes, it is recommended that you use the Muni Metro subway to either Castro or Civic Center stations to attend all the festivities. 
Muni Service Notes: The F Market and Wharves Line, 2 Clement, 5, 6, 7, 8 Bayshore, 9, 10 Townsend, 12 Folsom/Pacific, 14/14R, 19, 21, 25 Treasure Island, 27 Bryant, 30 Stockton, 31 Balboa, 38 Geary/38R Geary Rapid, 45 Union/Stockton routes will have reroutes. The K Ingleside/T Third, L Taraval and M Oceanview lines will operate as two-car trains this weekend to provide extra space for riders to and from events.
"On Tap" gives you a heads up about the big events in town and what Muni routes and lines will get you to the party. Look for this feature to be posted usually on Thursdays for a look ahead to the weekend. Check out our Weekend Traffic & Transit Advisory for more details.