St. Patrick's Day Weekend (and More!)
Wednesday, March 14, 2018
Weekend Early Closures of Twin Peaks Tunnel Starting March 16-17: Starting on Friday, March 16, and Saturday, March 17, and continuing for up to 15 weekends, there will be preparatory work taking place inside Twin Peaks Tunnel ahead of the summer closure. Stations will close early on Friday and Saturday nights to provide extra time to work inside the tunnel. Buses will run in place of the K, L and M lines. For additional information on the project and for details on getting around during the shutdown, check out our project page.
Events: There will be numerous events occurring around the city this Saturday in celebration of St. Patrick's Day including The Royal Exchange's 33rd Annual St. Patrick's Day Block Party on Front Street in the Financial District, morning bagpipes, Irish stew and soda bread at Farley's 29th Anniversary Party in Potrero Hill, the 45th Avenue Block Party hosted by the United Irish Cultural Center and, of course, the annual St. Paddy's parade downtown. Sunday, as many in the city recover from the prior day's festivities, you can take part in SF MOMA's Free Family Day or the California Academy of Science's Free Day for Mission Bay and Visitacion Valley residents. Read more about our featured event below.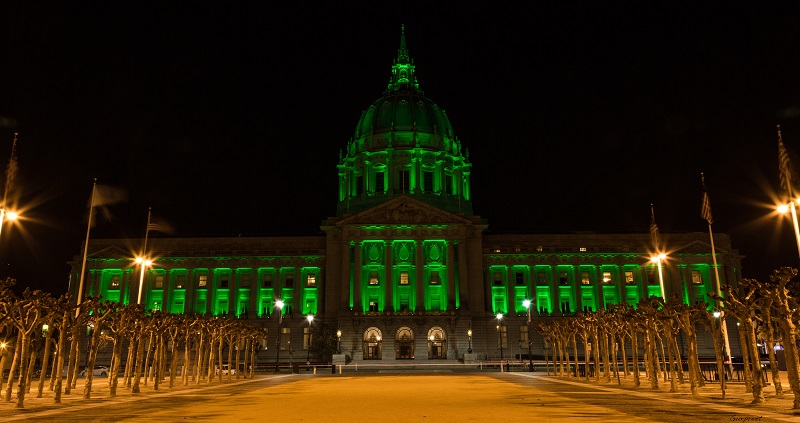 Don't forget to swing by the Civic Center to see City Hall dressed up in green in celebration of St. Patrick's Day. Photo: GPS/Flickr
St. Patrick's Day Parade and Festival
Saturday, 11:30 AM to 1:30 PM
Downtown/Civic Center
Routinely drawing over 100,000 people, the San Francisco St. Patrick's Day Parade and Festival is one of the largest in the world, and this Saturday will be its 167th year of celebrating the Irish holiday. The parade will set off from Market and Second streets at 11:30 AM, making its way along Market toward the Civic Center where the festival will take place. The festival, which begins at 10 AM, will include live performances from Irish bands and dance companies, local vendors serving up Irish food and beer, and a children's area with games, candy, and other activities to keep the little ones in high spirits. 
---
How to Get There on Muni: Whether you have a true Irish heritage or just a true appreciation of the Irish, Muni is happy to provide you with a ride to the parade and festival. Riders may take any Muni Metro line, the F Market and Wharves Line, the 14 Mission, 14R Mission Rapid or any Market Street bus route to these events. 
Muni Service Notes: The F Market and Wharves Line, 2 Clement, 5 Fulton, 6 Haight/Parnassus, 7 Haight/Noriega, 8 Bayshore, 9 San Bruno, 10 Townsend, 12 Folsom/Pacific, 19 Polk, 21 Hayes, 27 Bryant, 30 Stockton, 31 Balboa, 38 Geary, 38R Geary Rapid, and 45 Union/Stockton routes will have reroutes. Heavier than usual ridership and minor delays may be possible.
"On Tap" gives you a heads up about the big events in town and what Muni routes and lines will get you to the party. Look for this feature to be posted usually on Wednesdays for a look ahead to the weekend. Check out our Weekend Traffic & Transit Advisory for more details.