Hayes Valley Parking & Curb Management Plan
Project Introduction
Project Update - July 22, 2022
Installation of Area HV signs and paystations will begin in early August. Installation will take approximately two months. We will notify area residents via email, letter, and fliers on vehicles of the start date of enforcement of the new regulations, which will likely be in October.
For holders of Area HV permits, your permit will be valid at Area R and Area S spaces until Area HV enforcement begins at that to-be-announced date.
For holders of Area S permits within Area HV, your accounts and any permits you have will be automatically transitioned to Area HV over the coming weeks. Annual permits will expire August 31, 2023.
For holders of Area R permits within Area HV, you will be granted an HV permit instead of an Area R permit when you renew. You should be receiving a letter about this in early August.
Project Update - March 30, 2022
At its July 15, 2021 meeting, the SFMTA Board of Directors approved the creation of RPP Area HV and the Hayes Valley Parking and Curb Management Plan.
The major on-street changes related to the creation of RPP Area HV will take place in late Summer or early Fall 2022. This includes the installation of paystations on Pay or Permit blocks, the transition of blocks with Hayes Valley that are currently Area R or Area S to Area HV, and the installation of signs on blocks that are currently unregulated.
RPP Area R and Area S permitholders within the bounds of Area HV will be transitioned to Area HV once the signs and paystations are installed. We will send a letter to all permitholders and send another email update once we have that transition date finalized. You will not be asked to double-pay or double-apply in order to transition your permit from Area R or Area S to Area HV.  
If you live within Area HV but do not live in either Area R or Area S, you can purchase an Area HV permit beginning on April 1. These permits will be valid on Area R and Area S blocks until the previously-mentioned transition date. Once Area HV signs are installed and enforcement begins, permits will only be valid within that area. Area HV permits will expire on August 31, 2023. This webpage contains the application for annual RPP permits.
Annual permits for Area HV will primarily be virtual permits instead of the traditional sticker decal. License plates will be read by cameras on and checked by Parking Control Officers against the permit database. You can learn more about how virtual permits work from this blog post.
The impact of the Shared Spaces has delayed the installation of loading zone changes associated with this project. We are currently in the process of finalizing details of the implementation of new loading zones and the extensions of existing zones on Hayes and Octavia Streets to accommodate deliveries and drop-offs. These changes will be installed in Summer 2022.
Background
Since the Central Freeway was taken down after the 1989 Loma Prieta earthquake, Hayes Valley has replaced freeway overpasses and on-ramps with dense housing and shops and restaurants that attract people from all over the Bay Area.  The neighborhood's recent growth and its proximity to the City's arts and civic districts have placed new demands on its streets and curbs. Changing lifestyles, the development of thousands of new housing units nearby in The Hub, and the emergence of micro-mobility, car-share, ride-hailing and food delivery services will require a new way to think about how we use the curb. 
The SFMTA Parking & Curb Management group has teamed with the Hayes Valley Neighborhood Association (HVNA) to develop a forward-looking parking and curb management plan for Hayes Valley.  The SFMTA and the HVNA initiated this effort to implement the transportation goals expressed in the Market-Octavia plan and to address lifestyle changes and emerging mobility trends.  
The proposal focuses on two key issues: the increased demand for Residential Permit Parking (RPP), and the impacts from greater use of alternative travel modes, including ride-hail services, carshare, bike share and micro-mobility vehicles.
A New, Expanded RPP Area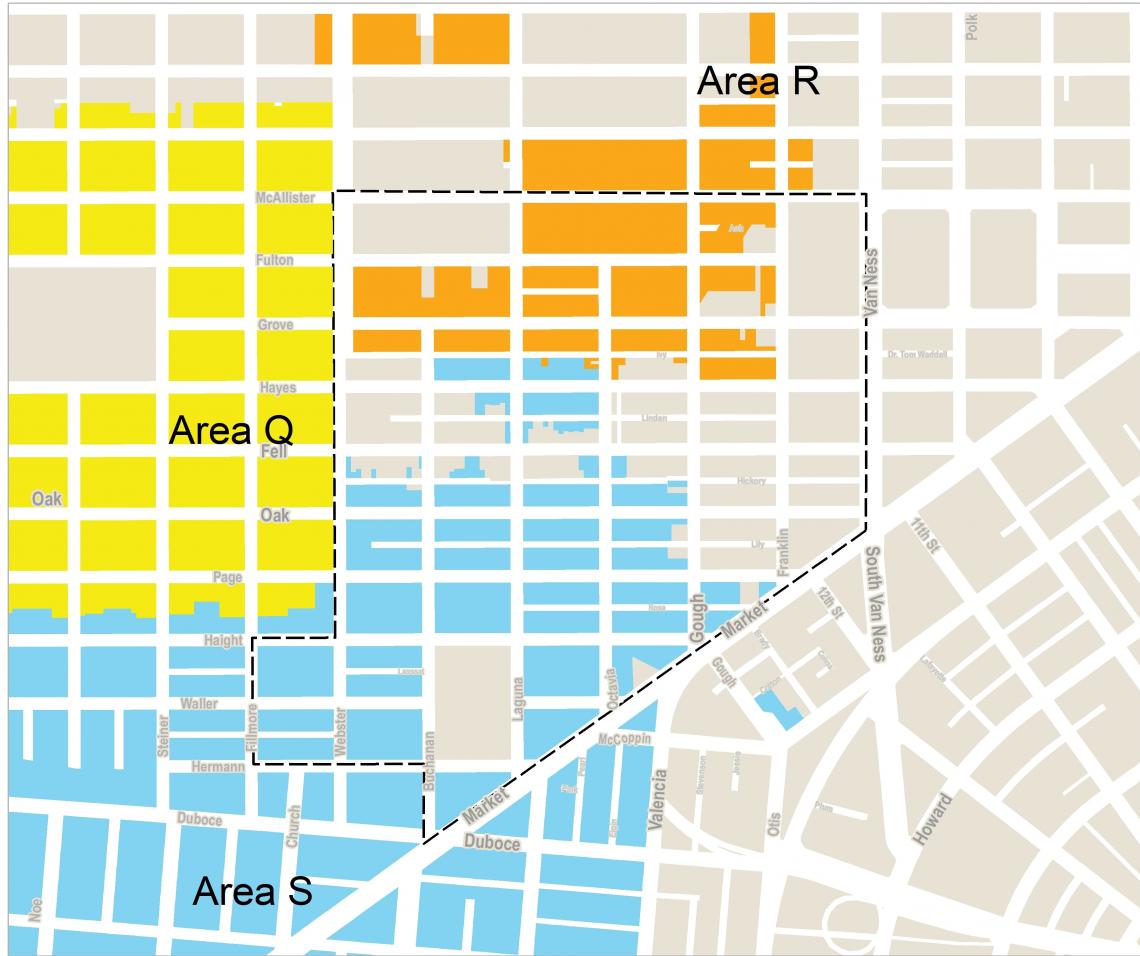 Left: Current RPP areas in Hayes Valley. Right: Proposed new Hayes Valley RPP area. Black outline = Hayes Valley Neighborhood Association (bounded by McAllister, Van Ness, Market, Buchanan, Hermann, Fillmore, Haight, and Webster Streets) Detailed text of the proposal available in the legislation.
To respond to the increased pressure on residential parking in the Hayes Valley neighborhood, SFMTA is proposing to create a brand-new RPP area, created from parts of the existing RPP areas R and S as well as currently unregulated blocks in the neighborhood. This will increase the number of households that will be eligible for permits while also increasing the number of spaces prioritized for residents. Additionally, by severing Hayes Valley from Area S, the largest RPP area in the city, this plan will reduce the use of Hayes Valley residential parking spaces by commuters from inside Area S but outside the neighborhood.
The new area's rules will be tailored to the specific goals and needs of the Hayes Valley neighborhood. Each household will be limited to two annual automobile permits per year, down from the current cap of four. If a household has a second driver and there is availability near their home, they may receive a second permit. Motorcycle, childcare, and medical care permits do not count against the limit.
Along the boundaries of the area, there will be streets where permitholders of both the new area and the neighboring areas will be able to park (sometimes called "buffer zones").
Changes to Parking Regulations
Detailed text and PDF map of the proposal available in the legislation. 
Currently, on most residential blocks in Hayes Valley, residents can park for an unlimited time but non-residents and non-permitholders are limited to two hours on most days. This free parking window is often abused by those from outside of the neighborhood, making it more difficult for neighbors and short-term visitors to find parking. Conversely, visitors to the neighborhood who want to stay longer while still wanting to follow the rules must either get a visitor permit or move their car every two hours.
To create more parking availability and offer more flexibility to residents, the Hayes Valley Parking and Curb Management plan introduces Pay or Permit parking to 31 blockfaces near Octavia and Hayes Streets. On these blocks, permitholders can still park for as long as they want, while visitors must pay to park for the time they need. By having those from outside the neighborhood pay for parking, it induces turnover and increases availability on the street. Paid parking is also easier to enforce than two-hour parking because it does not require enforcement officers to chalk tires. You can read more on the Pay or Permit Parking webpage.
In addition to the Pay or Permit blocks, Laguna Street between Hayes and Fell, and Linden Street between Franklin and Gough, will be converted to metered parking to support businesses in the area. There will also be additional blocks of traditional RPP, with a two-hour time limit for visitors, added in areas where RPP eligibility has been expanded. The proposal also standardizes the time of enforcement across the entire area, with RPP and Pay or Permit parking running from 9am to 9pm Monday through Saturday.
More Space for Deliveries and Passenger Loading on Hayes Street
Hayes Street is the commercial core of Hayes Valley, attracting shoppers and diners from across the region to the street's boutiques, restaurants, and public space. It is also a transit route for westbound buses on the currently suspended 21 Hayes Muni route and crossed by an important north-south bike route. The corner of Hayes and Octavia is one of the busiest spots for Uber and Lyft pickups and drop-offs in the city, and the dozens of businesses that line the corridor receive deliveries at all times of day. Additionally, several restaurants have set up Shared Spaces dining zones in former parking spaces to better serve customers.
Currently, there is a paucity of loading capacity on and around Hayes Street. What zones do exist are often at odd times and squeezed between parking spaces. These zones, while requested by individual businesses and developments, are important tools for the entire corridor to reduce double-parking and other loading activities that create safety and congestion issues.  This proposal updates the sizes, times of operation, and location of loading zones to capture the needs of the corridor as a whole.
In 2020, SFMTA's Parking and Curb Management group released its Curb Management Strategy, aimed at guiding the planning around curb space on corridors similar to Hayes Street. The recommendations include planning at a corridor level rather than storefront by storefront, relocating and expanding loading zones to facilitate their better usage, and adding capacity to better handle the delivery and passenger needs of the corridor.
We have made detailed diagrams for the 300, 400, and 500 blocks of Hayes Street. In addition to the changes on Hayes itself, we are proposing moving the existing passenger loading zone of the 500 block of Octavia closer to Hayes Street. A text version of these changes is available in the legislation.
Outreach
The SFMTA and the Hayes Valley Neighborhood Association have been collaborating since 2018 on this plan. The SFMTA conducted a community meeting on February 17, 2021 to go over the proposal. More than 20 community members joined the virtual event, and the presentation from that event is available on our website.
We have made available a selection of the questions we received before and during the meeting and the responses to those questions.  We also have made edits to the plan based on feedback we have received: expanding RPP eligibility further east to Gough Street and adding Pay or Permit and RPP eligibility to Lily Street between Franklin and Gough. We have also added paid parking to the east side of Gough between McAllister and Fulton as part of the plan.
SFMTA hosted an online community meeting and public hearing on April 29. We also accepted comments through a comment form. Comments received before and during the meeting have been posted and are in the "Related Links" section. The feedback we received before and at this meeting informed the changes made that were summarized in the above update.
Project Timeline
Hayes Valley Parking & Curb Management Plan
Bus Routes and Rail Lines
Contact Information
Raynell Cooper, Program Manager, Residential Parking Policy, Parking & Curb Management