Temporary enhancements, a pilot project about boarding safety and community engagement are currently underway to study how to make Taraval safer for everyone who depends on it, including the Muni riders who make 30,000 trips on the L Taraval each day. This is the first step towards much-needed rehabilitation on Taraval Street that will replace infrastructure like the worn rails, overhead wires and sewers, as well as repave the entire street beginning in the winter of 2018. Early implementation, outreach and traffic studies will wrap up at the end of 2017 followed by a final presentation of designs to the community.
Construction will last approximately two years and service on the L Taraval will remail throughout the process. Once completed, the corridor will boast new transit priority traffic signals, bulbouts to make pedestrain crossing safer, new trees, enhanced crosswalks and unique wayfinding elements. All of these changes will make Taraval safer and more inviting for everyone that uses it.
Project Timeline
2014 - 2017
Design and community outreach
2017
Early implementation and loading zone pilot
Summer 2018 - Summer 2020
Current Phase or Stage
Design and Early Implementation
Improvements
Key Stop Ramps at Boarding Islands
New Trees and Streetscape Elements
Updated Traffic Signals and Crosswalks
Project Details, History or Features
As part of the L Taraval Rapid Project, roadway changes started in early 2017 to enhance safety for people getting on and off Muni and make the L more reliable. These include:
The permanent features like concrete pedestrian bulbs and boarding islands will roll out starting 2018. 
Current Improvements and Pilot Program Treatments:
1) Clear Zones at Train Stops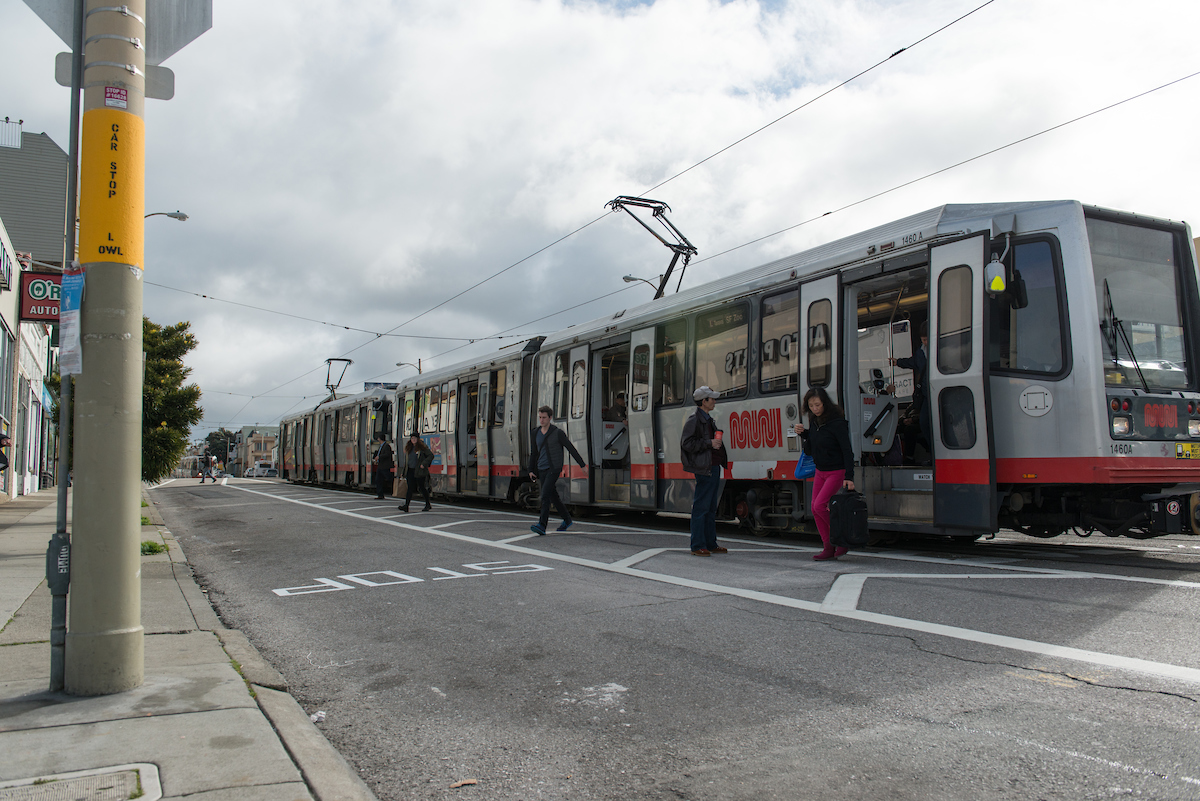 Newly striped clear zone on Taraval at 32nd Avenue.
Clear zones are painted markings on the street that provide a separation between streetcars and the traffic lane. Clear zones make the street safer by giving pedestrians a safe space to step off Muni.
To enhance safety along Taraval Street, clear zones are installed at eight intersections:
Taraval Street westbound only (north side):

26th Avenue
30th Avenue
32nd Avenue
40th Avenue 
46th Avenue

Taraval Street both directions

19th Avenue
42nd Avenue
44th Avenue
The law requires cars to always stop behind trains where passengers get on and off Muni in the street, including at all clear zone locations. Do not pass until the doors are closed.
2) Painted safety zones at sidewalk corners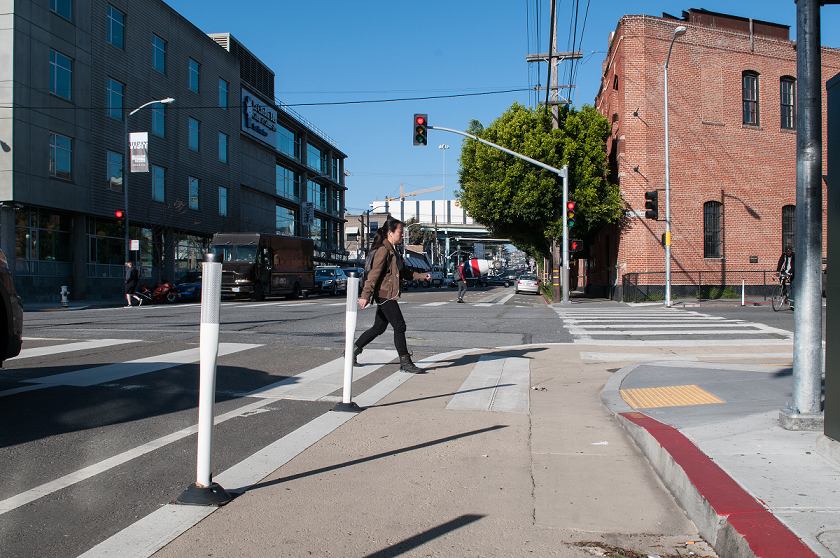 Example of a painted safety zone on 16th Street.
Safety zones at sidewalk corners help make people walking more visible to drivers when crossing the street. Painted safety zones temporarily extend the sidewalk until permanent, concrete pedestrian bulbs can be installed.
To enhance safety along Taraval Street, painted safety zones will be installed at six intersections, including at 20th, 21st, 22nd, 24th, 33rd and 38th avenues. Concrete pedestrian bulbs will be installed with the larger project starting 2018.
3) 6-month boarding zone pilot

Pilot boarding zone on Taraval at 40th Avenue.
In the last five years, 22 people were hit getting on and off L Taraval trains where there were no boarding islands. To address this safety issue, a community-driven effort was launched to test whether measures including new street markings, signs and flashing lights on trains would get drivers to stop safely and legally for customers boarding Muni trains on Taraval.
Over a six month period in 2017, a loading zone pilot was evaluated at the inbound stops at 26th, 30th, 32nd, 35th and 40th avenues. If successful, the pilot would preserve parking spaces at these five stops. If the measures failed to increase the share of drivers who stop for loading trains to 90 percent, or if anyone was injured at a pilot location, boarding islands would be installed at each location. Boarding islands are a critical safety improvement feature that provide a safe zone for passengers to get on and off the train.
Since April, data has been collected about how these changes have impacted the share of drivers who stop behind stopped trains. For the final evaluation, each instance where a stopped train interacted with a vehicle was noted and tracked based on whether or not cars stopped behind the train, as required by law.
After months of data collection and many hours of reviewing on-site videos, the results are in. The compliance rate rose slightly, to 74 percent, up from 72 percent prior to changes. Since these measures failed to increase the share of drivers who stop to the 90 percent target rate, boarding islands will be installed at the pilot locations. In total, 36 total parking spaces will be removed as a result.
Detailed explanation of evaluation metrics.
4) Transit Stop Removal
Nine L Taraval stops were removed to improve travel time and increase reliability.
In both directions:

Taraval at 28th Avenue
Ulloa at 15th Avenue
Taraval at 35th Avenue

Towards downtown:
Towards SF Zoo:

Taraval at 17th Avenue
Taraval at 22nd Avenue
The inbound stop towards downtown at 15th Avenue and Taraval Street was approved for removal but will remain until a full boarding island can built sometime after 2019.
5) Transit-only lanes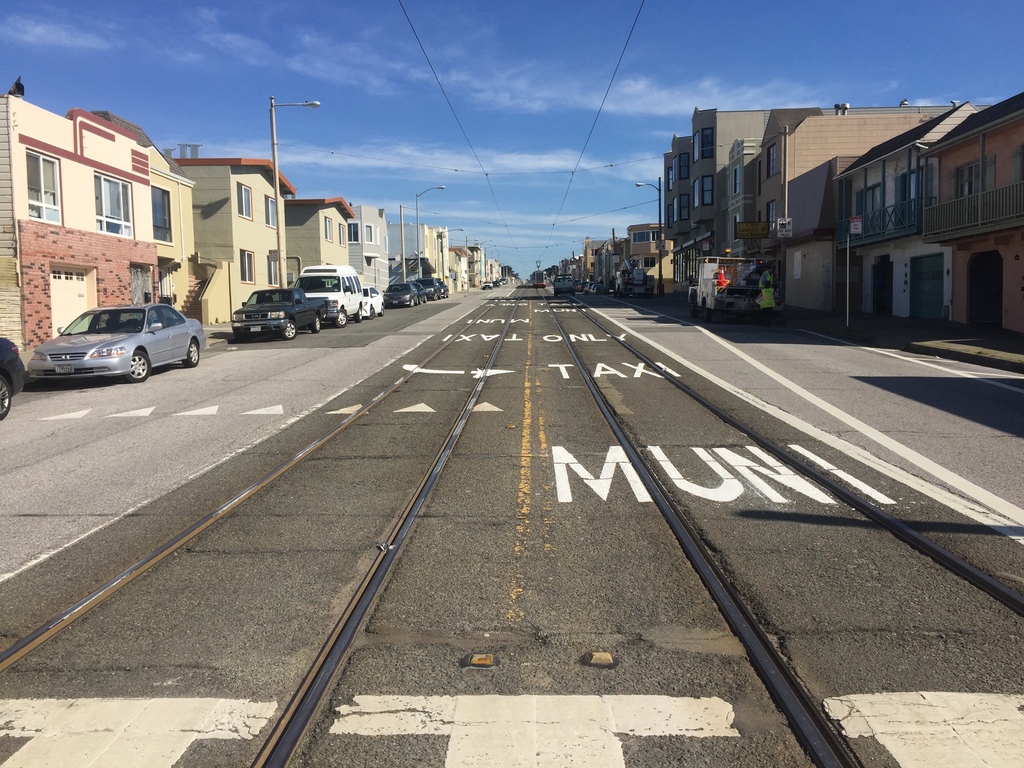 Newly striped Transit-only lane on Taraval between 45th-44th. 
Transit-only lane were painted along the track lane of Taraval Street in both directions. Drivers are able to enter the lanes only to pass or make left turns. The SFMTA is committed to closely evaluating the transit-only lane to measure its impact on congestion and traffic flow for one year to identify any necessary adjustments or mitigations. 
Starting 2018
Rail track and overhead line replacement
Water and sewer line replacement
Surface repaving
Curb ramp upgrades
Concrete boarding islands and pedestrian bulbs
Traffic signals
What do I need to know?
I'm a driver. What do I need to know?
It's the law to stop for streetcar passengers. At every clear zone and pilot location, it's illegal to pass loading streetcars. Next to concrete boarding islands, you may pass at 10 MPH.
The track lane on Taraval Street will now be dedicated to Muni. You can enter the lane when making a permitted left turn, but otherwise drive in the right lane.
I ride the L. What do I need to know?
The new clear zones and upgraded boarding zones are designed to keep you safe while getting on and off Muni. However, do not stand and wait for Muni within the zones or you could risk being hit.