San Bruno Ave Multimodal Improvement Project
The San Bruno Multimodal Improvement Project incorporates elements from several ongoing strategic planning initiatives including Muni Forward and Vision Zero. The project will also include the development of a parking management strategy, along with early implementation of parking recommendations.
Project Goals
1) Improve safety along San Bruno Ave for people walking and bicycling
Reduce pedestrian and vehicle conflicts, in support of Vision Zero
Improve connections for cyclists 
2) Improve reliability and travel time for 8 Bayshore and 9 San Bruno riders ​
Reduce long waits at the stopand crowding 
Make it easier and more convienent for residents to take Muni to get to work, school, appointments or shopping
3) Improve parking conditions
Why San Bruno Ave?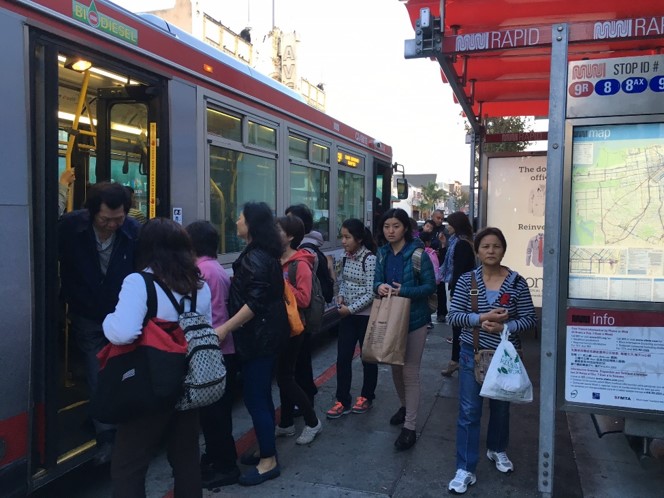 1) Muni service along San Bruno Ave can be slow and unreliable
Leads to longer waits at the stop and crowded buses
2) Congestion on San Bruno Ave leads to Muni delays 
Too many double parked vehicles
3) The street is dangerous for people walking and biking 
36 pedestrians and vehicle collisions have happened in the past seven years 
Muni Forward treatments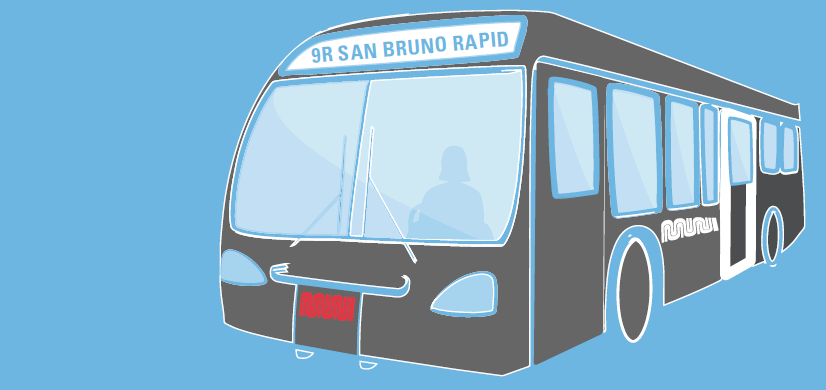 Transit and pedestrian bulbs
Traffic signals
Rectangular rapid flashing beacons
Intersection daylighting
Transit stop changes
Bike lanes
Morning tow-away zones
Project summary: Arleta to Silver
Updated 6/12/17 to reflect the final proposal approved by the SFMTA Board of Directors. View the full intersection-level details [PDF]. 
full project scope 
| Treatment  | Intersection |
| --- | --- |
| New stop at one intersection | San Bruno Ave at Harkness (inbound only) |
| Stop consolidation at three intersections | San Bruno Ave at Wilde (inbound only), Ward (inbound only), Woolsey (outbound only) |
| Remove parking at one intersection | San Bruno Ave at Dwight/Paul |
| Relocating parking at one intersection | San Bruno Ave at Thornton/Felton |
| New bus zone at two intersections | San Bruno Ave at Somerset, Brussels Stairs |
| Bus zone extension at three intersections | San Bruno Ave at Arleta, Dwight/Paul, Silver |
| Daylighting at six intersections | San Bruno Ave at Woolsey, Wayland, Bacon, Burrows, Thornton/Felton, Silliman |
| New transit bulb at four intersections | San Bruno Ave at Mansell, Bacon, Thornton/Felton, Silver |
| New traffic signals at one intersection | San Bruno Ave at Thornton/Felton |
| Rapid flashing beacons at two intersections | San Bruno Ave at Wayland, Burrows |
| Relocate bus stop at two intersections | San Bruno Ave at Brussels Stairs, Thornton/Felton |
| New left turn pockets at two intersection | San Bruno Ave at Bacon, Silver |
| New right turn pockets at one intersection | San Bruno Ave at Bacon |
| AM peak second lane | San Bruno Ave from Sillman to Silver |
| New bike lane | San Bruno Ave from Mansell to Paul |
Project Status
Implementation / Construction
Bus Routes and Rail Lines