Check out the latest project update and our recently published design outreach summary:
---
We highly encourage you to sign up for email and text updates to get the latest project updates, and information on Sunset Neighborways outreach meetings and events. All dates and details on how to access and attend these events will be on this project webpage.
Project Introduction
The Sunset Neighborways Network project aims to designate and design several residential streets as preferred bicycling and walking routes.
Using the existing planning work completed from the SFCTA's District 4 Mobility Study, this effort will design improvements for a network of streets in the Sunset neighborhood to make them comfortable for pedestrians and bicyclists of all ages and abilities and connect families more easily to important destinations including small businesses, community spaces, schools, and parks.
Similar to but unlike Slow Streets, Neighborways are not partial or full street closures. Neighborways do not create walkways or recreation space for pedestrians in the active road, nor do they limit street access to local traffic only. Some of the proposed Neighborways are on existing Slow Streets in District 4 and this effort will un-designate those existing Slow Streets and convert them into a Neighborways. Additionally, this effort will propose to create five additional Neighborways to create a network of preferred pedestrian and bicycling routes. 
Neighborway projects focus on improving residential streets by calming vehicle traffic, making them easier to navigate and friendlier for walking and biking. They will combine street design measures tailored to each neighborhood, including speed humps, traffic circles, crosswalk upgrades, and traffic diversion at targeted locations (if warranted). No two Neighborways in the Sunset Neighborways network may look the same.
In addition to improving safety and comfort for people walking and biking, the Sunset Neighborways program sets out to incorporate Green Street Infrastructure to beautify the neighborhood and increase environmental sustainability.
Proposed Neighborways
| North-South Streets | East-West Streets |
| --- | --- |
| 47th Avenue between Lincoln Way to Vicente Street | Kirkham Street between 19th Avenue to La Playa Street |
| 41st Avenue between Lincoln way to Vicente Street | Ortega Street between 47th Avenue to 19th Avenue |
| 34th Avenue between Lincoln Way to Vicente Street | Rivera Street between 48th Avenue to 19th Avenue |
| 28th Avenue between Lincoln Way to Vicente Street | Vicente Street between 46th Avenue to 19th Avenue |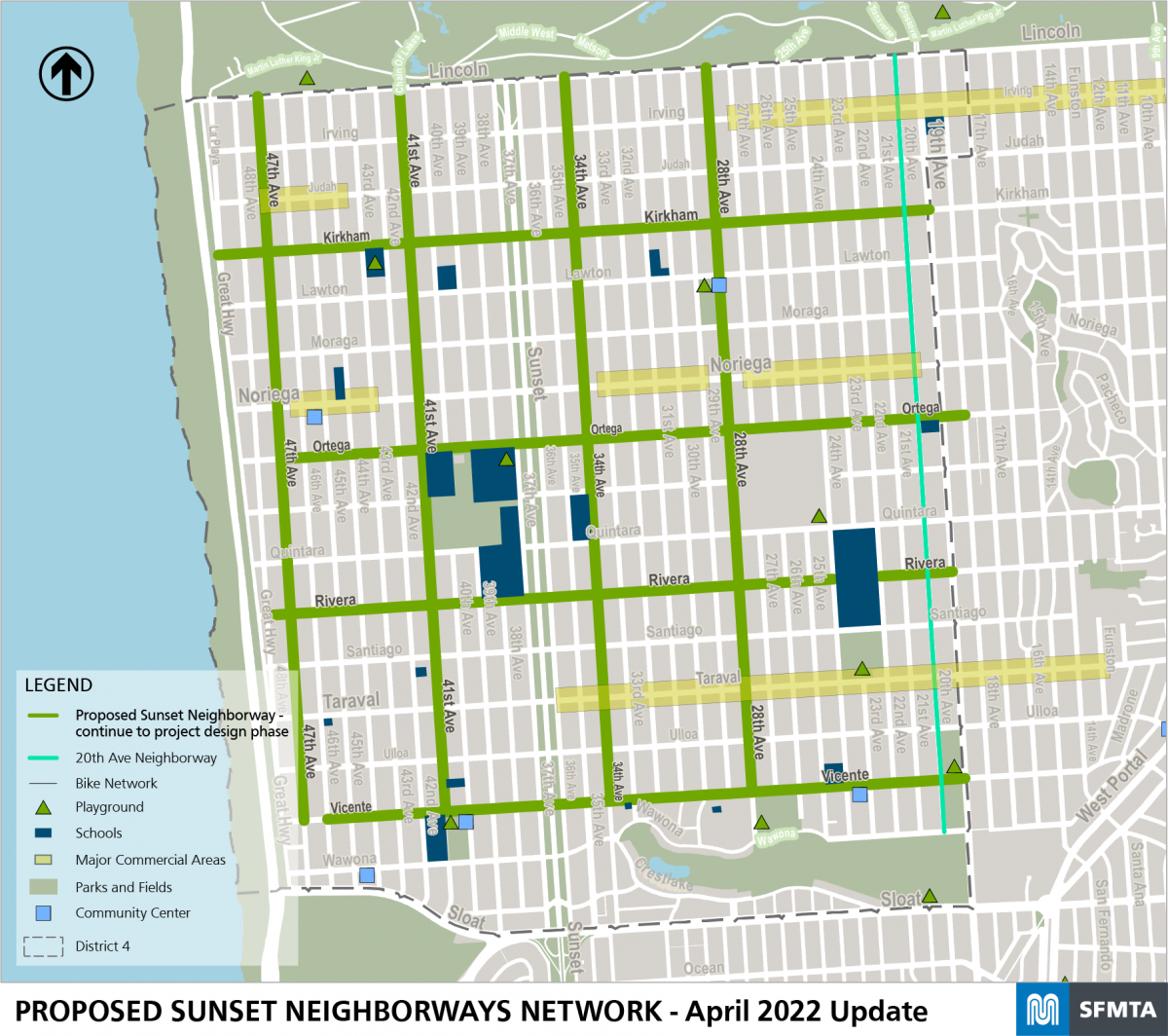 Project Timeline
Initial Outreach
December 2021 - Spring 2022
Existing Conditions Analysis
Design
End of 2022 - Spring 2023
What Are Neighborways?
Neighborways are residential streets designed to give priority for people, young and old, to walk and bike. Neighborways make streets feel quiet, safe, and inviting with street design measures tailored to each neighborhood.
Neighborhood streets should feel quiet, safe, and inviting, especially to walk and bike to nearby destinations like parks, schools, and shops. But residential streets often need design help to feel truly welcoming, especially if you're taking kids along for the journey.
Neighborways are ideal on routes that provide an attractive alternative to streets with heavy vehicle traffic. 
They are not partial or full street closures. They are preferred walking and bicycling routes where vehicle traffic is allowed to access the street.
---
Neighborways Design
Several design tools and strategies can be applied to the neighborway to make each street feel quiet, safe, and inviting. A combination of design treatments can be tailored to each street based on the street's physical characteristics, an analysis of existing conditions using traffic operations and safety data, and feedback from neighbors and residents. Due to space constraints, not all treatments will be feasible on every street. A neighborway may not necessarily include every or any design element in the toolkit even if physically feasible; only appropriate treatments supported by the community will be proposed.
Additionally, if findings from traffic safety and operation analyses for the project and community feedback show that a proposed Neighborway is relatively safe and comfortable already, treatments in the Neighborway toolkit may not be included in a design, and the proposed streets will simply be signed and designated as a Neighborway, a preferred walking and bicycling route in the neighborhood. 
The treatments in the Neighborway Traffic Safety Design Toolkit fall under four categories: 
Speed reduction
Intersection safety
Marking space for people bicycling and walking
Managing vehicle volumes
See the Neighborways Traffic Safety Design Toolkit
Click here for the Chinese version of the toolkit
Other than traffic safety features to create safe and comfortable roadways, this project will explore greening treatments to beautify the proposed Neighborways and make them more inviting as a preferred walking and bicycling route in the neighborhood.
---
Project Outreach
Have a comment or question? Contact us by:
Email:
Phone:
Design Outreach
Status: The design outreach period has concluded.
Design outreach for the project started in May 2023 and will be in-progress until the middle of July 2023. Check out the design outreach hub to see the proposed neighborway designs and other project information.
Initial Outreach
Status: The initial outreach period has concluded.
Click here to view the Initial Outreach project presentation 
Click here to read the Initial Outreach Summary
The project team launched an initial community outreach phase for the project at the end of November 2021. The goal of the outreach process was to introduce the project to the community and gather initial feedback on the proposed network of Neighborway streets. As part of the initial outreach process, the project team deployed an initial outreach survey that was live between the end of November 2021 through the end of January 2022. Although the survey is now closed, the project team will continue to take community feedback.
Additionally, the project team attended several community-hosted meetings to talk about the project and gather community feedback. Community feedback was also collected through emails sent to the project team and voicemails from the project comment phone line. 
Sign up for the project updates to get the latest news and info on project outreach events and news. 
---
Funding
This program was made possible in part by Proposition K Sales Tax dollars provided by the San Francisco County Transportation Authority.