Bike Lanes Coming to Eastbound 13th Street

This existing parking-protected bike lane on westbound 13th Street will get complemented with upgrades in the eastbound direction.
In the coming weeks, 13th Street in SoMa will get safety upgrades, including a block of parking-protected bike lane, in the eastbound direction from Folsom to Bryant streets. This is thanks to approval from our Board of Directors last Tuesday.
Like the existing bike lanes on segments of 13th, the new lane will be separated from traffic using pavement markings, plastic posts and parked vehicles while maintaining visibility between people walking, biking and driving. It'll also repurpose a traffic lane, which helps calm vehicle traffic by narrowing the roadway.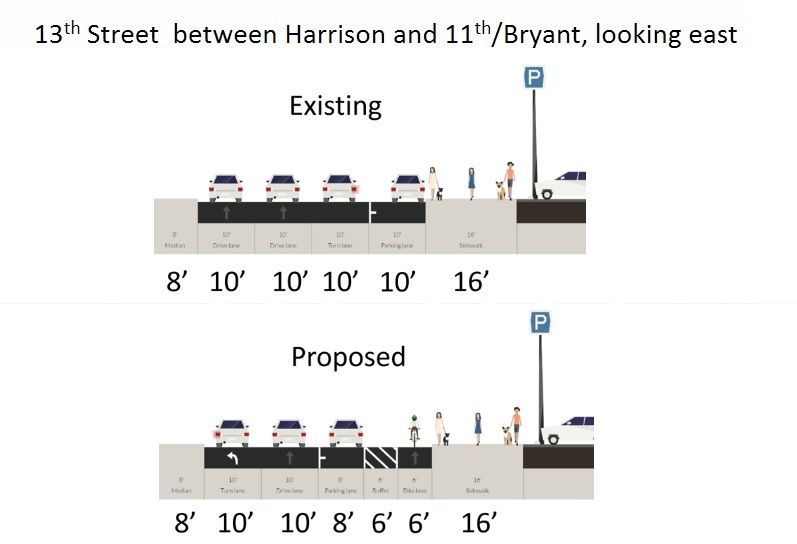 The parking-protected bike lane configuration coming to eastbound 13th Street, from Harrison to Bryant Street.  
The block of eastbound 13th from Harrison to Bryant streets will get a parking-protected bike lane to complement its westbound one. This street design makes it safer and more inviting to get around by bike by flipping around the conventional setup of car parking and bike lanes: Instead of the bike lane being placed between parked cars and traffic lanes, the bike lane runs curbside between the sidewalk and parked cars, with space to load in between.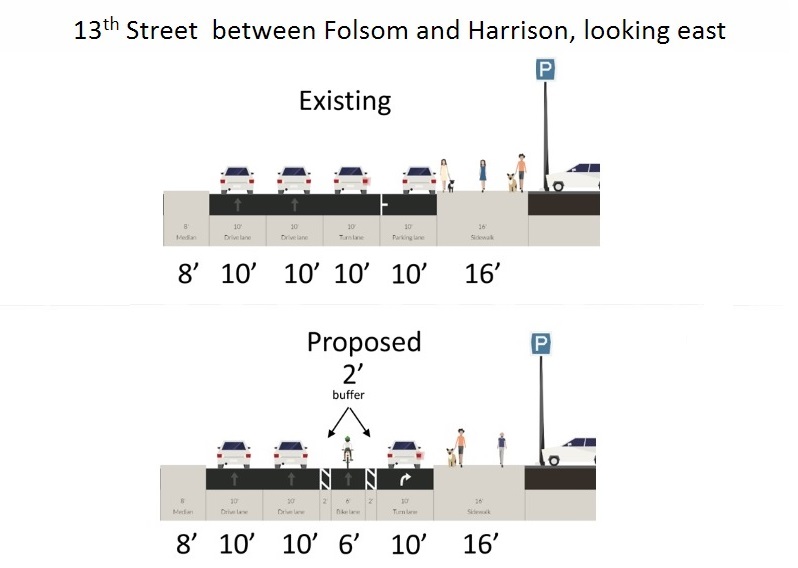 The bike lane configuration coming to eastbound 13th Street, from Folsom to Harrison Street.
On the block of eastbound 13th from Folsom to Harrison, which leads up to the parking-protected segment, the bike lane will be placed to the left of a right-turn lane and to the right of lanes for through-traffic. Both sides of the bike lane will have a marked two-foot buffer area, and plastic posts will be placed along its left side.
As part of this project, the complex intersection where 13th/Division Street meets 11th and Bryant streets will also get traffic signal upgrades and curb extensions to make it safer in 2018.
This is all part of our Division/13th Street Safety Project, which brought 13th's westbound bike lane, SF's first protected intersection at 9th and Division streets and other improvements to Division's bike lanes.
These upgrades help provide an easier way for people to get to key destinations like the Caltrain Station and AT&T Ball Park at 4th and King streets, as well as areas in the Mission and South of Market districts.
Even without any bike lane on this stretch of eastbound 13th Street, we counted 146 people bicycling during an average morning rush hour, and 50 people in the evening, in April of last year.
Thirteenth is also one of the city's top streets in need of safety improvements like these. In a recent five-year period, the street had 57 traffic crashes that resulted in injuries and fatalities, 30 percent of which involved people on bikes. That puts it on our city's Vision Zero High-Injury Network – the 12 percent of streets that see 70 percent of severe collisions.
This is just one piece of the 13 miles of safety upgrades we plan to install this year on the High-Injury Network alone. A few blocks away on 7th and 8th streets, you can find our newest parking-protected bike lanes getting their finishing touches.