Central Subway Opens November 19 with Special Weekend Service
Tuesday, November 1, 2022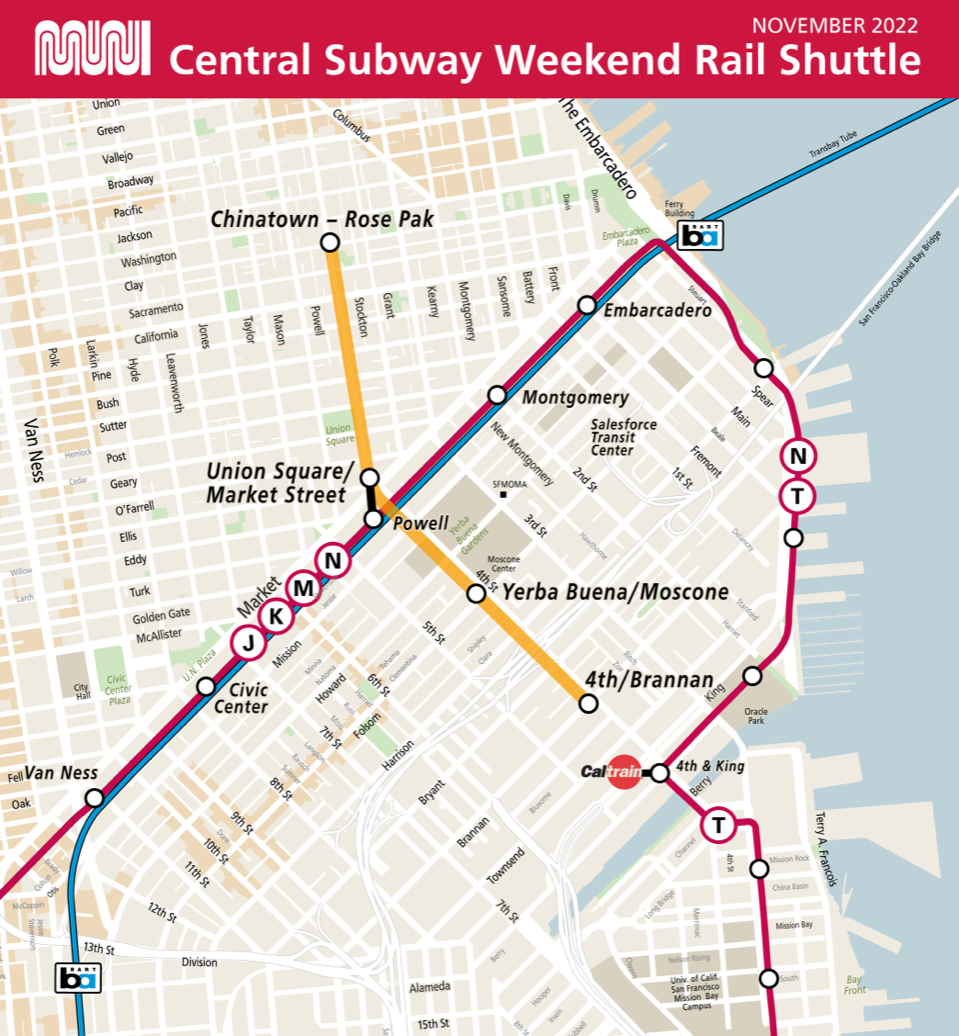 Central Subway special weekend service starts November 19 with service to Chinatown-Rose Pak Station, Union Square/Market Street Station, Yerba Buena/Moscone Station and 4th and Brannan.
(Map Note: Be advised BART does not serve Van Ness Station. We will update this map as soon as possible.)
On Saturday, November 19, the Central Subway makes its historic debut with special weekend service, Saturdays and Sundays, from 8 a.m. to 12 a.m. with trains every 12 minutes. During this special weekend service, customers will have a chance to ride through the new Central Subway for free and get to know the four new stations: Chinatown-Rose Pak at Stockton and Clay streets, Union Square/Market Street Station at Geary and Stockton streets, Yerba Buena/Moscone Station at 4th and Folsom and the new 4th & Brannan stop at 4th and Brannan streets.
During the special weekend service, customers can transfer to the new Central Subway service at Powell Station from Muni Metro and BART by walking underground to the new Union Square/Market Street Station.
The new Central Subway connects communities to destinations including Chinatown, Union Square, Yerba Buena Gardens, the Moscone Convention Centre, the Metreon and SFMOMA, just in time for the holidays.
Wayfinding Guidance
SFMTA ambassadors will provide wayfinding guidance online and in-person during special weekend service to help customers learn to navigate the new Central Subway stations and Muni Metro connections.
Online guidance will include a video that will be available on our website. Visit our Service Changes webpage (SFMTA.com/ServiceChanges) to learn more.
New T Third service in Central Subway is planned to start on January 7 
Beginning Saturday, January 7, SFMTA is planning to run the new T Third line service via Central Subway seven days a week, providing a direct connection from Chinatown-Rose Pak Station to Sunnydale. Weekday service will run from 6 a.m. to 12 a.m.. and weekend service will run from 8 a.m. to 12 a.m.. Stay tuned for more details!