An Ever-Changing Market Street
Thursday, January 30, 2020
As we look towards a new future for Market Street under the Better Market Street Project, here's a brief look back in history at Market Street from the 1850s to 1970s.
From muddy cart tracks and plank walkways to wide brick sidewalks, transit lanes and bikeways, Market has been the ever-changing heart of our city since it was established in the mid 1800s.
First surveyed in 1847 by Jasper O'Farrell, Market Street was laid out in part to provide a transition between the two opposing street grids north and south of Market. Planned as the city's widest street, Market was meant to be San Francisco's main boulevard and quickly became one of the busiest thoroughfares in town. The photo above was taken circa 1856 looking west from 3rd Street, a time when downtown looked more like a small town than a city.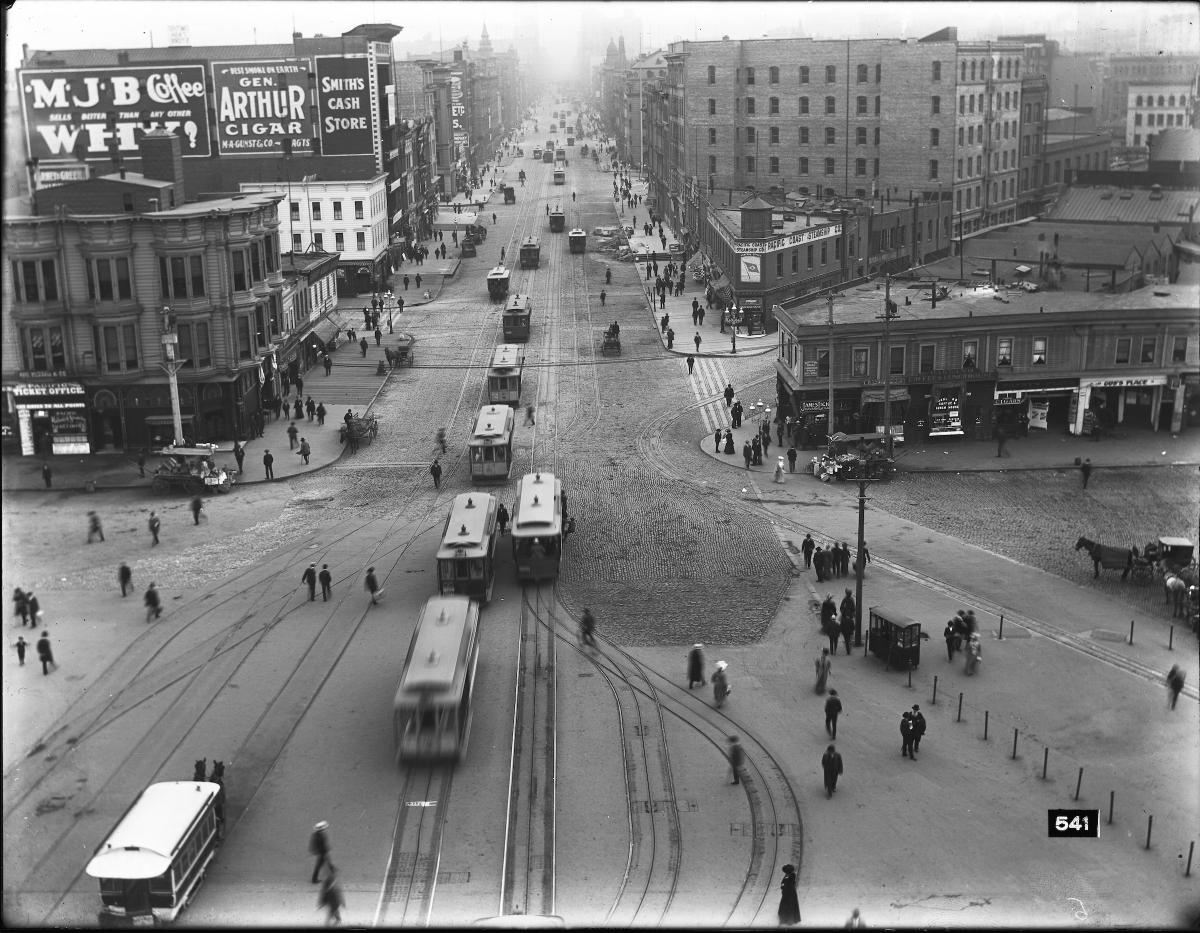 Long before hybrid diesel buses and e-scooters, Market Street was home to multiple cable car and horse car lines that provided service along the corridor and connections to farther-flung destinations. Soon after their invention in 1873, cable cars grew to dominate public transit in the last decades of the 19th Century. This 1905 view was taken looking west from the Ferry Building during a peak time for cable cars on Market.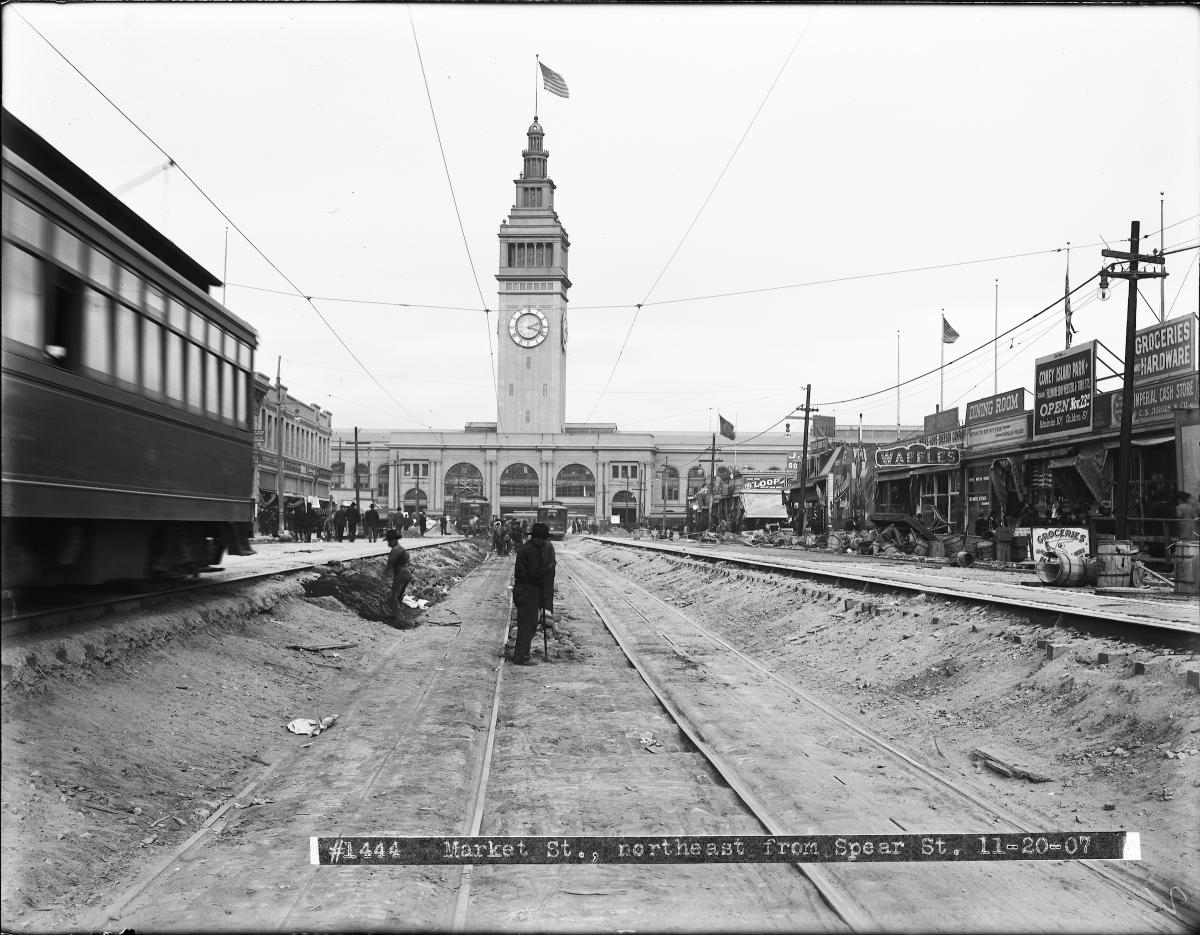 The 1906 Earthquake and Fire completely changed the transit landscape of San Francisco and marked a complete change to Market Street's role in our transportation network. Following the disaster, every cable car line was removed from Market and the street was reconstructed for faster, more efficient electric streetcar operation. This 1907 shot shows workers just west of the Ferry Building working on abandoned cable car tracks that would soon be buried under the pavement to make way for electric streetcars.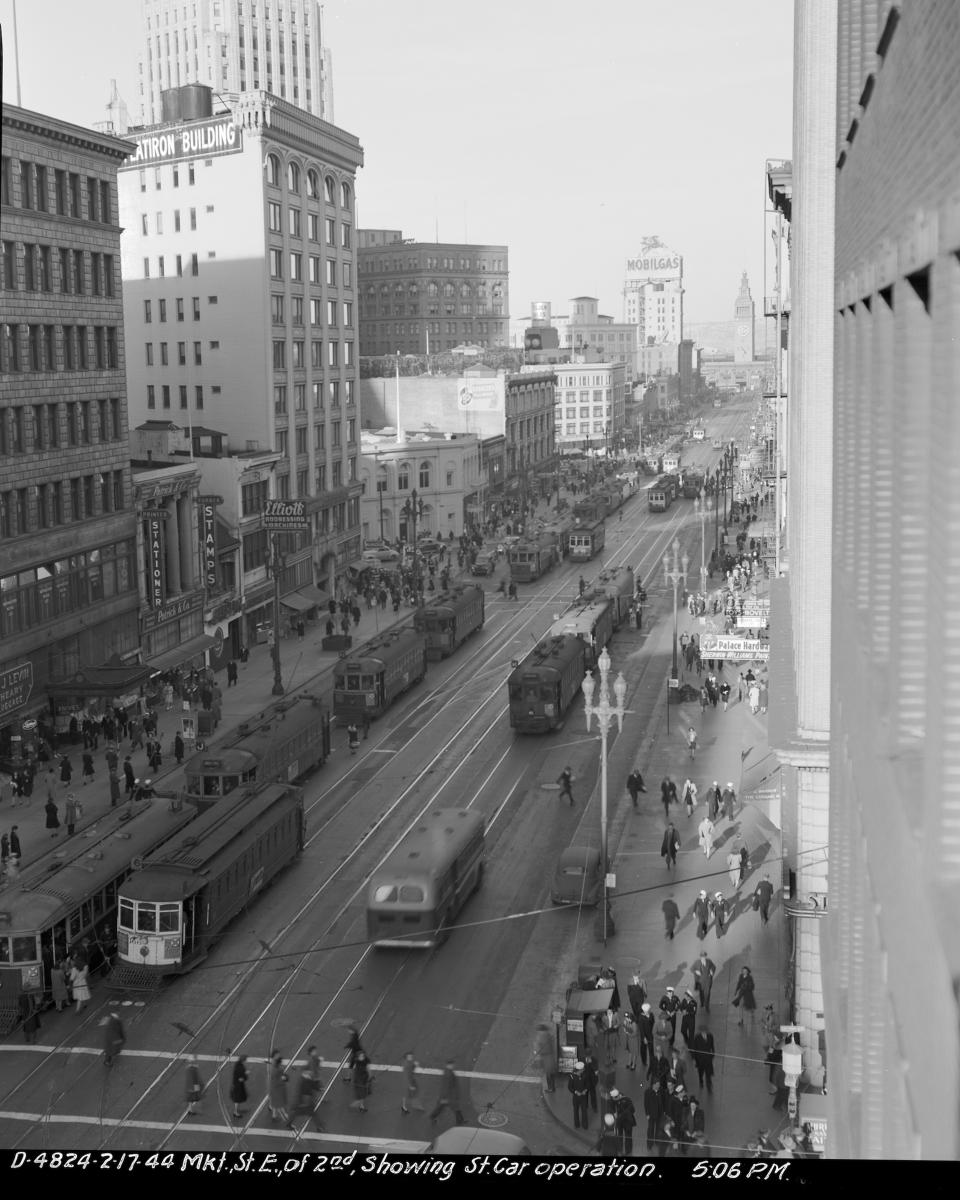 During the 1930s and '40s, four tracks of streetcar traffic (two inbound, two outbound) dominated Market Street. Dubbed "the roar of the four" due to the noise created by dozens of hulking streetcars plying the road. Transit was certainly king of the road during this period of high ridership.
Following World War II, Market Street faced an increased traffic burden as personal car ownership climbed and transit ridership declined. Traffic on Market Street slowed down all travel modes and made for a hazardous pedestrian environment, especially during rush hours. Congestion became enough of a problem that in a 1963 report, City planners analyzed the possibility of moving all auto traffic off of Market and all streetcar traffic into an underground subway to rebuild the street as a pedestrian mall.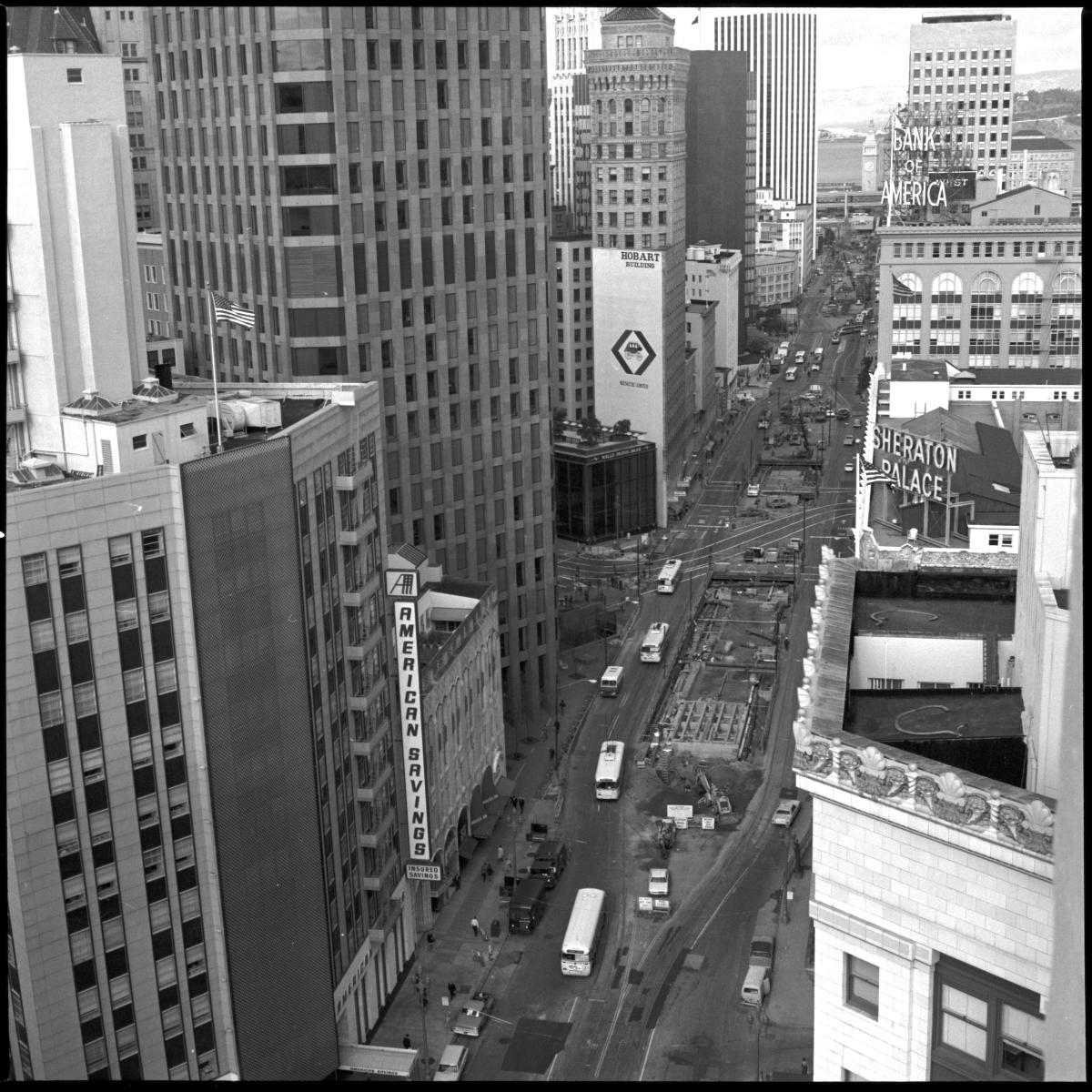 Perhaps the most significant change since 1907 came to Market in the 1960s and 70s with the construction of the Market Street Subway and BART tunnels and stations. Plans and proposals for a Market subway had been floated since at least 1912, but it wasn't until the BART proposal gained enough support to proceed that one version of that dream was realized.
Today, Market is transitioning to yet another incarnation of itself with more room for people walking, riding transit, and biking. Just one more chapter in the history of our city's most storied boulevard. Check out more photos of Market Street through the years on the SFMTA Photo Archive and follow us on Instagram!