Going Back to School with Muni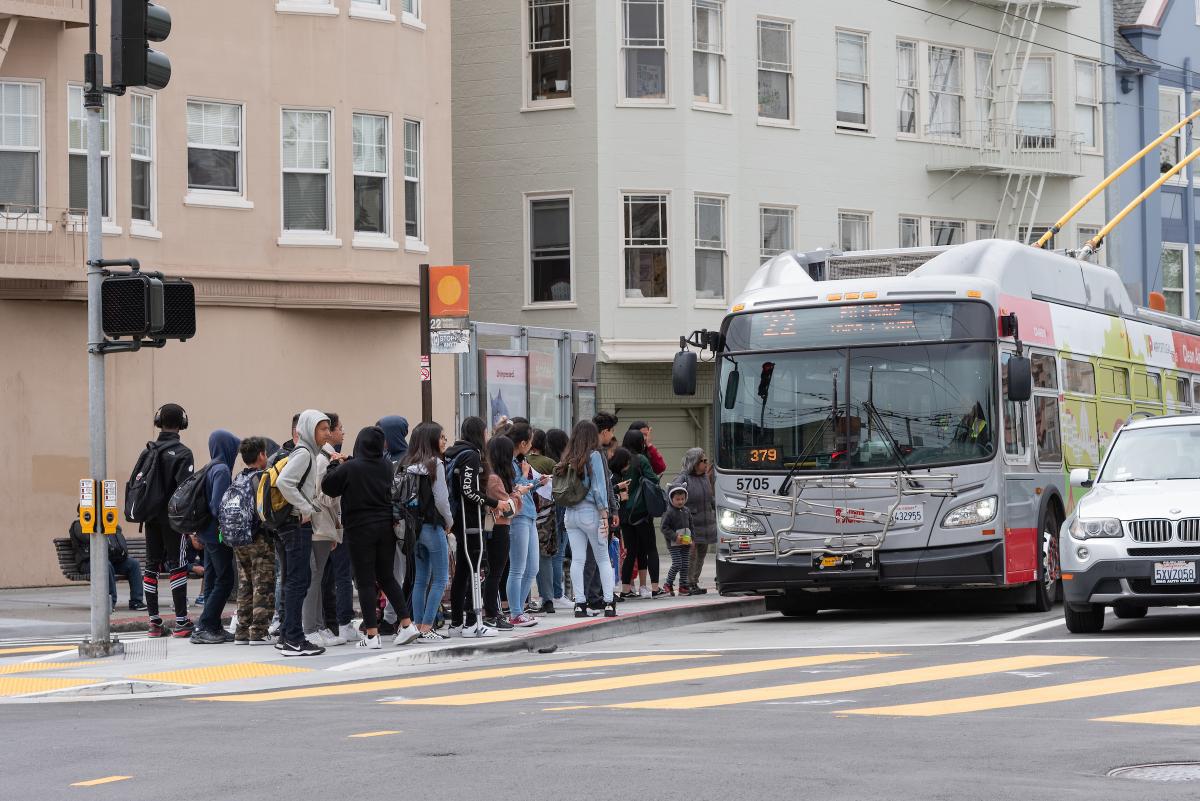 Schools are returning to in-person instruction in August. If you have school-aged children at home, then you likely have a back-to-school checklist that includes reliable, efficient transportation. 
Many parents and guardians rely heavily on Muni to get their children to and from school which is why households will see Muni service restoration continue in August, so that 98% of San Francisco residents will be within two to three blocks of a Muni stop by the start of the new school year.  
To help take the guesswork out of what bus your child can take to school, the SFMTA has put together a list of Muni routes that serve SFUSD schools. This resource shows the closest transit options for all San Francisco public elementary, middle and high schools. 
With additional lines returning in August, including the 18 46th Avenue, 35 Eureka, 36 Teresita and 56 Rutland, you can rest assured that at least one or more Muni lines will provide transportation to the area of your child's school.  
Before hitting the road to school though, it's important for families to know that some of Muni's routes have been modified. For example, beginning in August, the returning 52 Excelsior and 66 Quintara will both provide service for route segments of the 6 Parnassus, and the returning 23 Monterey will terminate at West Portal station and no longer serve Sloat Boulevard as the new 58 Lake Merced (the new route page will be added to our website soon!) route will now cover Sloat.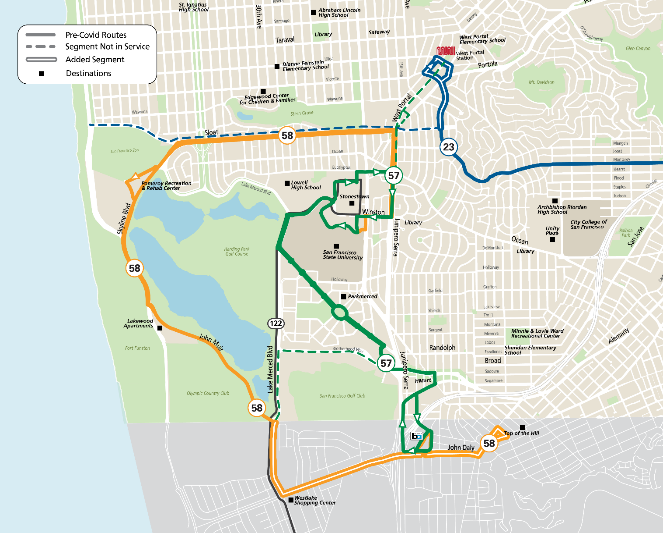 Route map showing the new routing for the 57 Parkmerced and the 58 Lake Merced. 
Some Muni school trippers will also return in August. School trippers are extra buses on existing routes that meet students after school at some of the city's largest middle and high schools. They begin their route near a school site to help prevent crowding and pass ups on busy Muni lines after school, and then continue along their regular route. Schools served by a school tripper can be found on the Muni Routes to City Schools page. 
Once you've mapped out the best route to school, you'll want to know the fare. And we have great news! Beginning August 15—the day before the first day of school--SFMTA's Free Muni for Youth program will extend to all children under the age of 19. While no proof of age or Clipper Card is required for buses and trains, if your child is planning to ride the cable cars when they reopen later this year, make sure they have applied for that option.  
If riding prior to August 15th, you'll want to make sure that your child's Clipper card is full. Cash is always accepted as fare payment when boarding a bus, but by using a Clipper card, the single-ride fare for youth will only be $1.25 versus $1.50 if using cash. Additionally, if you use an iPhone, you can now add the Clipper Card to your Apple Wallet.  
Though physical distancing requirements between passengers on Muni have ended, we do require passengers to maintain 6 feet of distance from the operator. Federal law requires properly worn masks while riding transit and at Muni facilities, regardless of vaccination status. You'll want to make sure that a mask is packed in backpacks and remind your child that masks are required while riding Muni, with limited exceptions.  
With transportation to school now crossed off your checklist, enjoy the remaining days of summer with your kids. Ride the N Judah or KT Ingleside-Third to the ballpark for a Giants game, or one of our eight – soon to be nine – routes to Golden Gate Park to visit the Academy of Sciences, or take a historic trip on the F Market & Wharves. However, you spend the remaining days of summer, know that Muni will help get you and your family there. 
Muni routes to Golden Gate Park:
N Judah - serves Tenderloin, Chinatown and SoMa
5 Fulton - serves Western Addition, Tenderloin, Chinatown and SoMa
7 Haight
18 46th Avenue - returning August 14
28 19th Avenue
29 Sunset - serving Oceanview/Ingleside, Excelsior/Outer Mission and Visitacion Valley
33 Ashbury - serving the Mission
43 Masonic - serving Oceanview/Ingleside
44 O'Shaughnessy -  serving Excelsior/Outer Mission and the Bayview