Meet Your New On-Board Muni Fare Machines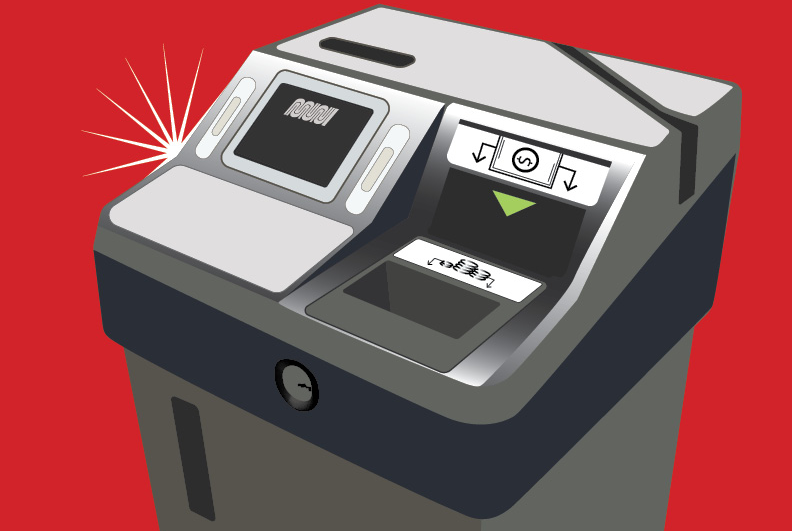 Look for these new fareboxes on your Muni vehicle starting this week.
They've made thousands of Muni rides possible each day. And after more than 25 busy years of transit transactions, our old on-board fare machines are ready to be retired.
So starting this week, we're introducing new, smarter fareboxes that will dispense a new type of Muni ticket on all Muni vehicles. These will be installed on all Muni vehicles over the course of the year, starting with our longer, 60-foot buses.
For the first time on Muni, the new fare machines will print transaction details on tickets, which will help us keep better track of fare payments and understand how people use Muni. This more secure transaction method will also prevent the theft of Muni transfers and help keep operators safe.
So, what's new about using Muni's new fareboxes? Here's everything you need to know.
Transfer and Proof of Payment Rules Stay the Same
Just like the old pre-printed, tear-off transfers, this new ticket will be your proof of payment, so hold on to it – whether you're only riding one route or transferring to another.
Muni's transfer policies will remain the same: Single-ride fares provide a 90-minute window to travel, and late-night tickets issued after 8:30 p.m. are good until 5 a.m. the following morning on all Muni vehicles except cable cars.
When you feed exact change into the new fareboxes, they will print a paper Muni transfer ticket stamped with the time of purchase, type of fare and amount you paid, your Muni route and the time the ticket expires.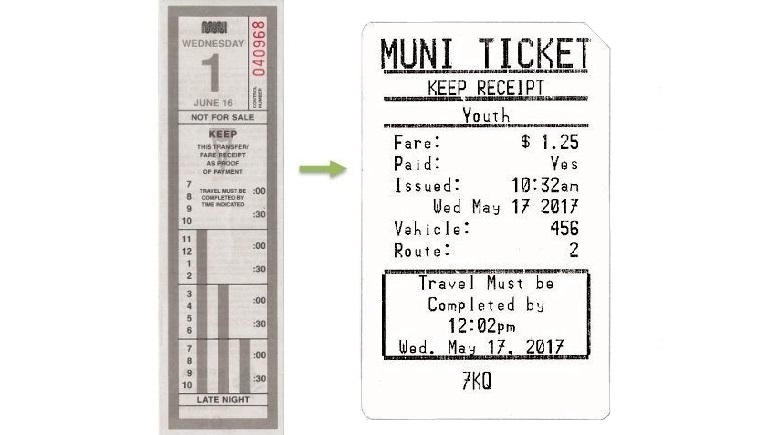 The old, pre-printed Muni transfers (left) will be replaced with new Muni tickets (right).
How to Use the New Muni Fareboxes
1. State your fare: Before you pay, tell the operator if you're buying any fare that's different from the regular adult fare (youth, senior, person with disabilities or a group purchase). This lets the operator know to adjust the rate on the farebox.
2. Insert exact fare amount: Just like the old fareboxes, feed dollar bills into the top slot, face up or down. Drop coins into the slot below (anything from pennies to dollar coins).
If you pay less than the full fare amount, you will receive a receipt that shows the amount paid, but it is not a valid ticket and you may receive a citation.
3. Take your ticket: As always, hold on to your ticket as proof of payment for the duration of your Muni trip. 
Transfers and Fareboxes: A Brief History
The maker of Muni's old fareboxes, Cubic, is not in the farebox business anymore. And with a quarter century of service, the machines are pretty mature.
So last summer, the SFMTA Board of Directors approved a contract to install new fareboxes from Genfare, an industry leader that provides fare solutions for 80 percent of the transit market in the United States.
Muni has had pre-printed paper transfers since about the time of its birth in 1912, when transferring was restricted to certain stops and directions. (You can check out some of the earliest transfers in this blog post from Muni Diaries.)
Today in the digital age, more and more Muni riders are using the MuniMobile app or Clipper cards – two cash-free methods that make fare payment a snap. But even as cash-free fare payment rises in popularity, upgrading our technology to make all forms of payment more efficient just makes sense.
Share your experience: We want to make sure your experience with new tickets and fareboxes is a smooth one. After you've given them a test drive, please share your feedback by taking our survey at sfmta.com/farebox.
Where to See the New Fareboxes
The first of the new Muni fareboxes are being installed on the longer, 60-foot motor buses at Muni's Flynn Division yard, which serve these routes: