New E Line, Nihonmachi Street Fair & Early Subway Closures
Major Construction Alerts:
Starting this Friday, the Muni Metro subway will close early every night between 9:30 p.m. and 1:30 a.m. through January 2016 for radio and emergency communication system upgrades. During shutdowns, Muni Metro light rail vehicles will operate on the surface only with bus shuttles providing service between West Portal and Embarcadero. For complete details visit the project webpage.
BART will close the Transbay Tube this weekend and then again on the Labor Day weekend of September 5. During these shutdowns there will be no train service between San Francisco and the East Bay. Bus shuttles will transport patrons across the bay. Muni bus service near the Transbay Terminal will have additional service. Visit BART's project webpage for complete details. For traffic alerts and alternative routes visit 511.org.
Events:
This weekend is the calm before the storm. Get ready as next weekend will be a big one! Outside Lands is back with another three days of music, food, and fun in Golden Gate Park.  Also, the two-day Pistahan Festival and Parade will showcase Filipino culture, food, and music. Check out these event calendars for what's going on locally: FunCheapSF, EventBrite, SF Weekly, and SFGate if you're looking for something to do this weekend.
Launch of E Embarcadero Muni Line
10 a.m. - 7 p.m., Saturday and Sunday
4th and King to Fisherman's Wharf
Muni is launching the E Embarcadero historic streetcar line for weekend service starting this Saturday. The "E Line" offers a single-seat ride from AT&T Park and the Caltrain station to Fisherman's Wharf and the northeast waterfront. Service will operate every 15 minutes between the hours of 10 am – 7 pm.
Nihonmachi Street Fair
Saturday and Sunday, varying times
Japantown
Now in its 42nd year, the Nihonmachi Street Fair has been a celebration of the diversity and beauty of Asian-Pacific culture and heritage. This two-day street fair in the city's historic Japantown will feature two sound stages with music ranging from Japanese dance to traditional Hawaiian, a car show, a co-ed adult basketball tourney plus an array of food booths and more.
With traffic expected to be heavier this weekend, consider using public transportation. The 2 Clement, 3 Jackson, 22 Fillmore, 38 Geary, and 38R Geary Rapid routes will take to Japantown or get you close to it.
Muni service note: There are no schedule service re-routes, but Muni service near Japantown may see minor delays due to increased ridership.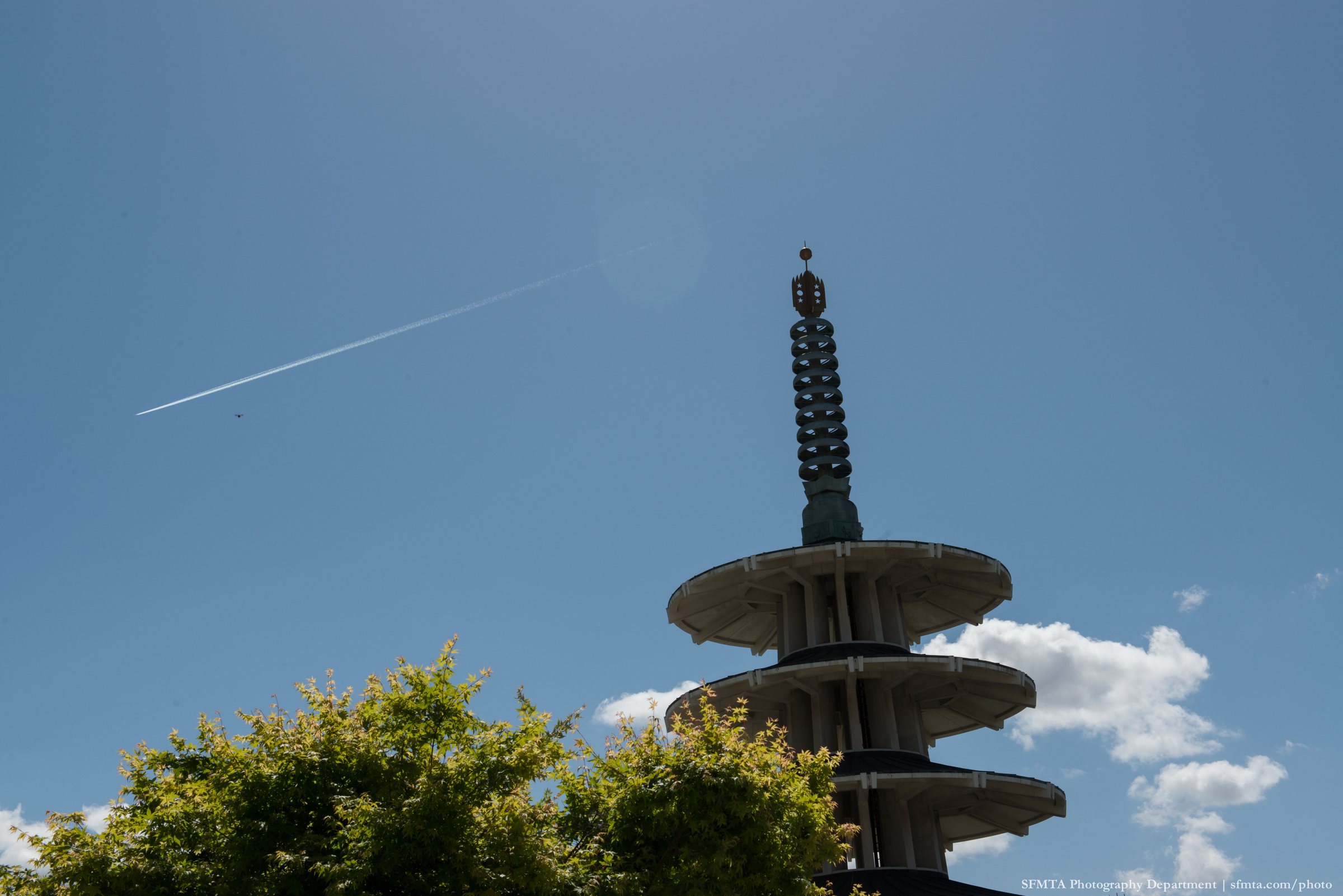 The Peace Pagoda in Japantown on April 8, 2015. SFMTA Photo Archive
"On Tap" gives you a heads up about the big events in town and what Muni routes and lines will get you to the party. Look for this feature to be posted usually on Wednesdays for a look ahead to the weekend. Check out our Weekend Traffic & Transit Advisory for more details.