New Year's Weekend: Embarcadero Sports and A Fireworks Show
Wednesday, December 27, 2017
New Year's Eve Free Muni and Extra Service Reminder:
For the 18th consecutive year, the San Francisco Municipal Transportation Agency (SFMTA) will offer free rides on New Year's Eve from 8 p.m. on Sunday, December 31 through 5 a.m. on Monday, January 1. Please do not tag your Clipper® card or activate a MuniMobile ticket during the free service period.
Holiday Parking and Street Sweeping Enforcement Schedule Reminder:
Parking Enforcement will not be issuing parking tickets for hour limits in residential permit areas, M-F daytime and 7-day night street sweeping or tow cars in commuter tow-away zones on New Year's Day. New Year's Day begins on midnight of January 1.
Muni Holiday Schedule Change Reminder:
Beginning December 26 through the 29, with the exception of the 8AX-Bayshore Express, 8BX-Bayshore Express, and 76X Marin Headlands Express routes, there will be no Express service. Muni will operate on a Sunday schedule on Monday, January 1, 2018.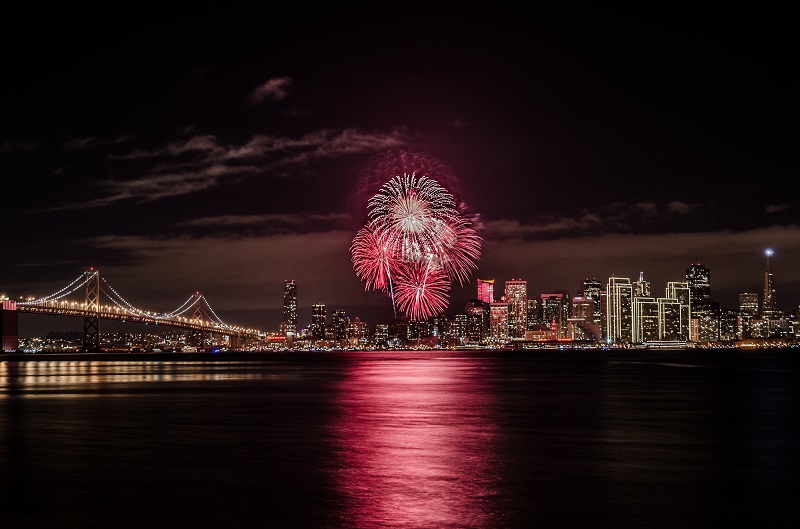 Ring in the New Year with the annual Embarcadero waterfront fireworks show! Photo: Anthony Alvernaz/Flickr
Last Chance for Free Holiday Fun: Rockclimbing, Slacklining, and Bocce Ball at the Embarcadero
Saturday, 11 AM to 1 PM
Justin Hermann Plaza
This Saturday is the last day for the San Francisco Recreation and Parks Department's free holiday sports at Embarcadero Plaza. Along with the Plaza's holiday ice rink, the Department has added drop-in sports including a rock climbing wall, slacklining and bocce ball games that are free for the public to enjoy.
---
How to Get There on Muni: Riders may take any Muni Metro Line, the F Market and Wharves or E Embarcadero streetcar lines, the 1 California, the 2 Clement, the 6 Haight/Parnassus, the 9 San Bruno, the 14 Mission, the 14R Mission Rapid, 21 Hayes, 31 Balboa, or the 41 Union routes to Justin Hermann Plaza. 
Muni Service Notes:  There are no planned service changes for this event. 
San Francisco New Year's Eve Fireworks
Sunday, 11:59 PM
Embarcadero Center
Commit 2017 to the pages of history and ring in the New Year this Sunday night with the annual Embarcadero waterfront fireworks show. Bundle up and join more than 200,000 of your fellow San Franciscans for the celebration of the arrival of a new year. The event is free and is visible from many places throughout the city -- along the Embarcadero sout of the Ferry Building, Yerba Buena/Treasure Island, Telegraph HIll and more. 
How to Get There on Muni: Riders may take any Muni Metro Line, the F Market and Wharves or E Embarcadero streetcar lines, or any Market Street bus route close to the Embarcadero festivities.
Muni Service Notes: There are no planned reroutes for this event, however, ridership is expected to be high so overcrowding and some minor delays are possbile. Reminder that Muni will be free to ride from 8 PM December 31, 2017 to 5 AM January 1, 2018 so please be safe, don't drink and drive, and take Muni to and from any New Year's events you may be attending.
"On Tap" gives you a heads up about the big events in town and what Muni routes and lines will get you to the party. Look for this feature to be posted usually on Wednesdays for a look ahead to the weekend. Check out our Weekend Traffic & Transit Advisory for more details.