A Packed Weekend Ahead: Clusterfest, Union Street Festival, Escape from Alcatraz Triathlon and More!
Events: This weekend is jam-packed with fun and games for the entire family. Get your tickets to the second annual Clusterfest in the Civic Center, head over to the Union Street Festival for a more local flavor, strap on your running shoes for the 98th annual Statuto Race and Walk or the Escape from Alcatraz Triathlon. You can also take in a game during the Giants' upcoming homestand beginning this Friday or enjoy Sunday Streets in Golden Gate Park and the Sunset. There will be comedy, music, food, and fun happening all across San Francisco this weekend. Read more about our feature events below.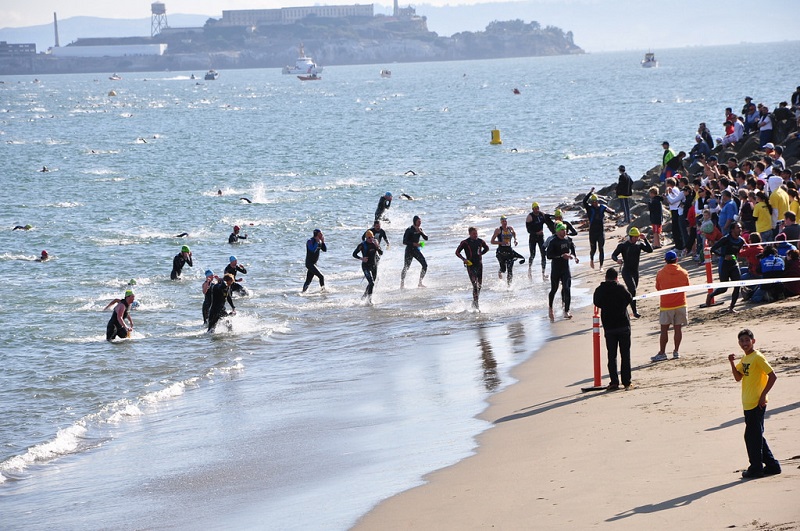 After a brisk early morning swim, these competitors exit the Bay and prepare to grab their bicycles for the second leg of the race. Photo: Sonic Fitness Sports Photography/Flickr
Clusterfest
Friday-Sunday, various times
Civic Center
After the success of its first year, it was deemed prudent to bring the Clusterfest back to San Francisco for a second go around. Dozens of performers will be featured throughout the three-day event in the Civic Center, including such names as Jon Stewart, Trevor Noah, John Mulaney and many more comedic and musical acts. On top of the performances, the event will allow attendees to step into the worlds of some of their favorite television shows with recreations of Paddy's Pub from It's Always Sunny in Philadelphia, the Bluth's Frozen Banana Stand from Arrested Development, and more.
---
How to Get There on Muni: Attendees may take any Muni Metro line to Civic Center station, the F Market and Wharves Line, as well as the 5 Fulton, 6 Haight/Parnassus, 7 Haight/Noriega, 9 San Bruno, 14 Mission/14R Mission Rapid, 19 Polk, 21 Hayes, 31 Balboa, 47 Van Ness or 49 Van Ness/Mission routes close to the event.
Muni Service Notes: The 19 Polk Route will have a reroute around the area of the Civic Center. All routes in the area may experience minor delays and crowding due to higher than normal ridership.
Union Street Festival
Saturday and Sunday, 10 am to 6 pm
Pacific Heights/Cow Hollow
Still going strong after 42 years, the Union Street Festival is one of San Francisco's largest annual free events that's showing no signs of slowing down. Taking place on Union Street between Gough and Steiner streets, the festival will, for the second consecutive year, feature over 24 live bands spanning a wide array of genres scattered throughout the length of the event. The staples of the event that have made it what it is will still be in place, including arts and crafts exhibitors, food vendors, and beer and wine gardens.
How to Get There on Muni: Festival goers may take the 19 Polk, 22 Fillmore, 28 19th Avenue, 43 Masonic, 45 Union/Stockton, 47 Van Ness or 49 Van Ness/Mission routes close to the event. 
Muni Service Notes: The 45 Union/Stockton will have a reroute around the festival while the 22 Fillmore may experience some minor delays due to increased ridership and crowds near the entrance to the event.
Escape from Alcatraz Triathlon
Sunday, 7:30 am
Various locations
If you've been feeling like an early morning mile-and-a-half swim, a nice long bike ride, and a cool-down run, then this Sunday has just the event for you. The Escape From Alcatraz Triathlon allows athletes from around the world to compete for a chance to accomplish the impossible task of the race's namesake. No man is known to have ever successfully escaped from The Rock, though a handful of attempts were made --with the most famous being the basis of the novel and subsequent film which share a name with the event-- so it is no small feat to be the first across the finish line. 
How to Get There on Muni: Participants will board the ferry to Alcatraz at Pier 3 making the California Cable Car or F Market and Wharves lines, as well as the 1 California, 2 Clement, 6 Haight/Parnassus, 9 San Bruno, 14 Mission/14R Mission Rapid, 21 Hayes, 31 Balboa routes the best options for transit to the event.
Muni Service Notes: The 18 46th Avenue, 29 Sunset, 38 Geary/38R Geary Rapid routes will have reroutes and all routes along the race course may see minor delays.
Reminder: California Cable Car Bus Substitutions
This Saturday through Monday, the California Cable Car Line will have bus substitutions due to construction work planned for those dates. Beginning at 6:30 AM on June 2 and continuing through the end of service at 12:30 AM on June 4, bus shuttles will stop at the regular cable car stops on California Street between Van Ness Avenue and Drumm Street. Service will be unavailable at the terminal on Drumm Street: Customers may board at Drumm and California streets in front of the Hyatt Regency. Buses traveling east will terminate at California and Davis streets. The stop on California at Powell Street will provide a transfer point between buses and cable cars. Regular bus fare is required for riding the bus ($2.75 cash/ $2.50 for Clipper or the Muni Mobile app).
Reminder of Weekend Closures
Early Closures of Twin Peaks Tunnel: Preparatory work inside the Twin Peaks Tunnel ahead of the summer closure continues this weekend between Church and West Portal. Stations will close early on Friday and Saturday nights to provide crews extra time to work inside the tunnel. Buses will run in place of the K, L and M lines. K, L, and M subway service will resume at 9 a.m. on Saturday and Sunday morning.
"On Tap" gives you a heads up about the big events in town and what Muni routes and lines will get you to the party. Look for this feature to be posted usually on Wednesdays for a look ahead to the weekend. Check out our Weekend Traffic & Transit Advisory for more details.