Safer Streets Sooner: See Near-Term Upgrades for Folsom and Howard at Our Open Houses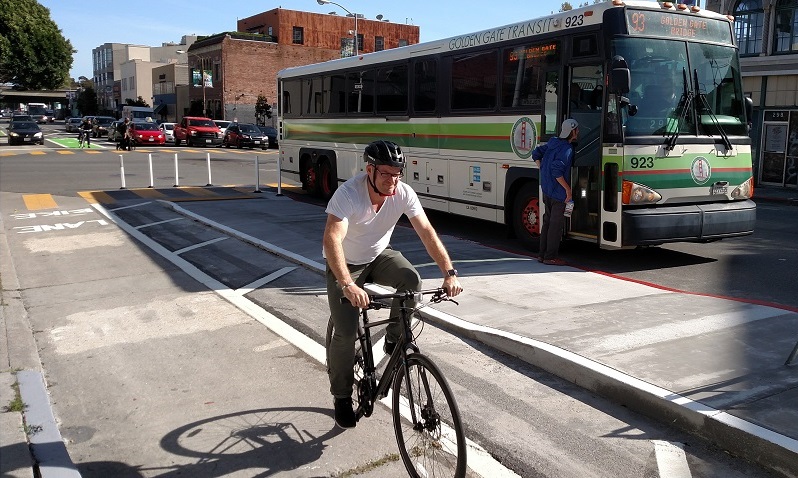 Near-term improvements proposed for Folsom and Howard streets include elements similar to those in this parking-protected bike lane and transit boarding island on 7th Street.
Safety, loading and transit improvements are proposed for Folsom and Howard streets in the South of Market District this winter, and you can get a look at them at one of our two open house meetings next week.
The Folsom-Howard Streetscape Project will bring amenities to make SoMa safer and more pleasant to walk, bike, live and work in. However, implementing longer-term changes is expected to take more than five years to finalize the design, coordinate with utility work, change signal times and pour miles of concrete.  So when talking with neighbors, local businesses and those who use Folsom and Howard, we made a commitment to look at near-term safety improvements.
We are hosting two open houses next week to the showcase changes proposed for Folsom and Howard which we hope to install this winter. On Thursday, July 13 and Saturday, July 15, the Folsom-Howard Streetscape Project team will ask people to weigh in on near-term changes like adding parking-protected bike lanes, doubling the number of loading zones on Folsom and installing transit boarding islands. We believe that these are effective, inexpensive treatments that can be installed more quickly to make these streets safer as we move forward with the longer-term project.
These changes are being considered after extensive community outreach. Since the beginning of the project, 350 people have attended our open houses, 1,300 people have responded to our surveys, and we have met with over 70 businesses along the corridor and 20 community groups. We heard that the community wants safer streets and easier curbside loading, and we didn't want them to have to wait. 
Please join us next week and share your thoughts. Check out the project webpage to find more info, and don't forget to sign up for updates.