Folsom-Howard Streetscape Project
Project Introduction
The Folsom-Howard Streetscape Project will make the South of Market Neighborhood (SoMa) a safer and more inviting place to walk, bike, shop, and take transit. Both Folsom Street and Howard Street are a part of San Francisco's "High-Injury Network" which is the 13 percent of city streets that account for 75 percent of San Francisco's severe and fatal traffic crashes. In 2018, two people were killed on Folsom and Howard. The Folsom-Howard Streetscape Project will improve safety on these corridors and help the City meet its Vision Zero goal of eliminating traffic fatalities. 
The Folsom-Howard Streetscape Project completed the planning phase and conducted in-depth public outreach; the project was approved by the SFMTA board in Spring 2019. Several near-term safety upgrades were completed on both corridors over the last three years. Some outreach will continue to take place to inform the community of final public realm treatments.  
Folsom Street is currently in detailed design and is scheduled to start construction in 2021. Howard Street will start detailed design soon after Folsom Street begins construction; though the schedules are staggered to address budgetary needs and construction impacts, we continue to address the two corridors together and will focus on Howard Street after meeting the critical milestones for Folsom Street.  
Project Timeline
Winter 2018
Folsom Near-Term Completed
Fall 2018 - Winter 2019
Howard Near-Term Construction
Improvements
Raised crosswalk at alleys, pedestrian lighting improvements, and bulbouts.
New transit boarding islands and traffic signal upgrades.
Public realm improvements, landscaping improvements, roadway base repair and resurfacing, and utility and drainage improvements.
Bus Routes and Rail Lines
Project Details, History or Features
PROJECT DETAILS
The Folsom and Howard Streetscape Project will begin with the implementation of Folsom Street.
The Folsom Street project scope includes the removal of one to two eastbound travel lanes and the addition of traffic and bike signals, protected corners at intersections, corner bulb-outs, raised crosswalks, mid-block crosswalks and crosswalks at alleyways and minor streets, a two-way separated bikeway, a transit-only lane, transit boarding islands, and improved curb management. Lastly, the project enhances the public realm by providing tree-lined medians and Civic Amenity Zones, or pedestrian spaces with customized pavers, historic plaques, district street signs, and gateway elements celebrating the diverse communities centered along the corridors. Specific changes are listed below and are expected to start construction in 2022.
Roadway Configuration Changes
Removal of one to two eastbound travel lanes on Folsom Street between 2nd and 11th streets

Repaving of the Folsom Street corridor
Pedestrian Safety Improvements
21 new corner bulb-outs that shorten crossing distances 

15 signals with improved timing (this number includes one midblock crossing and two new alleyway crossings)

Raised bikeway crossings that will prioritize pedestrians

Leading Pedestrian Intervals or pedestrian head starts at 11 intersections

Raised crosswalks at ten alleyways
Transit Service Changes
New transit-only lane to Folsom from 10th to just after 4th streets and new service from the 8-Bayshore, 8AX-Express, 8BX-Express, 27-Bryant.

Eight new or upgraded transit boarding islands
Bicycle Safety Improvements
New two way protected bike lane on Folsom from 2nd to 11th Streets

Concrete buffers for parking-protected bikeways

New concrete protection for bicyclists in intersections

16 new separated bike signals with dedicated phases for cyclists and turning vehicles

Raised bikeways at select alley crossings to prioritize a cyclist's right-of-way
Loading and Parking Improvements
New parking meters on Folsom from 6th to 11th will increase turnover and parking availability for customers.

While some parking spaces will be removed to enhance safety and visibility, SFMTA continues to work with the business community to prioritize loading needs
Public Realm Improvements
Tree-lined medians

Civic Amenity Zones, or pedestrian spaces with customized pavers, historic plaques, district street signs

New pedestrian street lighting
PROJECT HISTORY
Concept designs for the Folsom-Howard Streetscape Project will be based on preliminary recommendations from the City's Central SoMa Plan and the Eastern Neighborhoods Transportation Implementation Planning Study.
A draft environmental impact report for the project is expected to be released later this year. This report will provide a general framework for the Folsom-Howard Streetscape Project for the public to consider.
COMMUNITY ENGAGEMENT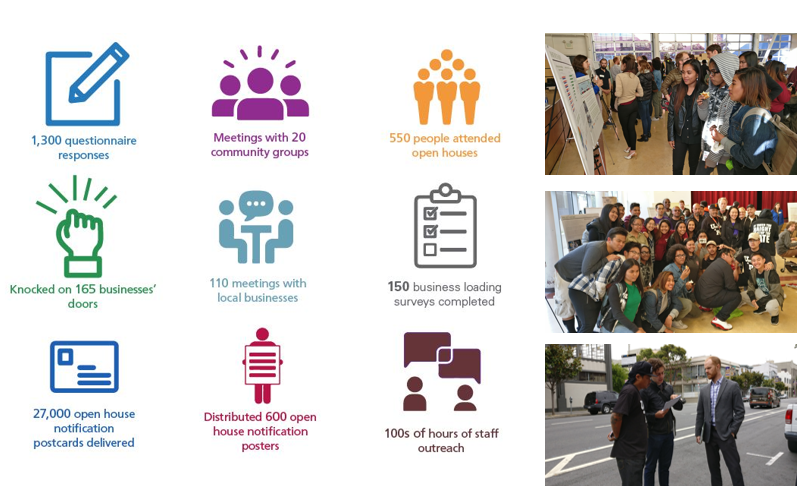 The SFMTA has worked in close collaboration with neighbors, local businesses, community groups and users of the Folsom and Howard Street corridors since initiation of the project. 
In Winter 2016, the SFMTA held two open houses and conducted an online survey to take feedback on their values and priorities. In April 2017, two open houses were held to show possible alternatives to the public and request feedback. In January 2019, the SFMTA presented the final proposed long-term designs of the corridor at two open houses.
By working closely with the community to align project goals, the SFMTA was able to secure legislative approval of the project in Spring 2019. We will continue to engage the community in coordination with our partners at Public Works to finalize the public realm elements of the project and to inform users and residents of construction updates. 
PROJECT TIMELINE
Predevelopment: Fall 2015 to Fall 2016
Community Values Open Houses: December 2016
Community Outreach and Planning: Winter 2016 to Summer 2019
Folsom Near-Term Open Houses: July 2017
Folsom Near-Term Public Hearing: Fall 2017
Folsom Near-Term Legislation: Fall 2017
Folsom Near-Term Changes Installed: Winter 2018
Howard Near-Term Open Houses: July 2018
Howard Near-Term Legislation: October 2018
Howard Near-Term Changes Installed: Winter 2019
Proposed Alternative for Long-Term Changes Open Houses January 2018
Long-Term Legislation: Spring/Summer 2019
Detailed Design: 2019 to 2021
Construction: 2022 to 2023