Folsom-Howard Streetscape Project
As part of the Folsom Streetscape Project, the SFMTA proposes to remove a total of 14 trees: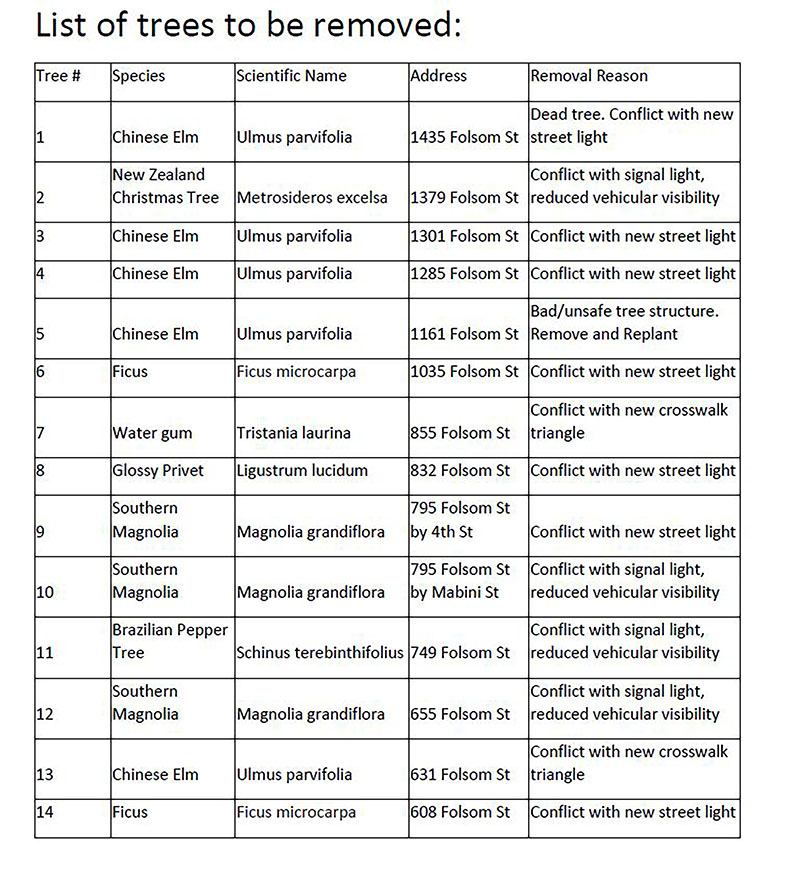 A total of 34 new trees will be planted with a net increase of 20 trees.
To review detailed information, visit Folsom Streetscape Project Tree Removal Summary. 
Members of the public objecting to this action must protest in writing to the SFMTA. Protest must be made within the posting period, or postmarked no later than the last date of the posting period.
Protests can be sent to the following address:
San Francisco Municipal Transportation Agency - Streets Division
Attn: Alan Uy
1 South Van Ness Avenue, 7th Floor, San Francisco, CA 94102
Email: Folsom@SFMTA.com
If the tree removal is protested within the posting period (10/18/21 - 11/17/21), a public hearing will be scheduled. 
Project Introduction
Both Folsom and Howard streets are major three to four-lane arterials, where Folsom Street serves eastbound traffic and Howard Street serves westbound traffic. These couplets were designed for trucks and  cars serving the manufacturing and warehousing industry, which was the dominant use in the post-World War II era.
Over the past two decades, the area has experienced explosive growth in housing and employment, evolving from a manufacturing hub to an employment, entertainment, and residential center with new and larger developments. This growth coupled with a large population of disadvantaged communities has increased  alternative transportation usage. Walkways and bikeways are currently inadequate because the existing roadway is still designed to support and prioritize high vehicle volumes and has not changed with the neighborhood.
Folsom and Howard streets are part of San Francisco's Vision Zero High Injury Network, where 13  percent of San Francisco's streets endure 75 percent of the total severe and fatal traffic collisions. In 2018, two people were killed on Folsom and Howard. The Folsom-Howard Streetscape Project will improve safety on these corridors and help the City meet its Vision Zero goal of eliminating traffic fatalities. 
The Folsom-Howard Streetscape Project will make the South of Market Neighborhood (SoMa) a safer and more inviting place to walk, bike, shop, and take transit.
The Project completed the planning phase and conducted in-depth public outreach; the project was approved by the SFMTA board in Spring 2019. Several near-term safety upgrades were completed on both corridors over the last three years. Some outreach will continue to take place to inform the community of final public realm treatments.  
Improvements
Raised crosswalk at alleys, pedestrian lighting improvements, and bulbouts.
New transit boarding islands and traffic signal upgrades.
Public realm improvements, landscaping improvements, roadway base repair and resurfacing, and utility and drainage improvements.
Bus Routes and Rail Lines
Community Engagement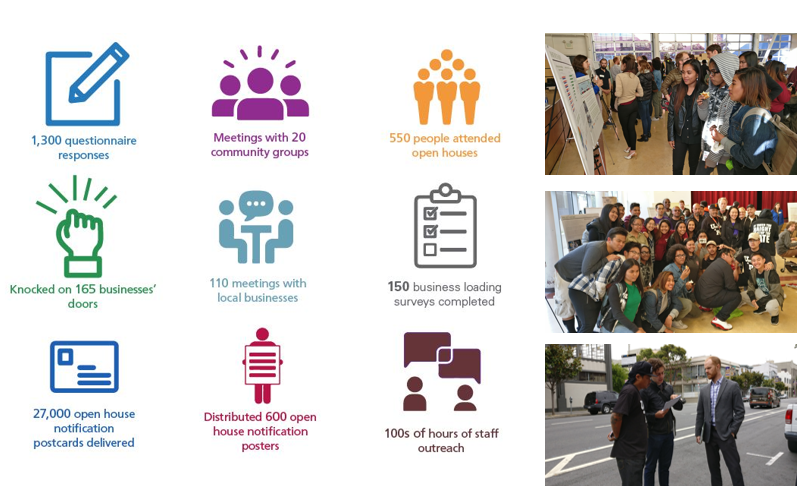 1,300 questionnaire Reponses
Meetings with 20 community groups
550 people attended open houses
Knocked on 165 businesses' doors
110 meetings with local businesses
150 business loading surveys completed
27,000 open house notification postcards delivered
Distributed 600 open house notification posters
100s of hours of staff outreach
The SFMTA has worked in close collaboration with neighbors, local businesses, community groups and users of the Folsom and Howard Street corridors since initiation of the project. 
In Winter 2016, the SFMTA held two open houses and conducted an online survey to take feedback on their values and priorities. In April 2017, two open houses were held to show possible alternatives to the public and request feedback. In January 2019, the SFMTA presented the final proposed long-term designs of the corridor at two open houses.
By working closely with the community to align project goals, the SFMTA was able to secure legislative approval of the project in Spring 2019. We will continue to engage the community in coordination with our partners at Public Works to finalize the public realm elements of the project and to inform users and residents of construction updates. 
Project Timeline
Predevelopment: Fall 2015 to Fall 2016
Community Values Open Houses: December 2016
Community Outreach and Planning: Winter 2016 to Summer 2019
Folsom Near-Term Open Houses: July 2017
Folsom Near-Term Public Hearing: Fall 2017
Folsom Near-Term Legislation: Fall 2017
Folsom Near-Term Changes Installed: Winter 2018
Howard Near-Term Open Houses: July 2018
Howard Near-Term Legislation: October 2018
Howard Near-Term Changes Installed: Winter 2019
Proposed Alternative for Long-Term Changes Open Houses January 2018
Long-Term Legislation: Spring/Summer 2019
Folsom Streetscape Project Detailed Design: 2019 to 2021
Folsom Streetscape Project Construction: 2022 to 2023
Project Details, History or Features