San Francisco Beams With Rainbow Pride This Weekend
The first weekend of summer and the last weekend of June will draw an estimated one million people into the city for the world renown Pride celebration. While Pride weekend will get the lion share of attention, don't forget that the National League West leading San Francisco Giants will begin a five game home stand on Friday. Muni service will get take you out to AT&T Park for those games against the Philadelphia Phillies and Oakland A's. Now back to Pride, it will be a very busy weekend, and here is what you can expect to see.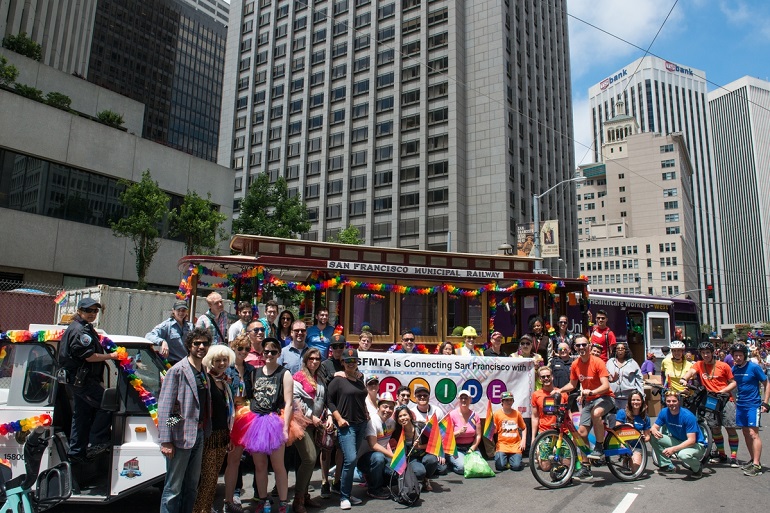 SFMTA contingent getting ready to participate in the Pride Parade on June 28, 2015. SFMTA Photo Archive
Pride Weekend
Friday through Sunday
Castro and Civic Center
'For Racial and Economic Justice" is the theme of this year's San Francisco Pride festivities. While the recent tragedy in Orlando will weigh heavy on the city's collective heart, this weekend will offer the opportunity for healing and reaffirmation of SF Pride's mission to educate, commemorate, celebrate and liberate.
The Trans March on Friday night gets the festivities started with a procession from Dolores Park to the Tenderloin. Saturday will see the Dyke March make its way from Dolores Park to the Castro. Also on Saturday and Sunday, an expected 300,000 people will make their way through the Civic Center Plaza for the Pride Celebration which will feature music and dance performances on several stages plus appearances by nationally and internationally recognized LGBT stars.
Attendees should expect delays entering the Civic Center Plaza as there will be metal detectors, a combination of walk-through machines and hand-held wands, at all entry points into the plaza on both days. All bags will be searched. Bags larger than 18 inches by 18 inches will not be permitted. For more details on Pride Celebration security, please visit the event website.
People are encouraged to sign up for the city's emergency text notifications by texting (415) 888-7777 with the message "alertsf."
Due to street closures and service re-routes, it is recommended that you use the Muni Metro subway to either Castro, Church, Van Ness, or Civic Center stations to attend all the festivities.
For complete details on all service adjustments that will take place this weekend, please visit our Pride service alert page.
Muni service note: service routes in and around the Castro (F Market, J Church, 22 Fillmore, 33 Ashbury/18th, 37 Corbett, and 55 16th Street) and near the Civic Center (5 Fulton, 19 Polk, and 21 Hayes) will have re-routes.
Pride Parade
Sunday, 10:30 a.m.
Market Street
An estimated one million people, possibly more, are expected to line both sides of Market Street for the showcase event of the weekend, the world famous Pride Parade. Described as the "largest gathering of LGBT people in the nation," this annual spectacle will feature over a hundred contingents, vibrantly festooned floats and thousands of enthusiastic participants. Beginning at Market and Beale streets the parade will travel westward to Market and 8th streets where the parade will terminate.
Due to street closures and an influx of pedestrian traffic, public transportation will be your best option. Utilize the Muni Metro subway to any of the downtown stations for parade viewing.
Muni service note: All Muni service that either operates on or crosses Market Street between Beale and Eight streets will have re-routes or switchbacks. F Market streetcars will operate along The Embarcadero only. Mission Street will be transit only between The Embarcadero and South Van Ness Avenue.
On Tap for next weekend: Independence Day Fireworks, Fillmore Jazz Festival and Giants baseball
"On Tap" gives you a heads up about the big events in town and what Muni routes and lines will get you to the party. Look for this feature to be posted usually on Wednesdays for a look ahead to the weekend. Check out our Weekend Traffic & Transit Advisory for more details.