SFMTA's Cable Car Signal Tower Gets a Refresh
At the corner of California and Powell Streets stands a diminutive but important building that has been in use for well over 100 years. This octagonal signal tower controls the crossing of the Powell and California Street cable car lines, and recently underwent a full restoration thanks to the skilled craftspeople at the Cable Car Division.
A group photo of Muni craftspeople and shop management who worked to restore the signal tower in 2020-2021.
The tower's history dates to 1888 when the original was built by the Ferries and Cliff House Railroad, which operated cable cars on Powell Street at the time. That tower was destroyed in the 1906 earthquake and fires that ravaged Nob Hill. In March 1907, it was rebuilt by then-owner United Railroads of San Francisco (URR) and went back into operation.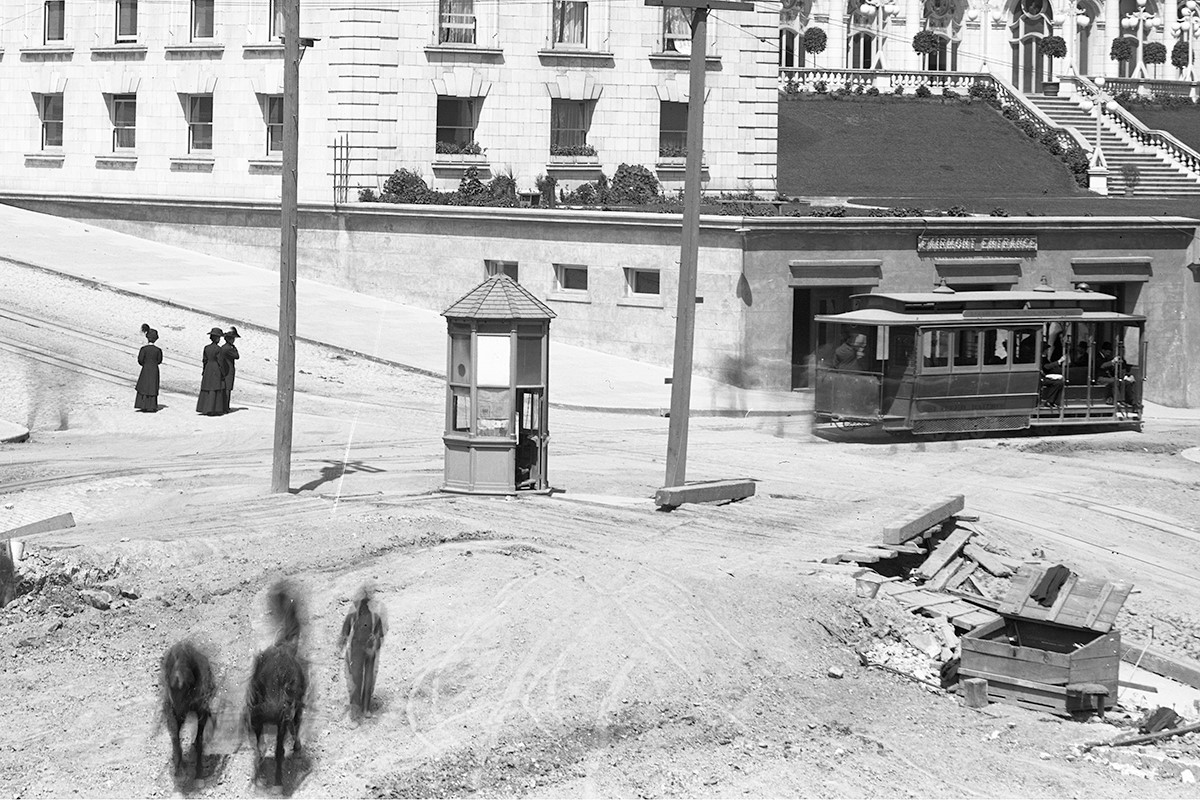 Photo showing signal tower in 1908 with the Fairmont Hotel and passengers waiting for a cable car in the background. Photo courtesy OpenSFHistory.org.
In 1935, a runaway automobile on California Street struck the tower, causing severe damage and tragically killing the signal operator inside. The tower was subsequently rebuilt, and a heavy metal barrier was installed on its west side.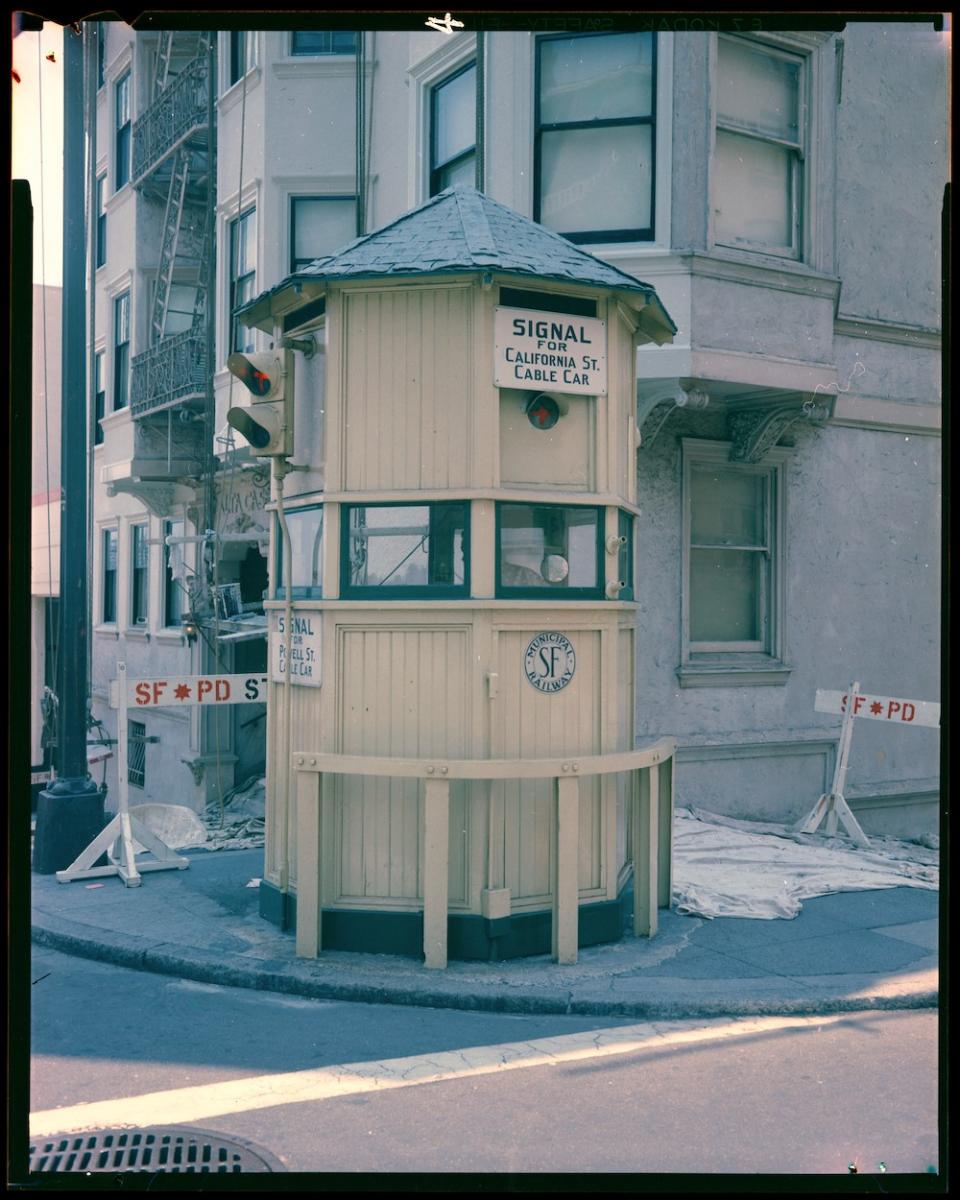 This 1966 photo shows the west-facing side of the tower, painted in green and cream, shortly before paint and repairs were done on the building.
The next major change came in 1967 when the tower was renovated and a new copper roof was installed. The structure was also repainted to reflect the maroon and tan color scheme of the California Street cable cars. Until 1982, the tower retained its manually-operated kerosene lantern signals originally installed in 1907.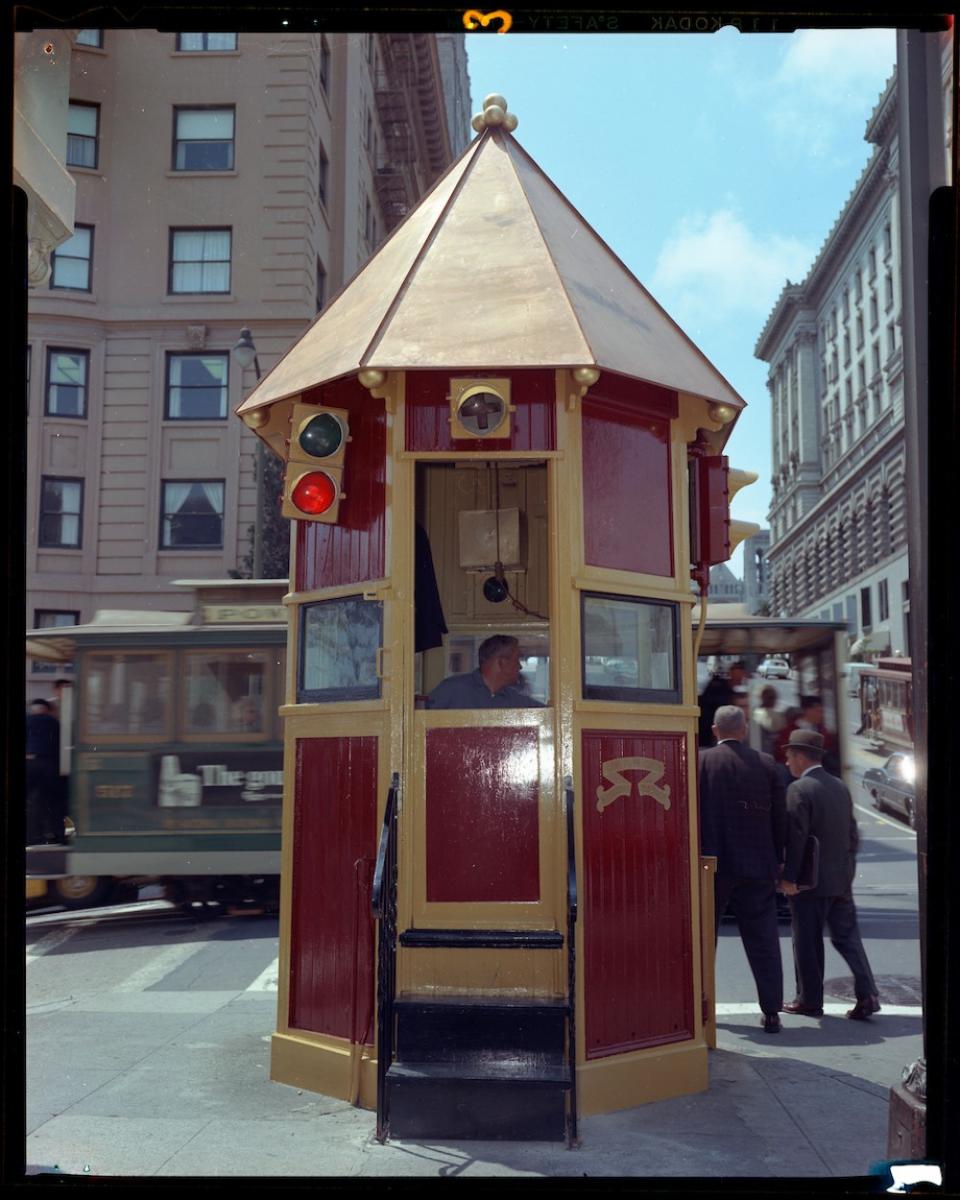 A 1967 photo showing the newly repainted and copper-roofed signal tower.
The suspension of cable car service during the Covid-19 pandemic proved an opportune time to give the little signal tower some much needed T-L-C.  During 2020 and early 2021, SFMTA carpenters, painters, metal workers and mechanics undertook a complete overhaul of the building. A new floor, roof, ceiling, door, windows, steps, heating, lighting and electrical system were all built and installed.
As with our world-renowned cable cars, no detail was overlooked during the tower rebuild. Muni carpenters repaired woodwork throughout, custom-building both the octagonal ceiling and split Dutch door. Paint crews highlighted each element of the tower with colors that enhance the structure's overall visual appeal. Our expert mechanics installed new electrical systems. Even the grab handles and handrails for the steps were custom built from materials that are also used on Powell Street cable cars by skilled metalworkers at the SFMTA's Special Machine Shop. A final step in this rebuild will be the installation of new signals before the tower goes back into operation later this year.
Check out the gallery below showing photos of the tower through the years and the recent restoration.