Spread the Word: Muni's Owl Routes Run All Night
Thursday, August 11, 2016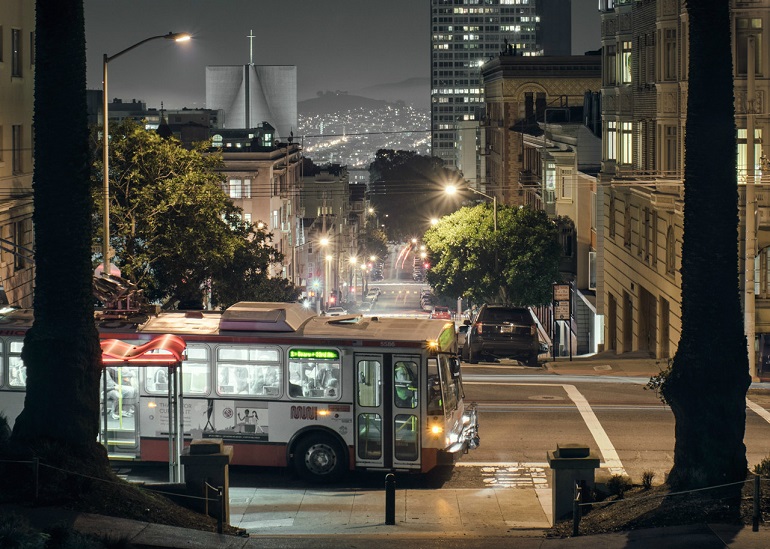 Photo: .freeside./Flickr
Muni runs 24/7. Even in the wee hours of the night, you'll find Muni's Owl Network hooting across San Francisco.
But more people need to know about the late-night transit options available in the Bay Area. That's why we joined our local and regional partners last week in launching a new, multilingual outreach campaign to promote awareness of the AllNighter network of late-night and early-morning bus service that serves SF, the East Bay and the Peninsula.
AllNighter service, which runs from about midnight to 5 a.m., consists of over 20 bus routes provided by Muni, AC Transit, SamTrans and Golden Gate Transit. Twelve of those routes are comprised by Muni's Owl network, which starts after regular Muni service ends, at about 1 a.m.
"A safe, affordable 24-hour transportation regional network is necessary to serve daily commuters along with the hardworking individuals that work late night or early morning hours," said Mayor Ed Lee. "The AllNighter multilingual outreach campaign will promote greater awareness of these transit options."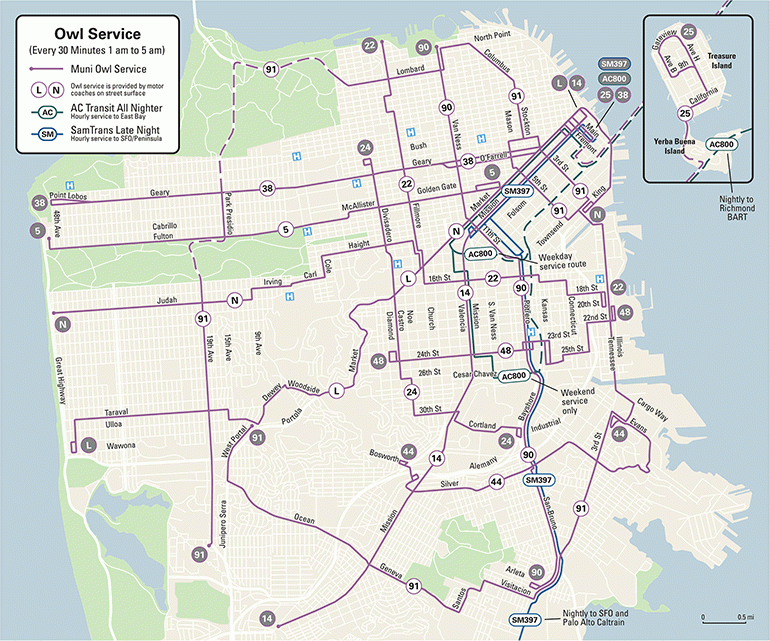 Altogether, Muni Owl service includes ten routes that run 24 hours a day, 7 days a week, and two Owl-only, cross-city routes. During Owl hours, these routes run every 30 minutes.
Routes With Full-Length Owl Service
Routes With Shortened Owl Service​
Owl-Only Cross-City Routes
Metro Lines With Owl Bus Service
In April, we introduced all-night service on portions of the 44 O'Shaughnessy and 48 Quintara/24th Street routes and increased service on the L Owl and 25 Treasure Island Owl.
"Whether for work or recreation, people use Muni and other regional transit providers to get around day and night," said Ed Reiskin, our director of transportation. "The new late-night Muni Owl routes and service increases are examples of the overall improvements we are making to adapt to the needs of Muni riders in a growing economy and city population."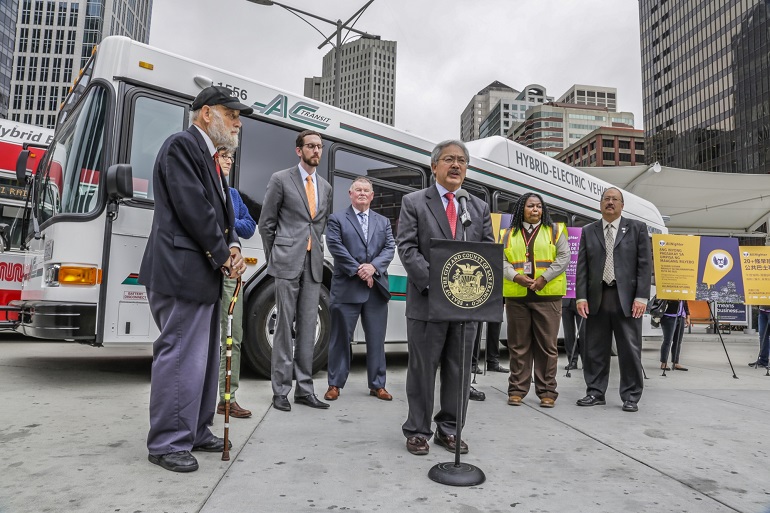 Mayor Lee speaking at the Transbay Terminal last week with officials from Muni, AC Transit, SamTrans, Supervisor Scott Wiener and a Muni operator. Photo: Metropolitan Transportation Commission
At last week's press event at the Temporary Transbay Terminal, the SFMTA and its AllNighter transit partners joined Mayor Ed Lee, Supervisor Scott Wiener, and representatives from the Office of Economic and Workforce Development to announce the campaign to promote the AllNighter services.
The AllNighter multilingual outreach campaign was one of the key initiatives recommended by the Late Night Transportation Working Group in its report, The Other 9-to-5: Improving Late-Night and Early-Morning Transportation for San Francisco Workers, Residents and Visitors.
"San Francisco and the Bay Area run 24 hours a day, and our transportation system needs to reflect that reality," said Supervisor Wiener, who convened the working group. "Whether you're a baker trying to get to work in the early morning hours, or someone trying to get home after a night out with friends, you deserve a safe and reliable way to get around."