Supporting The City's Youngest Residents Returning to In-Person Learning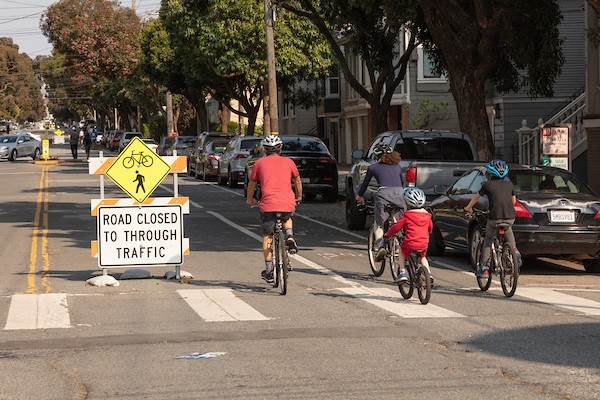 Parents: A reminder that Slow Streets are not closed to cars dropping off students or school buses. They are considered local traffic and can use Slow Streets to access drop-off and pick-up areas.   
The Agency is eager to support our students returning back to school! This is an exciting time for parents and students alike, and we are proud to provide a strong set of mobility options to help facilitate school trips. Recently, we covered the Muni service we've strategically invested in around key school routes (like the 29 Sunset and 44 O'Shaughnessy) to increase core network frequency around our major corridors that serve many of San Francisco's schools. In preparation for the phased-in reopening of the schools, we've also been hard at work to get kids to school safely by foot, bike, and car:   
Our beloved crossing guards are coming back to help the kids get to school safely! Over 30 crossing guards will be deployed starting Monday, covering 17 schools around the city.  

Any missing or faded white paint at loading zone curbs has been refreshed for all elementary schools reopening. We're asking everyone that has been parking in the white zones during the pandemic to comply with the parking regulations and move their cars before school starts to allow for safe drop-offs.    

We will be deploying additional parking control officers to areas where schools are reopening to address any issues, if they arise.   

In partnership with SF Bicycle Coalition, our SF Safe Routes to School Program will launch Bike and Roll to School Week from May 10-14th as a citywide celebration to encourage students and caregivers to bike or roll to school. 

We're also encouraging parents to utilize our Slow Streets network as a good way to introduce your children to walking and biking to school. 
We hope parents, students, and teachers heading back to the classroom enjoy the improvements we've made during the shelter-in-place order. We also want to remind folks that Slow Streets are not closed to cars dropping off students or school buses. They are considered local traffic and can use Slow Streets to access drop-off and pick-up areas. School traffic IS local traffic. Staff reviewed the location of all the schools in their proximity to our network of Slow Streets. We are in the process of evaluating how Slow Streets affect access and school circulation. In certain cases, we may initially remove barricades and assess how school access and queueing during drop-off is working. As schools reopen through April, we look forward to working with individual schools to best meet their transportation access needs. 
Whether your family finds a new route to school on two wheels, six wheels, by walking or by vehicle, we think you'll find transportation is recovering from the pandemic healthier than what you may remember. Whether it's a school crossing guard at a nearby intersection or our Free Muni for Youth Program, the SFMTA plays a role in getting students to and from the classroom. No matter how your family chooses to get to school as in-person instruction reopens, SFMTA is committed to helping you to school safely and sustainably. We will train students and caregivers on the four fun ways to get to school (biking, walking, taking transit, or carpooling). We look forward to supporting the city's youngest residents, and will continue to work with schools on their transportation needs to help everyone involved breathe (and move about!) a little easier after a challenging year.