Weekend Events Kick-off Summer Around the City
Service Change Alert:
In addition to some fun events around the city, the Van Ness Avenue project will consolidate nine bus stops on Van Ness Avenue to speed up service, starting on Saturday, June 4. The new stop spacing is the first stop for the planned for bus rapid transit (BRT) route on Van Ness Avenue, the first of its kind in the city. The idea is to provide an early boost for the 47 Van Ness, 49 Van Ness/Mission and 90 San Bruno Owl routes and help minimize travel delays during construction, which is expected to finish in 2019. SFMTA ambassadors wearing bright orange caps and vest will be positioned along Van Ness to help inform and guide customers about the stop changes.
Events:
The kids are getting antsy as summer vacation looms. The numbers on the thermostat are trending upwards. The unofficial start of summer is upon us, and the on-coming rush of weekend events will begin to populate social calendars. This Sunday will be a fun and busy day as things get started early with the 96th annual Statuto Race winding its way through North Beach (the 39 Coit will have a re-route) and then it's off for the Sikh parade, which will be on Market Street starting at noon and followed by a festival in Civic Center (Market Street Muni service will have re-routes). Then it's up to Union Street for its annual festival.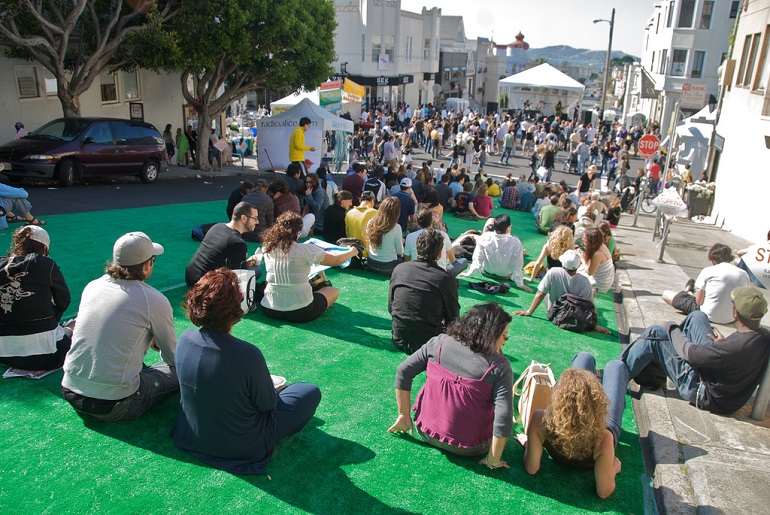 People enjoying the music at the Union Street Festival on June 7, 2009. Photo credit: Steve Rhodes/Flickr.
Little Saigon Festival
Saturday, 12 to 4 p.m.
Tenderloin
Presented by the Larkin Street Association, the first annual Little Saigon Larkin Street Festival will take place along Larkin Street between Ellis and Eddy streets. Venture into the heart of the Tenderloin's Little Saigon district for an afternoon of shopping, dining, and music enjoyment. The festival will feature two entertainment stages showcasing local musicians and cultural performances. Kids in attendance will have fun and laughs in the bouncy house and with giant bubble making.
If you're thinking of going, you'll find that Muni service on the 19 Polk, 27 Bryant, 31 Balboa, 38 Geary, 38R Geary Rapid, 47 Van Ness, and 49 Van Ness/Mission routes will get you close to the festivities.
Muni service note: the 19 Polk Route will have a re-route while the 31 Balboa Route may see residual service impacts due to a possible increase in ridership.
Union Street Festival
Saturday and Sunday, 10 a.m. to 6 p.m.
Cow Hollow
For many, turning the big 4-0 is a significant milestone; leave it to the Union Street Festival to produce a very chic and stylish celebratory bash. This two day neighborhood tradition will welcome thousands of visitors onto Union Street between Gough and Fillmore streets for a mix of music, comedy, fashion, health & fitness, and more. One of the most popular attractions of the weekend will be the fashion show, which will feature clothing and jewelry designs from neighborhood merchants.
Due to street closures and large crowds, public transportation is the recommended option. The 22 Fillmore, 45 Union/Stockton, 47 Van Ness, and 49 Van Ness/Mission routes will take you there.
For those on bicycles, there will be valet bike parking at Union and Buchanan streets.
Muni service note: The 45 Union/Stockton Route will have a re-route, while the 22 Fillmore Route may experience minor service delays.
On Tap for next weekend: Giants Baseball, North Beach Festival, Escape From Alcatraz Triathlon, Sunday Streets: Sunset, and the Haight Ashbury Street Fair
"On Tap" gives you a heads up about the big events in town and what Muni routes and lines will get you to the party. Look for this feature to be posted usually on Wednesdays for a look ahead to the weekend. Check out our Weekend Traffic & Transit Advisory for more details.