Weekend Fiestas: A Wine Festival, Health Fair, and Cinco de Mayo
Production Shoot:
Tomorrow through Sunday, a production film shoot will take place on Castro Street between 17th and 18th streets, during filming service on the 24 Divisadero, 33 Ashbury/18th Street, and 35 Eureka routes may see minor delays.
Events:
Much like last Sunday, there will be no shortage of things to do this weekend. First up, the Giants begin a seven game home stand tomorrow with games against the Colorado Rockies and the Toronto Blue Jays. Remember, Muni service will take you out to the old ball game. On Saturday, UCSF celebrates the 20th anniversary of the Women's Health Fair on Sutter Street between Divisadero and Scott streets (the 2 Clement will be affected). If you're looking for more to do, be sure to venture into the Mission for Cinco de Mayo and up to Russian Hill for an afternoon of wine and scenic views.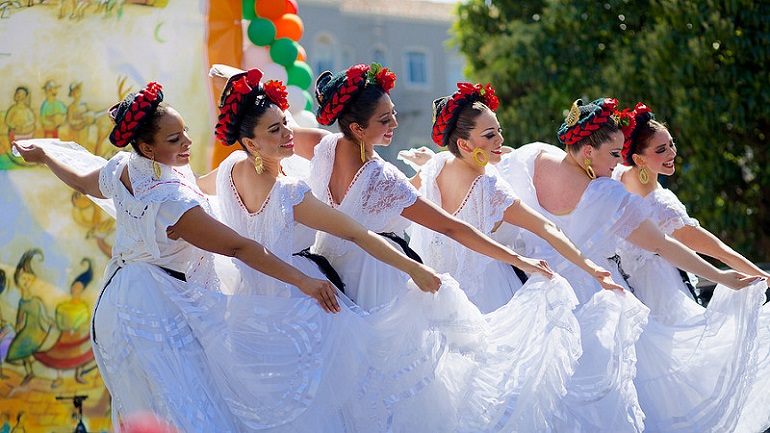 Dancers from Ballet Folklorico de San Francisco perform at the Cinco de Mayo Festival on May 3, 2013. Photo credit: --Mark-- A/Flickr.
Cinco de Mayo Festival
Saturday, 10 a.m. to 6 p.m.
Mission District
While some may think that Cinco de Mayo is a celebration of Mexican independence, it is not. Cinco de Mayo commemorates the Mexican Army's victory over French forces at the Battle of Puebla in 1862. Fast forward 154 years, today Cinco de Mayo in the U.S. is a celebration of Mexican culture, cuisine, music and art.
The Cinco de Mayo Festival will take place on Valencia Street between 21st and 24th streets. There will be a main stage showcasing Mexican music and dance, a Kid's Zone featuring a petting zoo, magic tricks and Pipi the Clown. Dozens of vendors will be on hand selling amazing food, arts and crafts and more.
Due to street closures and increase in vehicle and pedestrian traffic, consider taking a ride on the 14 Mission, 14R Mission Rapid, 12 Folsom/Pacific, 48 Quintara/24th Street, 49 Van Ness/Mission, and 67 Bernal Heights routes. Another option would be taking BART to the 24th Street station.
Muni service note: service routes in the area may see an increase in ridership resulting in minor service delays.
UnCorked Wine Festival
Sunday, 1 p.m. to 5 p.m.
Ghirardelli Square
Is it a Pinot Grigio? Maybe it's a Pinot Noir or how about a Sauvignon Blanc? And you say it's Mer-LO even though it's spelled Mer-LOT? The variety of wine selections is endless. If you're a wine enthusiast or just want to learn what all the fuss is about then the Uncorked SF Wine Festival is what you need. In addition to sampling wine and enjoying the picturesque views from Ghirardelli Square, there will be cooking demos by top local chefs, wine seminars and live music.
Parking in the area will be limited, consider taking Muni's 19 Polk, 30 Stockton, 47 Van Ness, 49 Van Ness/Mission routes and the Powell Hyde Cable Car Line.
Muni service note:  the 19 Polk will have a re-route while other service routes may see minor delays due to heavier ridership.
On Tap for next weekend: Grand Opening of the SFMOMA and Bay To Breakers
"On Tap" gives you a heads up about the big events in town and what Muni routes and lines will get you to the party. Look for this feature to be posted usually on Wednesdays for a look ahead to the weekend. Check out our Weekend Traffic & Transit Advisory for more details.