This Weekend: Fun in the Haight and a new festival in Aquatic Park
Events: This weekend will be another that's full of fun options for all ages. The 4th annual Spring India Day Festival will take over Union Square this Saturday from 11 am to 5 pm. The 34th annual Sikh Freedom Parade will take place Sunday beginning at noon and proceeding along Market Street from Market and Second streets to the Civic Center. Also on Sunday, the 35th annual Across the Bay 12K and 5K will set off from Sausalito, crossing the Golden Gate Bridge and proceeding to Aquatic Park. Read more about our featured events below.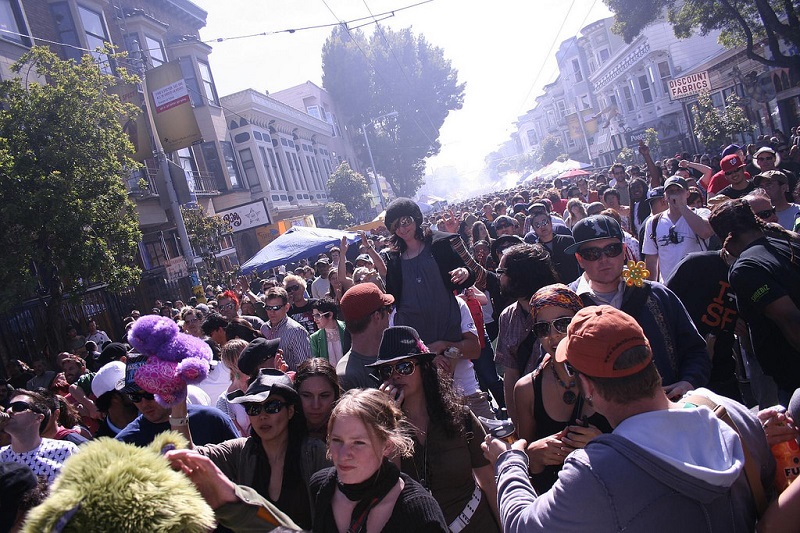 It's not uncommon for "fog" to linger over the Haight Ashbury Street Fair. Photo: MartynS/Flickr
Haight Ashbury Street Fair
Sunday, 11 am to 5:30 pm
Haight Ashbury
With its roots dating back to 1978, the Haight Ashbury Street Fair is a San Francisco staple. The event's primary focus is to draw a focus to the neighborhood's cultural, political and social contributions over the last 40-plus years. This neighborhood event will feature its Battle of the Bands for the 9th consecutive year, a Children's Alley featuring the annual Children's Alley Poster Contest, food and drinks from local vendors and the ever-vibrant storefronts of local merchants.
---
How to Get There on Muni: Riders may take the N Judah Line, 6 Haight/Parnassus, 7 Haight/Noriega, 21 Hayes, 33 Ashbury/18th Street, 37 Corbett or 43 Masonic routes to near the festival.
Muni Service Notes: The 7, 33, 37,  and 43 routes will have reroutes during the event. 
Ghirardelli Square Festival
Saturday and Sunday, 10 am to 6 pm
Aquatic Park
Join the folks at Ghirardelli Square for the first annual Ghirardelli Square Festival this weekend along Beach Street near Aquatic Park. This free event will have something for everyone including arts and crafts, live entertainment, craft beer and wine and much more. There will also be a silent auction with 100 percent of the proceeds going to benefit The Boys and Girls Club of San Francisco. 
How to Get There on Muni: Riders may take the Powell/Hyde Cable Car Line, F Market and Wharves or E Embarcadero lines, as well as the 19 Polk, 28 19th Avenue, 30 Stockton, 47 Van Ness or the 49 Van Ness/Mission routes to the event.
Muni Service Notes: The 19 Polk Route will have reroutes during the event. Other routes in the area may see minor delays and higher than usual ridership.
Reminder of Weekend Closures
Early Closures of Twin Peaks Tunnel: Preparatory work inside the Twin Peaks Tunnel ahead of the summer closure continues this weekend between Church and West Portal, which will close at 11 p.m. on Friday and will remain closed throughout the weekend. Buse shuttles will provide K, L, and M service between Embarcadero Station and the outer terminals. T Third trains will operate between the Bayshore terminal and Balboa Park Station via the J Church Line. Nextbus predictions for the K and T lines will not be available while the L and M lines will only have time predictions available between West Portal and the outer terminals. Regular subway service will resume on Monday at 5 a.m. The 60-day summer closure of the Twin Peaks Tunnel is scheduled to begin on June 25.
"On Tap" gives you a heads up about the big events in town and what Muni routes and lines will get you to the party. Look for this feature to be posted usually on Wednesdays for a look ahead to the weekend. Check out our Weekend Traffic & Transit Advisory for more details.