This Weekend: Haunted Hike and Suffragette March
Wednesday, March 11, 2020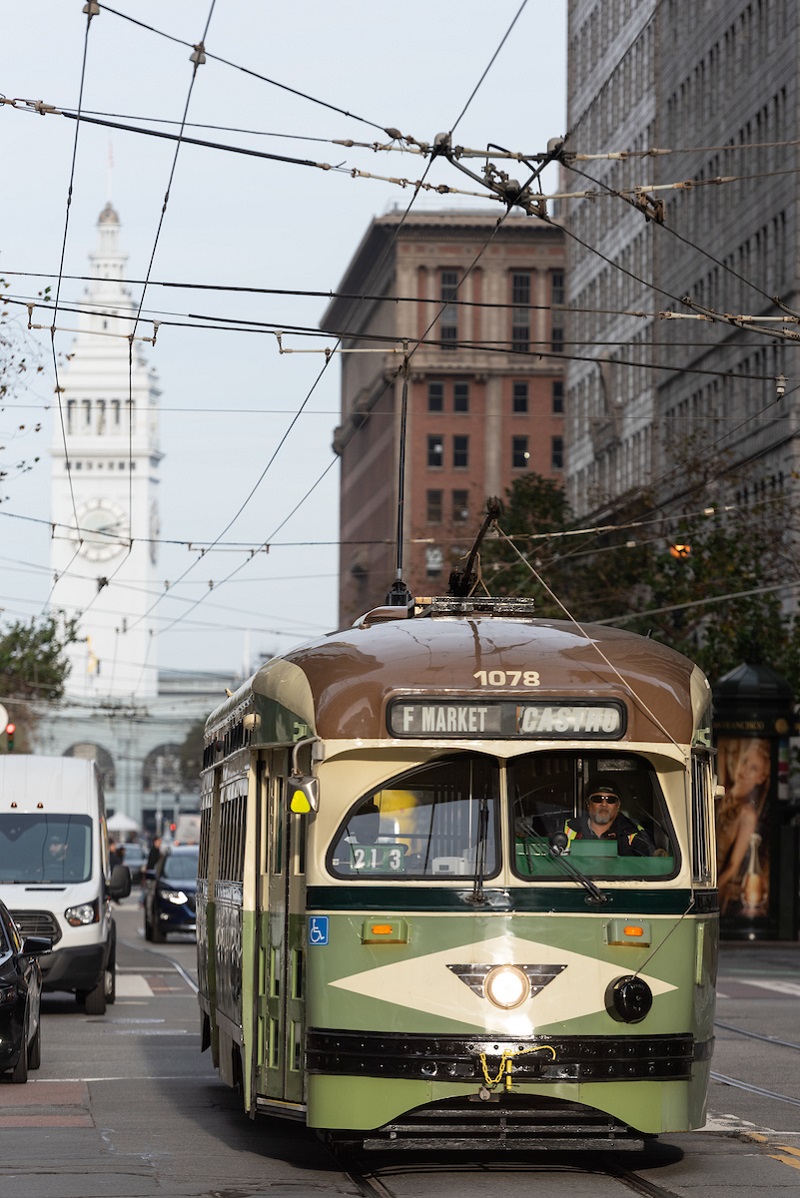 The F Market and Wharves historic streetcar line is a a great option for travel to and from Fisherman's Wharf. Photo: SFMTA Archive
Haunted Hike at Stow Lake
Saturday, 6 to 8 p.m..
Golden Gate Park
There are those who believe that Halloween should come more than once per year. Fortunately, they aren't alone and can get an off-season fright fix this Saturday evening during the SF Bay Area Social Club's Haunted Hike at Stow Lake. Attendees will congregate by the boathouse where they will learn the tale of San Francisco's most famous ghost story which is said to center around a lost child, a distraught mother and Stow Lake.
---
How to Get There on Muni: Ghost hunters may take the N Judah Line, 5 Fulton, 7 Haight/Noriega, 29 Sunset, or the 44 O'Shaughnessy routes to near Stow Lake in Golden Gate Park.
Muni Service Notes: There are no planned service changes for this event.
Women's Suffragette March Reenactment
Saturday, 12 to 2 p.m..
Hyde Street Pier
March is Women's History Month and the Hyde Street Living History Players will celebrate by reenacting a women's suffrage march at the Hyde Street Pier this Saturday. This year will mark the 101st year since the ratification of the 19th Amendment to the U.S. Constitution which finally ensured that women would have the right to vote.
How to Get There on Muni: Suffragettes and their supporters can take the Powell/Hyde Cable Car Line, E Embarcadero and F Market and Wharves lines as well as the 8 Bayshore, 19 Polk, 28 19th Avenue, 30 Stockton, 47 Van Ness or the 49 Van Ness/Mission routes to near the Hyde Street Pier and Fisherman's Wharf.
Muni Service Notes: There are no planned service changes for this event.
Remember that you can take Muni for the entire day for a single $5 fare. The new $5 Day Pass, available on MuniMobile®, is part of Muni's recent fare changes. The pass is intended to encourage a safe, convenient way to pay your fare and quickly board Muni vehicles, which reduces overall travel time for everyone. The $5 Day Pass is Muni bus, rail and historic streetcars only.
"On Tap" gives you a heads up about the big events in town and what Muni routes and lines will get you to the party. Look for this feature to be posted usually on Thursdays for a look ahead to the weekend. Check out our Weekend Traffic & Transit Advisory for more details.