Weekend Holiday Block Party and a Must See Train
Wednesday, December 2, 2015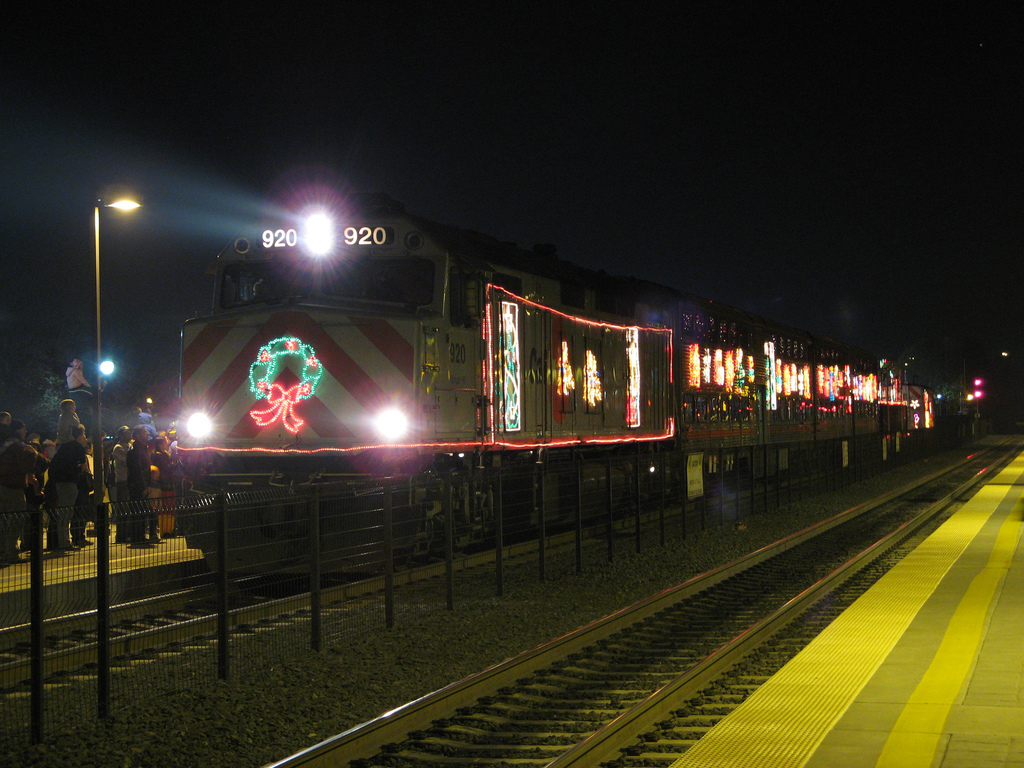 Holiday revelers lined up to see the Holiday Train on December 3, 2006. Photo credit: Marcel Marchon/Flickr.
Events:
If you're still enjoying Thanksgiving left overs and are in need of something to get you into a winter wonderland holiday mood, why not venture over to the Inner Sunset or visit the Caltrain depot for a look at the Holiday Train?
Cruzada Guadalupana
Saturday, 9:30 a.m.
South San Francisco to St. Mary's Cathedral
The procession will begin in South San Francisco at 6am and culminate in the city at St. Mary's Cathedral on Gough and O'Farrell streets.
The march will take place on the sidewalk and in one lane on Mission Street between Sickles Avenue and 14th Street. From 14th Street the march will turn onto South Van Ness Avenue cross Market Street and proceed up Van Ness Avenue to Ellis Street making its final turn onto Gough Street ending at the cathedral.
For those wishing to partake in the pilgrimage or the special mass at St, Mary's, you can take either the 14 Mission, 14R Mission Rapid, 38 Geary, 38R Geary Rapid, 47 Van Ness, and 49 Mission/Van Ness.
Muni service note: the 14 Mission, 14R Mission Rapid, 38 Geary, 38R Geary Rapid, 47 Van Ness, and 49 Mission/Van Ness will see minor delays.
Caltrain's Holiday Train
Saturday and Sunday, 4 p.m.
Fourth and King Station
Now in its 14th year, Caltrain's Holiday Train, festooned and illuminated with over 70 thousand lights will chug along from San Francisco down the peninsula to San Jose making stops at nine station bringing holiday cheer and merriment to children on all ages. Benefitting the Salvation Army and Toys for Tots, this holiday tradition has gathered nearly 50 thousand toys for local children.
If you're looking to get a glimpse of the holiday train before it pulls out of the depot, you can take the N Judah, T Third, E Embarcadero, 10 Townsend, 30 Stockton, 45  Van Union/Stockton, and 47 Van Ness to 4th and King.
Muni service note: No Muni service will be affected by this event.
Inner Sunset Sundays
Sunday, 11 a.m. to 5 p.m.
Irving Street between 9th and 10th avenues
This Sunday will be "Santastic!" Join neighbors and merchants at Inner Sunset Sundays and help usher in the holiday season with Christmas carols, a festive tree, a raffle and so much more. For the kids there will be fun and games, plus Santa will be on hand to take pictures and asking who's been naughty or nice!
Due to street closures, the area may see an increase in traffic congestion. Consider taking a ride on the N Judah, 6 Haight/Parnassus, 7 Haight/Noriega, 43 Masonic, 44 O'Shaughnessy, and 66 Quintara.
Muni service note: Muni routes may see increased ridership and minor delays.
Construction Alerts and Reminders:
This Saturday and Sunday, San Francisco Public Works will conduct renovation work underneath the Highland Avenue Bridge over San Jose Avenue resulting in a closure of San Jose Avenue between Randall Street and Glen Park Station. During construction hours, from 9:30 a.m. to 6 p.m., each day, bus shuttles will provide J Church Line service between Balboa Park Station and 30th and Church streets.
The Muni Metro subway continues to close early each night at 9:30pm for system upgrades. Metro bus shuttles will operate between St. Francis Circle and Market and Spears streets from 9 p.m. to 1:30 a.m.
 "On Tap" gives you a heads up about the big events in town and what Muni routes and lines will get you to the party. Look for this feature to be posted usually on Wednesdays for a look ahead to the weekend. Check out our Weekend Traffic & Transit Advisory for more details.