This Weekend: Holiday Events at the Civic Center
Wednesday, December 19, 2018
News and Notes for Christmas and New Year's days:
Service - Muni will operate on a Sunday schedule next Tuesday, Christmas Day, as well as on Tuesday, January 1, New Year's Day. In addition, Muni will provide free New Year's Eve service beginning at 8 p.m. on Monday, December 31 running until 5 a.m. the next morning (details to follow). Remember not to tag your Clipper card during the complimentary service period or your card will be charged the regular fare.
On December 24, 26, 27, 28, 31 and January 2; service will be suspended on the following express and specialized service routes: 1AX/BX, 7X, 14X, 30X, 31AX/BX, 38AX/BX 41, 81X, 82X, 83X, 88, NX, N Judah Cole Valley shuttle and S Castro Shuttle.
Temporary frequency reductions to the following routes: 5, 5R, 6, 21, 22, 29, 44, 47, 49, all LRV lines and Cable Car.
Holiday Enforcement  - On both Christmas and New Year's days there will be no enforcement of seven-day street sweeping, residential permits, Monday through Friday street sweeping, commuter tow away or parking meters, including those meters on Port of San Francisco property. Visit the Holiday Parking Enforcement Schedule page for details.
It will be a quiet weekend around the City as residents prepare for the upcoming holiday festivities with their friends and families. However, there will still be some fun to be had this Saturday in the Mid-Market area, which you can read more about below.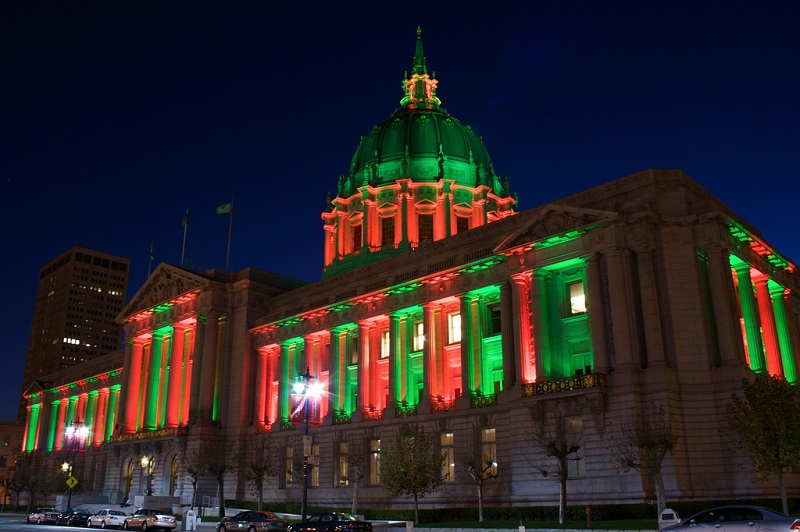 It's a quiet pre-holiday weekend, but there will still be some entertainment to be found at the Civic Center. Photo: Stephen Kelly/Flickr
Russian Holiday Bell Concert
Saturday, 12 to 2 p.m.
Civic Center
The main branch of the San Francisco Public Library will be hosting a Russian Holiday Bell Concert event featuring the majestic sound of Russian bells. San Francisco Symphony's extraordinary guest percussionist, Victor Avdienko, will play a peal of six Traditional Russian Bells, accompanied by two bass Russian Flat Bells, known as "bila". The program will consist of several traditional bell chimes, some contemporary pieces as well as some improvisational work.
---
How to Get There on Muni: Riders may take any Muni Metro Line to Civic Center Station, the F Market and Wharves Line, as well as the 5 Fulton, 6 Haight/Parnassus, 7 Haight/Noriega, 9 San Bruno, 14 Mission, 14R Mission Rapid, 19 Polk, 21 Hayes, 47 Van Ness or the 49 Van Ness/Mission routes to near the event location.
Muni Service Notes: There are no planned service changes for this event.
Remember that you can take Muni for the entire day for a single $5 fare. The new $5 Day Pass, available on MuniMobile®, is part of Muni's recent fare changes. The pass is intended to encourage a safe, convenient way to pay your fare and quickly board Muni vehicles, which reduces overall travel time for everyone. The $5 Day Pass is Muni bus, rail and historic streetcars only.
"On Tap" gives you a heads up about the big events in town and what Muni routes and lines will get you to the party. Look for this feature to be posted usually on Thursdays for a look ahead to the weekend. Check out our Weekend Traffic & Transit Advisory for more details.