This Weekend: Outside Lands and Pistahan Parade
Wednesday, August 7, 2019
Events: This weekend will have no shortage of fun events taking place all around the city, with the most prominent being Outside Lands in Golden Gate Park. On the opposite side of town, at Yerba Buena Gardens, the annual Pistahan Parade and Festival will showcase Filipino American culture Saturday and Sunday. On Saturday, The Presidio Parade Grounds will host the Presidio Kite Festival that will celebrate those simple yet wonderful toys while the alleyways of Chinatown will come alive with the sounds of traditional and contemporary music during the tenth annual Chinatown Alleyways Music Festival.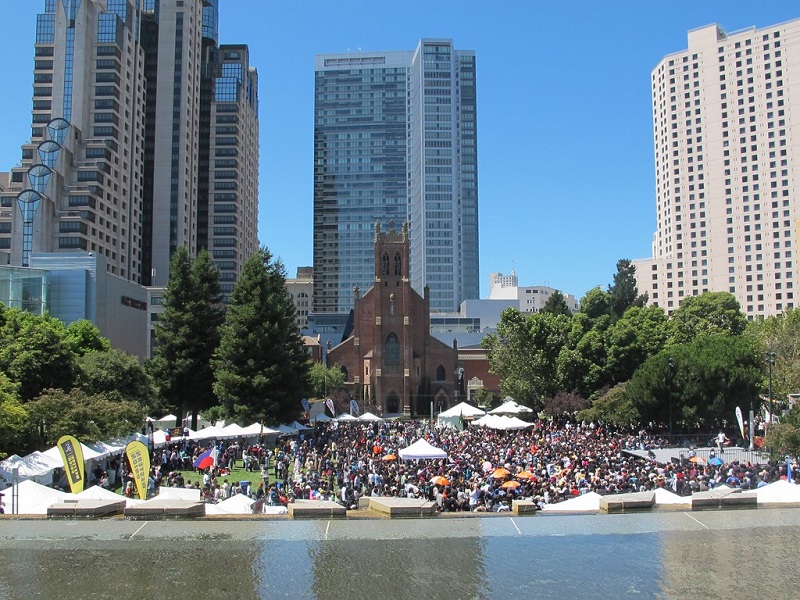 The annual Pistahan Festival returns to Yerba Buena Gardens this weekend. Photo: Gary Stevens/Flickr
Outside Lands
Friday-Sunday, various times
Golden Gate Park
Outside Lands Festival returns to Golden Gate Park beginning this Friday and lasting throughout the weekend. This three-day event features an eclectic mix of musical performers and comedy acts across multiple stages as well as hosting numerous food, beer and wine vendors.
---
How to Get There on Muni: Get to the festival via the N Judah Line, 5 Fulton, 5R Fulton Rapid, 5X Fulton Express, 7 Haight/Noriega, 7X Noriega Express, 28 19th Avenue, 28R 19th Avenue Express, or 29 Sunset routes.
Muni Service Notes: There are no planned reroutes for this event, however, there will be extra service provided on the 5 Fulton throughout the weekend, the 5R Fulton Rapid on Friday and post-event 5X Fulton Express routes. Other routes in the area of the event may experience increased ridership.
Pistahan Parade and Festival
Saturday and Sunday, 11 a.m. to 5 p.m.
SoMa
The Pistahan Parade and Festival kicks off its 26th year with a parade beginning in the Civic Center this Saturday at 11 a.m. The parade will proceed up Market Street to 4th Street. Attracting upwards of 80,000 people, the festival in Yerba Buena Gardens will showcase the best of Filipino culture through art, music, dance, and food.
How to Get There on Muni: Riders may utilize any Muni Metro Line to Civic Center station, the F Market and Wharves Line, or any Market Street bus route to the parade start at the Civic Center. To reach the festival in SoMa at Yerba Buena Gardens, riders may take Muni Metro service to Powell or Montgomery stations, the F Market and Wharves Line as well as the 5 Fulton, 6 Haight/Parnassus, 7 Haight/Noriega, 8 Bayshore, 9 San Bruno, 10 Townsend, 12 Folsom/Pacific, 14 Mission, 14R Mission Rapid, 19 Polk, 21 Hayes, 27 Bryant, 30 Stockton, 31 Balboa, 38 Geary, 38R Geary Rapid, or the 45 Union/Stockton routes close to the event.
Muni Service Notes: The 5, 6, 7, 9, 19, 21, 30, 31, 45 routes and the F Market and Wharves Line will have reroutes in effect during the parade. Other routes in the area may experience minor delays due to increased ridership and/or pedestrian traffic in the area of the festival event.
Remember that you can take Muni for the entire day for a single $5 fare. The new $5 Day Pass, available on MuniMobile®, is part of Muni's recent fare changes. The pass is intended to encourage a safe, convenient way to pay your fare and quickly board Muni vehicles, which reduces overall travel time for everyone. The $5 Day Pass is Muni bus, rail and historic streetcars only.
"On Tap" gives you a heads up about the big events in town and what Muni routes and lines will get you to the party. Look for this feature to be posted usually on Thursdays for a look ahead to the weekend. Check out our Weekend Traffic & Transit Advisory for more details.