A Weekend Packed with Festivals, Giants Baseball & an Oracle Conference
Wednesday, September 14, 2016
Street Closure Alert:
Beginning tonight at 7 p.m., Howard Street between 3rd and 4th streets will be closed until 5 p.m. on Saturday, Sept. 24 due to Oracle Open World at the Moscone Center. The northbound 8 Bayshore, 30 Stockton, and 45 Union/Stockton routes may experience service delays in that area due to increased traffic.
Regional Transportation Reminder:
BART closure between Daly City and Glen Park stations will be in effect this weekend. This project runs until October 2. Muni will provide free shuttle service and extra service on the J Church, 14R Mission Rapid, and 49 Van Ness/Mission. For details, check out our July 18 blog post.
Events: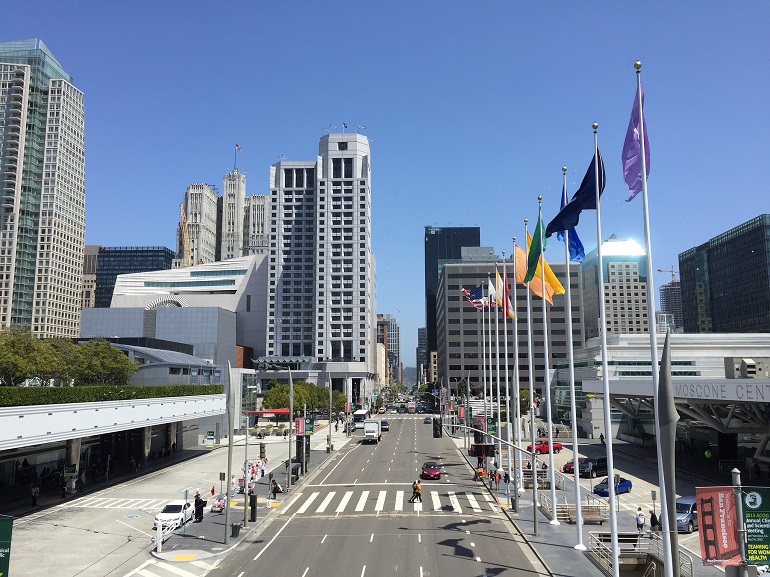 Howard Street with the Moscone Center on the right on May 2, 2015. Photo credit: Liji Jinaraj/Flickr.
Another busy weekend is upon us. On Saturday, the Walk to End Alzheimer's will take place in the Marina district and Fort Mason (affecting the 28 19th Avenue, 30 Stockton, 47 Van Ness, and 49 Van Ness/Mission). On Sunday, it's the Visitacion Valley Festival (affecting the 56 Rutland), the Roadworks Steamroller Printing Festival in Potrero Hill (affecting the 19 Polk) and the Hayes Valley Urban Air Market (affecting the 21 Hayes). In addition to all that, there is Giants baseball and Oracle's annual convention.
Giants Baseball
Tomorrow through Sunday, various times
AT&T Park
Once the owners of baseball's best record, the Giants now find themselves in a tight playoff race. Currently sitting in second place behind division leaders the Los Angeles Dodgers, the Giants welcome the St. Louis Cardinals to AT&T Park for a significant four game series. Both teams, along with the New York Mets, are in a three way battle for the two National League wild card playoff slots.
Remember to use the MuniMobile app when boarding the N Judah, T Third, E Line, 10 Townsend, 30 Stockton, 45 Union/Stockton, and 47 Van Ness for service to and from AT&T Park.
Visit our service alert page for complete details on taxis, biking, and parking during baseball season.
Muni service note: Muni Metro will provide addition ballpark shuttle trains to assist fans with both pre- and post- game service. Patrons should expect minor service delays near the ballpark due to heavier pedestrian and vehicle traffic.
Oracle Open World
Sunday through Wednesday
Moscone Center
Oracle's annual gathering of customers, techies and industry leaders, Oracle Open World, will attract tens of thousands of people to the Moscone Center in SoMa for its four day conference. The big finale will come next Wednesday night, Sept. 21 when Sting and Gwen Stefani perform at Oracle's appreciation event at AT&T Park.
If you're attending the conference and are planning on using Muni service, your best option will be to take the Muni Metro subway to either Powell or Montgomery stations.
Don't forget, you can avoid carrying exact change or waiting in line at the ticket vending machine by using the MuniMobile app.
Muni service note: Due to street closure, increased pedestrian and vehicle traffic, Muni routes on Market Street, Mission Street, and streets adjacent to the Moscone Center may see service delays to and from the downtown area.
Temporary J Church and K Ingleside Service Changes Reminder:
Due to Balboa Park Station Area and Plaza Improvement construction work, there are now temporary stop changes in effect for the J Church and K Ingleside lines at Balboa Park Station. These stop changes will be in place through the end of the year. For details, please read our September 1 blog post.
On Tap for next weekend: Muni Heritage Weekend, Race for the Cure, Cole Valley Fair, and the Folsom Street Fair
"On Tap" gives you a heads up about the big events in town and what Muni routes and lines will get you to the party. Look for this feature to be posted usually on Wednesdays for a look ahead to the weekend.