Weekend Running Along the Waterfront
Wednesday, August 19, 2015
Construction Alerts and Reminders:
The Muni Metro subway continues to close early each night at 9:30pm for system upgrades. Beginning this week and running until August 24, the northbound T Third Line will operate only until Folsom Street along The Embarcadero. Shuttles will run between St. Francis Circle and The Embarcadero and Folsom Street.
Looking ahead, BART will close the Transbay Tube during the Labor Day weekend of September 5. During the shutdown there will be no train service between San Francisco and the East Bay. Bus shuttles will transport patrons across the bay. Muni bus service near the Transbay Terminal will have additional service. Visit BART's project webpage for complete details. For traffic alerts and alternative routes visit 511.org.
The next scheduled dates for work on the Sunset Tunnel are Sept. 11 - 13.
Events:
As the calendar races toward the Labor Day holiday, this weekend will see thousands of runners racing through the streets of San Francisco. If you're looking for more to do, be sure to give these event calendars a look-see for what's going on near you: FunCheapSF, EventBrite, SF Weekly, and SFGate.
Escape from the Rock Duathlon
Saturday, 7 a.m.
Aquatic Park
For the unenviable incarcerated, leaving Alcatraz was nothing more than a pipe dream, but on Saturday daring duathletes will brave the frigid bay waters and attempt to Escape from the Rock. The demanding one-and-a-half-mile swim combines with a seven mile run that starts and ends at Aquatic Park and will take runners along the Marina Green, Crissy Field and Fort Point near the Golden Gate Bridge.
If you would like to view any portion of this race, consider utilizing any one of these routes: 19 Polk, 22 Fillmore, 28 19th Avenue, 30 Stockton, 47 Van Ness, 49 Mission/Van Ness and Powell Hyde Cable Car Line.
Muni service note:  the 19 Polk Route may see service delays near the Aquatic Park area.
The Giant Race
Sunday, 7 a.m.
AT&T Park
"Together we are Giant!" is a phrase that local baseball fans have come to know. In the spirit of that slogan, runners of all stripes will come together on Sunday for the sixth annual Giant Race benefitting Project Open Hand. AT&T Park will serve as the start and finish points for each of the day's three races. The 5K, 10K, and Half Marathon will take runners on a spectacular scenic tour of the city's waterfront from The Embarcadero to the Presidio.
If you would like to cheer on the runners, these routes will take you to various parts of the course: N Judah, T Third, F Market, E Embarcadero, 19 Polk, 22 Fillmore, 28 19th Avenue, 30 Stockton, 47 Van Ness, 49 Mission/Van Ness and Powell Hyde Cable Car Line as well as the Muni Metro subway to Embarcadero Station.
Muni service note: due to street closures the 19 Polk, 39 Coit and 49 Mission/Van Ness will have re-routes while the N Judah, T Third, E Embarcadero, F Market, Powell Hyde Cable Car, 28 19th Avenue, 30 Stockton and 47 Van Ness will see service delays.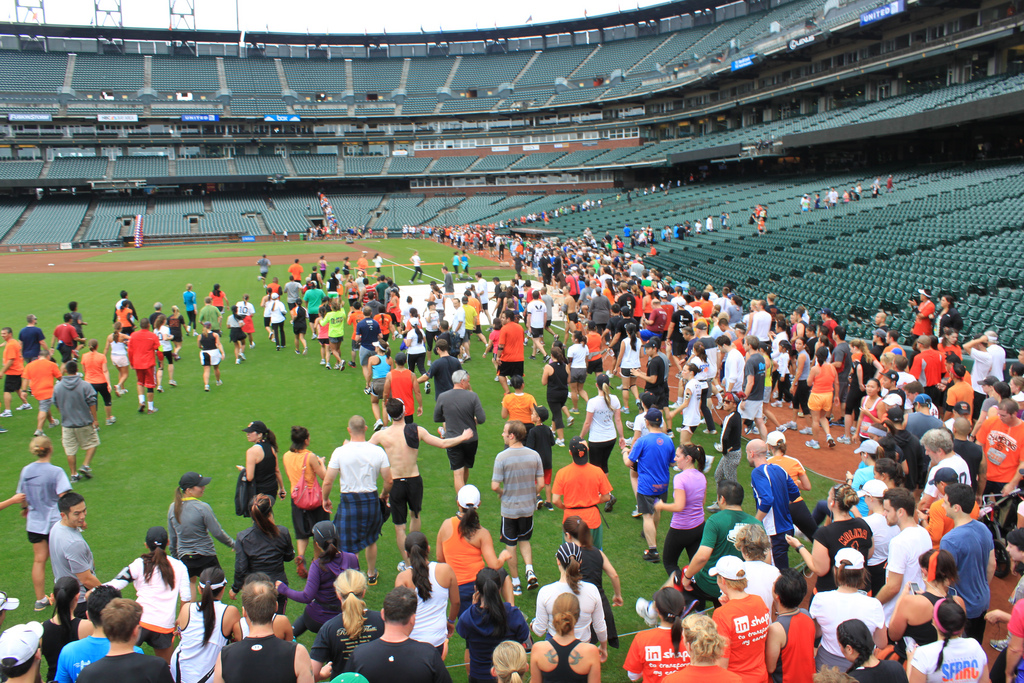 Runners getting ready for the start of the Giant Race in AT&T Park on August 27, 2011. Photo credit: Justin Tester Guerrilla Futures/Flickr
"On Tap" gives you a heads up about the big events in town and what Muni routes and lines will get you to the party. Look for this feature to be posted usually on Wednesdays for a look ahead to the weekend. Check out our Weekend Traffic & Transit Advisory for more details.