This Weekend: Super Bowl City and the Year of the Monkey
Wednesday, January 27, 2016
With the eyes of the football universe now turning toward San Francisco in anticipation of this country's biggest sporting event, NFL activities kick into overdrive this weekend. For those non-football fans, know that there will also be Lunar New year celebrations.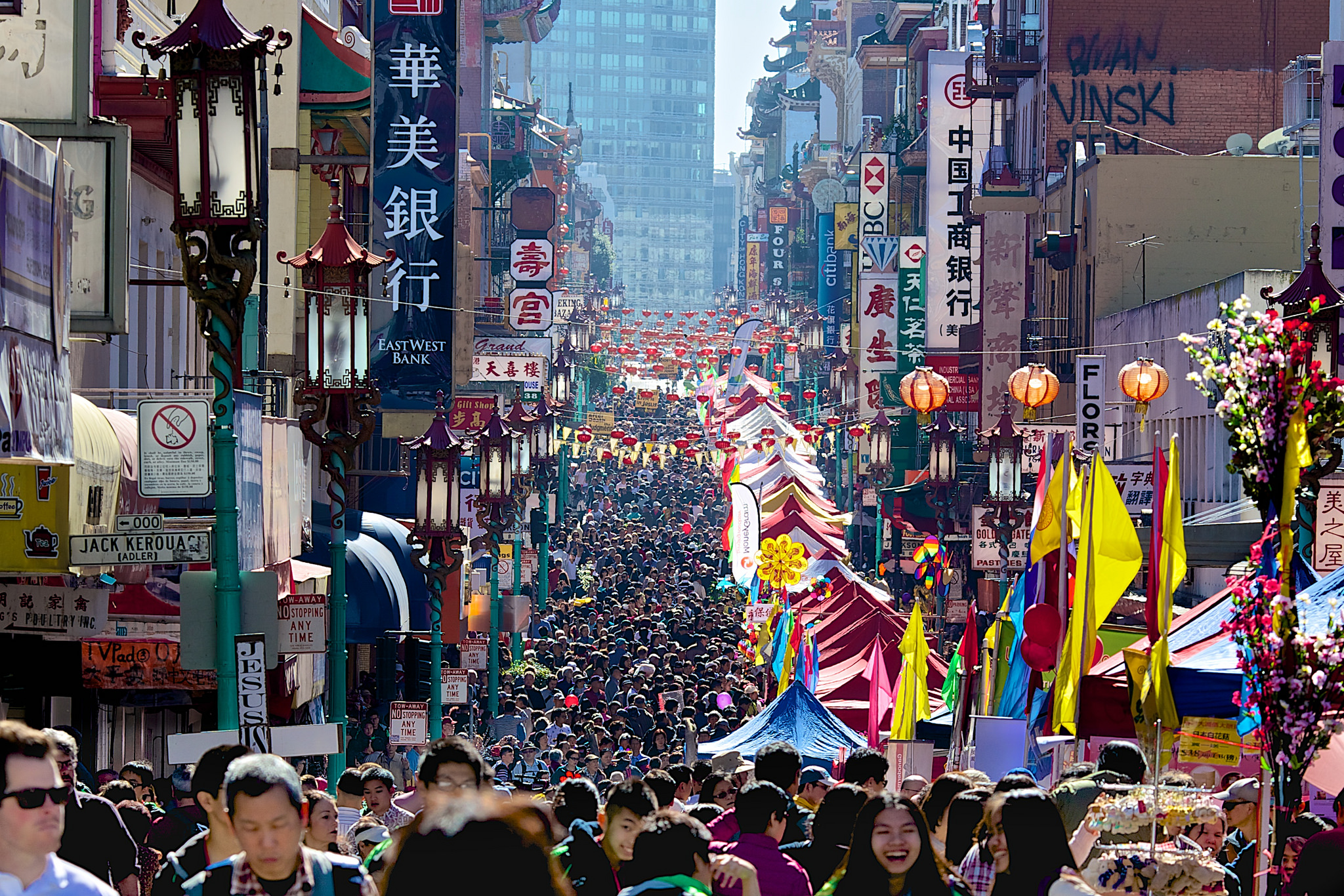 People attending the Chinese New Year Flower Market Fair on February 14, 2015. Photo credit: --Mark--/Flickr.
Events:
Chinese Flower Market Fair
Saturday and Sunday
Chinatown
This weekend, Lunar New Year celebrations honoring ringing in the Year of the Monkey kick off.
In Chinatown the Chinese Flower Market Fair, which is Saturday and Sunday, will feature acrobats, folk dancers and opera  plus attendees will have the chance to buy a selection of fruits, candies, flowers and plants all of which have cultural significance to celebrations.
Due to street closures, pedestrian and vehicle traffic congestion on surrounding streets may be quite heavy. Plan ahead and use alternative routes to avoid delays.
Muni service note: The 10 and 12 will have a re-route due to the Flower Market Fair.
Super Bowl 50: Super Bowl City
Saturday through Sunday, Feb. 7
Market St. between Beale St. & The Embarcadero
Super Bowl City, the ultimate free football fan experience, will serve as the nerve center for everything Super Bowl 50 in SF. All the excitement gets started this weekend and be a week-long prelude to 50th edition of the big game in Santa Clara. Super Bowl City will be comprised of three staging points.
The City Stage will feature live music, performing arts and cultural performances including musical appearances by Alicia Keys, One Republic, the Band Perry and more. Be sure to check the event calendar for performance dates and times.
The Fan Energy Zone will feature:
The 40 foot tall Fan Dome which will allow fans to partake in interactive games and become moving digital avatars appearing on giant screens.
The 50-foot wide by 15-foot tall Fan Wall which will serve as the leader and stat board tracker for the interactive games, and for user generated content and live feeds from around Super Bowl City.
The Fan Stage which will serve as the spot for autograph signings, celebrity appearances and the main area for DJs and MC sets.
Due to various street closures Muni service routes that operate through that area are being re-routed (re-routes will continue through February 12). Your best transit option is to take the Muni Metro subway to Embarcadero Station.
Muni service alert: For a complete and detailed list of all service adjustments and for information on how to navigate your way around the downtown area, check out our January 21 blog post.
For full transit, walking, biking, taxi, and automobile plans, visit the SFMTA Super Bowl 50 page. Get updates sent directly to your inbox.
Super Bowl 50: NFL Experience
Saturday through Sunday, Feb. 7
Moscone Center
In addition to Super Bowl City, the football festivities continue over at the Moscone Center with the NFL Experience, which is a paid event and will feature games and activities in the Play 60 Zone for younger football fans, meet and greet sessions with NFL players past and present, and displays of the Vince Lombardi Trophy and all 49 Super Bowl Championship rings - that's a lot of bling! Bring your sunglasses just in case.
The 8 Bayshore, 12 Folsom/Pacific, 27 Bryant, 30 Stockton, and 45 Union/Stockton routes will get you near the Moscone Center. Due to numerous street closures, vehicle and pedestrian traffic may be heavy. Your best option may be to take the Muni Metro Subway to Powell Station.
Muni service note: Howard Street between 3rd and 4th streets will be closed, as a result service on the 8 Bayshore, 12 Folsom/Pacific, 27 Bryant, 30 Stockton, and 45 Union/Stockton routes may see delays.
Winter Storm Information:
The Department of Emergency Management has prepared a Comprehensive Guide to Everything El Niño in order to prepare and assist people on what to know and what to be aware of during the storms. We've been preparing for months and know you'll want to plan your trip before you head out into inclement weather. Sign up for Muni Alerts to get real-time service updates on your most used Muni routes and lines.
On Tap for next week: NFL Honors
 "On Tap" gives you a heads up about the big events in town and what Muni routes and lines will get you to the party. Look for this feature to be posted usually on Wednesdays for a look ahead to the weekend.