Pay Meter by Credit Card or SFMTA Parking Card
Meters accept Visa, MasterCard, Discover, Amex, debit cards, and SFMTA Parking Cards.  
Purchase SFMTA Parking Cards in person  
Purchase SFMTA Parking Cards online (only available for 5 or more cards)

              Single Space Meter
1. Insert parking card in slot, stripe side down
2. Press blue + and - buttons to adjust the time on screen
3. Press green OK button when time is correct
4. Insert card for more time before it expires, up to the time limit at this location
5. No ticket or receipt issued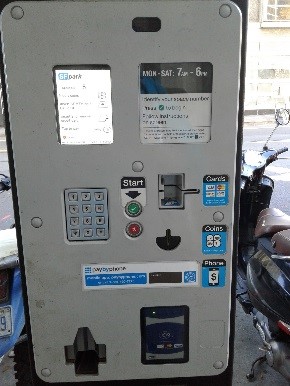 Multi-space paystation
1. Enter space number. Some meters require the vehicle license plate number.
2. Press Green a button
3. Insert parking card in slot, stripe side down
4. Press red + and - buttons to adjust to time desired
5. Press green OK button when time is correct
6. Insert card for more time before it expires, up to the time limit at this location
7. No ticket or receipt issued, except in parking lots where indicated.
No refunds.