Geary Boulevard Improvement Project proposals (updated summer 2023)
Update: The Geary Boulevard Improvement Project, including the complete Quick-Build component, was unanimously approved by the SFMTA Board at the
August 15 meeting
.
In 2021 and 2022 we asked neighbors what their priorities are for the Geary Boulevard Improvement Project. Thanks to input from hundreds of community members over two rounds of outreach, we have used this feedback to draft the detailed project design that will go to the SFMTA Board of Directors for approval in 2023. The final proposal includes:
Installing transit lanes between 28th and 15th avenues. To make room, angled parking on Geary would be converted to parallel parking.

Relocating 10 bus stops and removing two closely-spaced stops to improve transit performance.

Traffic signal upgrades, new bus bulb-outs and lengthening bus zones that are too short to accommodate two buses.

Safety improvements, including pedestrian bulb-outs, daylighting, expanded median refuges and left-turn restrictions at key intersections.

Curb space changes to accommodate merchant loading needs.

New bus bulb-outs, right-turn restrictions and raised crosswalks on Geary at 14th Avenue and Funston
To help offset the loss of parking along Geary Boulevard, we are proposing to increase parking spaces on some cross streets by converting some parallel parking to angled parking. See the complete list of where parking is proposed to be added or removed.
Detailed block-by-block project drawings
Accessible text version of Geary Boulevard Improvement Project proposals
 
---
Overview maps of proposed transit and safety improvements

Map showing proposed new transit lanes. Download a PDF version.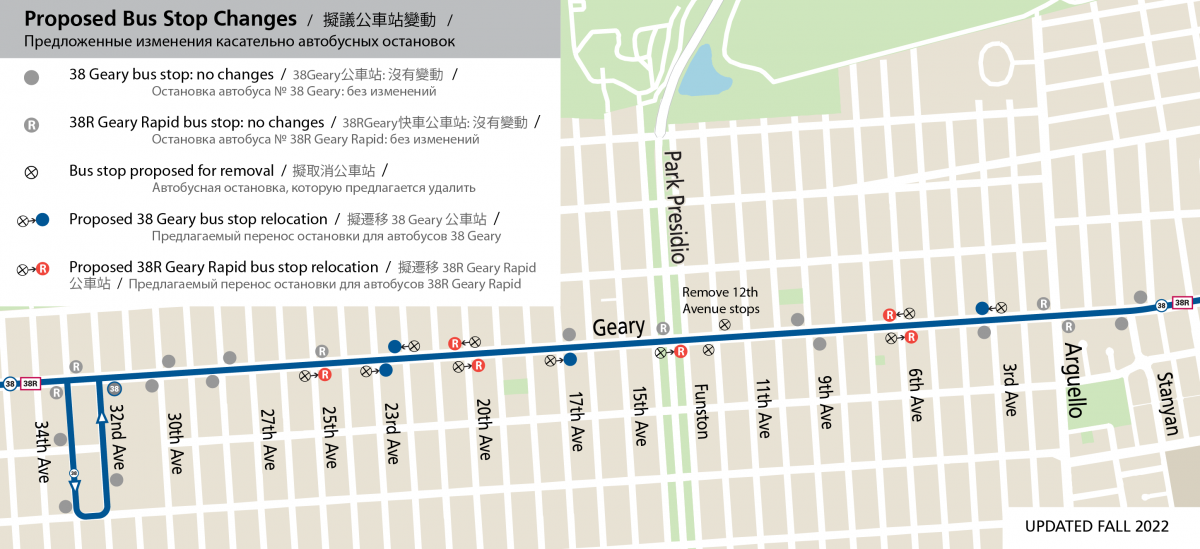 Map showing proposed bus stop changes. Download a PDF version.


Map showing proposed bus and pedestrian bulbs (note that bus bulbs also provide the same benefits as pedestrian bulbs since they are installed at intersections). Download a PDF version.


Map showing proposed vehicle turn restrictions to improve safety. Download a PDF version.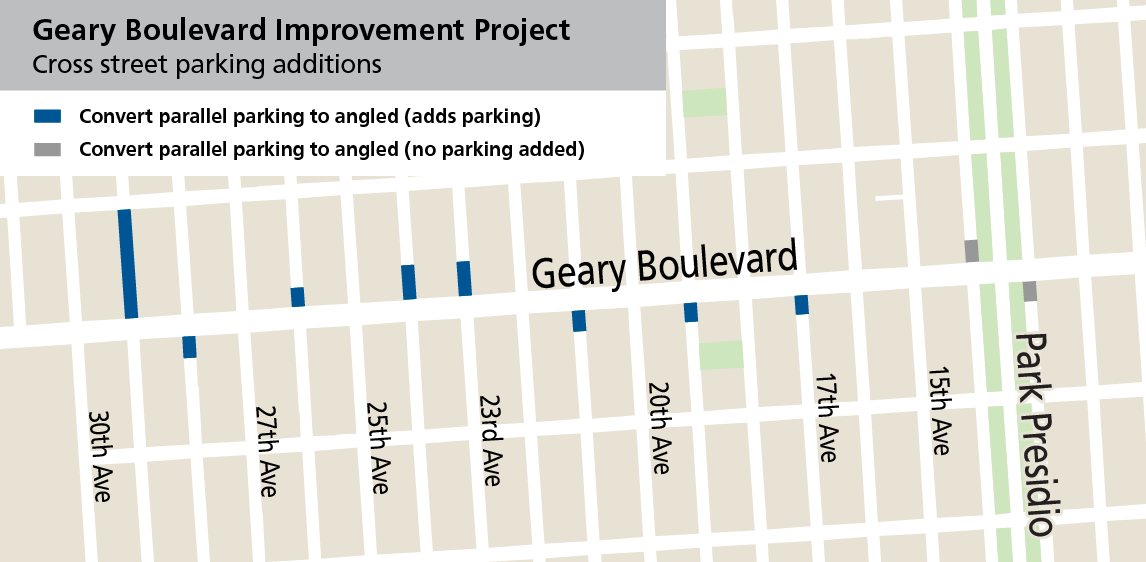 Map showing proposed cross streets where additional parking would be added by converting parallel parking to angled parking. 14th and Funston avenue locations are proposed for angled parking but would not create a net addition in parking.