12 Folsom/Pacific Rincon Hill Extension
Project Introduction
This project brings the 12 Folsom/Pacific back to Rincon Hill, after a decade with limited Muni service. The new route will continue to serve the Chinatown, SoMa and Mission neighborhoods. Following more than a year of outreach to neighbors and Muni customers, the route update was unanimously approved by the SFMTA Board of Directors July 16, 2019.
Los cambios de ruta del 12 Folsom/Pacific llegan en la primavera de 2020
Future Route through Rincon Hill
The new route through Rincon Hill will be in effect following construction of the Transbay Folsom Streetscape Improvement Project in spring 2020. Shown on the map below, the new route maintains the same travel time as the current 12 Folsom/Pacific route and makes use of existing transit-only lanes on Clay and Sacramento to keep the bus moving. 
Accessing Rincon Hill via Folsom and Harrison streets, the route will connect to Embarcadero Station via Main and Spear. The route north of Market will travel on Clay and Sacramento streets. The 10 Townsend line will continue to serve stops on 2nd Street and Sansome, with a bus frequency of every 15 minutes.
Thank you to the more than 1,200 community members who provided feedback on how the bus should travel north of Market Street. The 12 Folsom/Pacific route update is directly based on community input. Learn more about the route options the community considered.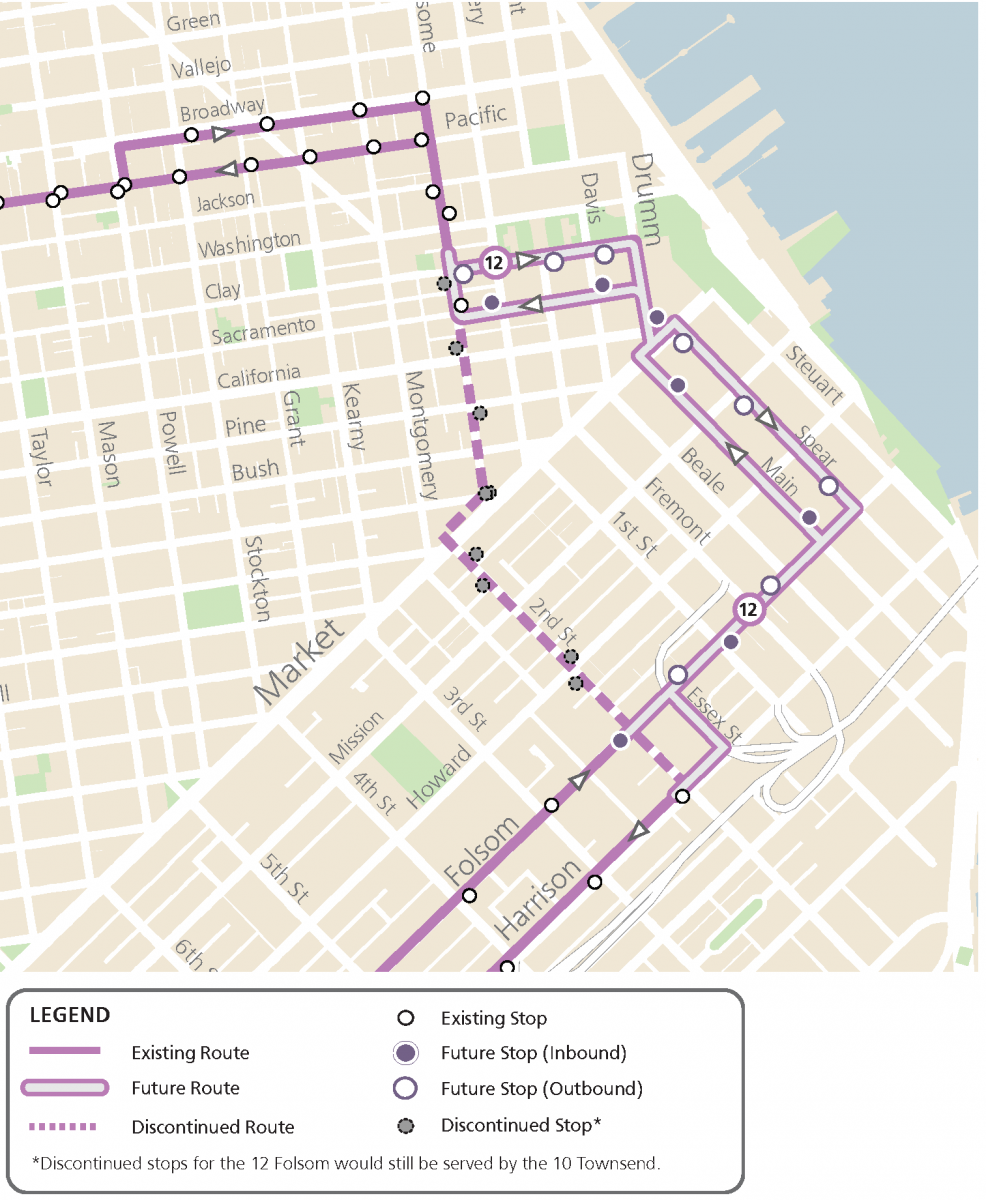 Project Background
The proposal to restore bus service to Rincon Hill arose after extensive community feedback and an analysis of growth and travel patterns, as detailed in the 2015 Rincon Hill Community Transit Plan. Over the last ten years, the character of Rincon Hill has changed significantly for residential housing. With as many as 10,000 new residents expected in the neighborhood – including affordable housing for seniors – there is a strong need to restore the 12 Folsom/Pacific service. By bringing the 12 Folsom/Pacific back to Rincon Hill we are serving the transit needs of today and in the future.
12 Folsom/Pacific service will also benefit from upcoming transit improvements included in the Folsom-Howard Streetscape Project. The Folsom-Howard Project will add a transit-only lane to Folsom from 10th to just after 4th streets, helping to improve reliability for the 12 Folsom/Pacific. Construction of Folsom-Howard Project improvements is scheduled for 2021-2023. 
Route Option to 24th Street BART
The project team also received initial feedback regarding the southern portion of the route to 24th Street BART. More time is needed to determine the routing that would work best, and SFMTA looks forward to continuing its conversation with the community in the Mission about this segment. There is no change proposed to the southern portion of the 12 Folsom/Pacific route in the current proposal.
Bus Routes and Rail Lines
Contact Information
Jean Long, Project Manager
Bonnie Jean von Krogh, Public Relations Officer