12 Folsom/Pacific Rincon Hill Extension
Historically, the 12 Folsom/Pacific bus served the Rincon Hill neighborhood. Now, after a decade without the 12's north-south connector bus service, this project brings the 12 Folsom/Pacific bus back to Rincon Hill. The route will continue to serve the Chinatown, SOMA and Mission neighborhoods as well. 
Where should the 12 Folsom/Pacific go?
We are planning the northern portion of the updated 12 Folsom/Pacific bus route and evaluating an adjustment to the southern portion of the route as well. Please give us your feedback on where you want the bus to go. Take our Customer Survey. 
Connecting to Rincon Hill
On the northern portion, the proposal extends the 12 Folsom/Pacific to Rincon Hill via Folsom and Harrison Streets. The updated route continues eastbound on Folsom and will use both Main (northbound) and Spear (southbound) Streets to access Embarcadero Station. To make this extension possible, SFMTA is considering two north of Market alignments. SFMTA is reaching out to 12 Folsom/Pacific customers to find out which option works best for them. Please take our Customer Survey and let us know your opinion.:
Option A utilizes the transit-only lanes on Sacramento and Clay Streets to minimize traffic delay.
Option B maintains the same level of frequency on Sansome but adds travel delay due to the realignment.
Option A: Travel on Clay/Sacramento                                  Option B: Travel on Market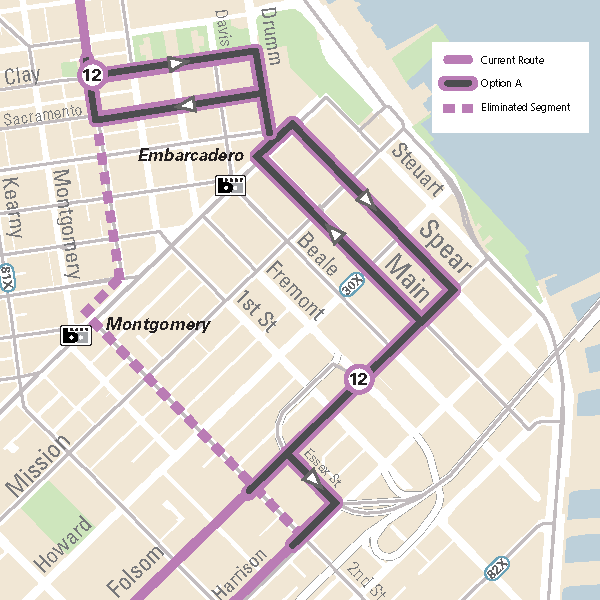 Information for 12 Folsom/Pacific Route Options A and B

|   | Option A: Clay/Sacramento | Option B: Market |
| --- | --- | --- |
| Travel Time between 2nd & Folsom to Sansome & Sacramento | Maintains same travel time as current route | 3 to 10 minutes longer travel time than current route |
| Bus Frequency on Sansome Street (including the 10 Townsend) | Reduces bus frequency on Sansome Street to 15 minutes (10 Townsend only) | Maintains current bus frequency on Sansome Street of 7.5 minutes (10 Townsend and 12 Folsom-Pacific) |
| BART Access | Embarcadero Station | Embarcadero and Montgomery Stations |
Route Option to 24th Street BART
We are evaluating a small adjustment to the southern portion of the route to provide a more direct and reliable trip to 24th Street BART. This change would shift the 12 Folsom-Pacific away from Valencia Street. See the proposed routing below. Take our Customer Survey and let us know if you would support this route change.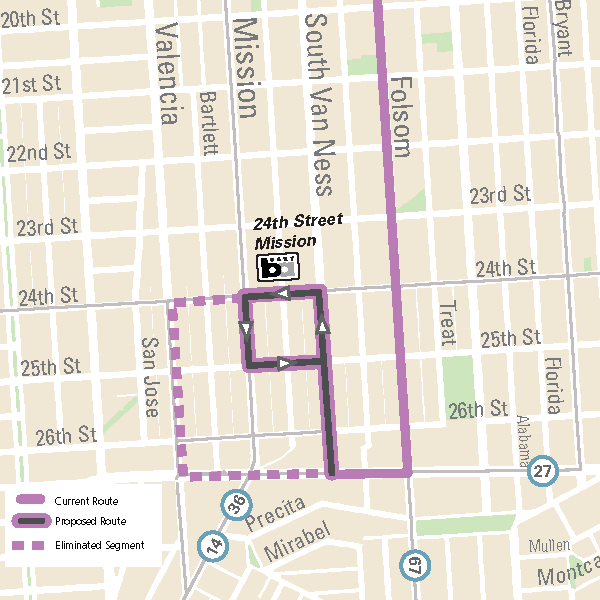 Project Background
The move to restore bus service to Rincon Hill follows data analysis in the 2015 Rincon Hill Community Transit Plan of growth and travel patterns for the neighborhood as well as extensive community feedback. Over the last ten years, the character of Rincon Hill has changed significantly for residential housing. With as many as 10,000 new residents expected in the neighborhood -- including affordable housing for seniors -- there is a strong need to restore the 12 Folsom/Pacific bus service to the community. By bringing the 12 Folsom/Pacific back to Rincon Hill we are serving the transit needs of today and in the future.
Bus Routes and Rail Lines
Contact Information
Kathleen Phu, Project Manager
Bonnie Jean von Krogh, Public Relations Officer