4th Street Bridge Transit Lanes (Formerly Temporary Emergency Transit Lanes)
The public hearing for this project took place at the SFMTA Board meeting on Tuesday, September 7th, 2021, where it was approved for permanent implementation.
You can review the staff report here online.
Project Introduction
The SFMTA installed a temporary emergency transit lane on the 4th Street Bridge in January 2021, in order to address a key bottleneck that delays the T Third line. The southbound transit-only lane across the bridge, a northbound left-turn restriction at Berry Street and a modification to how southbound left turns were signalized at Berry Street allow trains to move more quickly over the bridge without getting stuck in traffic.
The 4th Street Bridge project is particularly important as ridership on the T Third grew 20 percent between January and June of 2021, and traffic volume has been returning to pre-pandemic levels. In addition, the resumption of events at AT&T Park and Chase Center created a need for even more capacity on trains.
The original temporary emergency project was a part of a broader response to preserve Muni time savings that were identified based on ridership and travel time data during the initial shelter-in-place restrictions in 2020. Providing service improvements to customers on Muni routes like the T Third that serve neighborhoods with high percentages of people of color and low-income households is a top priority.
4th Street Bridge - Implementation
After meeting with community stakeholders in late 2020 to gather input on the initial proposal, a modified plan was put into place in January 2021. The southbound center lane was converted to a full-time transit lane for transit and taxis while the curbside lane was maintained for general traffic. As there is only a single northbound lane, instead of prohibiting general traffic in that direction, the key change made was to convert the left turn pocket at Berry Street into a Muni-only lane and restrict northbound left turns. This prevents the T Third from being delayed by vehicles queuing to turn left at that location.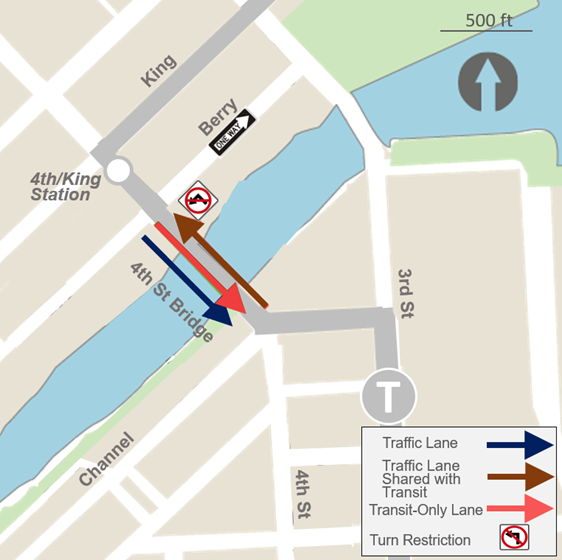 The temporary emergency transit lane southbound and the converted turn pocket northbound, were striped with white paint, text stencils (BUS/TAXI or MUNI-only) and signage, making it easily reversable if necessary. No red color was implemented as a part of this temporary installation. 
Project Timeline
The temporary project was reviewed and approved by the SFMTA Board of Directors in January 2021 and the transit lanes were installed shortly thereafter.
Implementation and Sunset Date
Authorization for the temporary emergency transit lane project called for its automatic removal within 120 days after the city's emergency order is lifted. After gathering technical data and public feedback to evaluate the project's effectiveness, the project was brought to the SFMTA Board of Directors and approved as a permanent project in September 2021. 
Outreach and Evaluation
The urgent nature of this emergency called for putting temporary measures into place, directly on the street. This accelerated approach allowed us to respond quickly to protect public health and support economic recovery while we worked with the community to evaluate and make adjustments to the temporary transit lanes as needed.
Areas of evaluation have included:
Transit performance

Traffic safety

Health and safety benefits

Neighborhood impacts and equity
In late 2020, we reached out to community-based organizations, stakeholders and neighbors in order to help shape the implementation of the 4th Street Bridge project. Based on public feedback from a variety of sources, as well as from a virtual community meeting in December 2020 and an MTA Board meeting in January 2021, we modified the initial scope of this project. Instead of installing the proposed full-time transit lane northbound, we continued to allow mixed traffic in that direction, with only the conversion of the northbound left turn pocket to a MUNI-Only lane, restricting northbound left turns. We also responded to local concerns about street and garage access for residents and businesses in the area by dropping proposed turn restrictions  at 4th and Channel Streets, and continuing to allow southbound left turns at 4th and Berry Streets.
Thanks to all who attended our Community Meeting on Thursday, July 15th, 2021 at 5pm to learn the results of our outreach and evaluation.
We continue to gather both qualitative and quantitative data to ensure that this project meets the needs of the community and transit-reliant customers of the T Third.
Nearby Work for the Central Subway
When the long-awaited Central Subway begins operation, proposed for 2022, the T Third will serve that route rather than its current path of travel, which involves a turn onto the Embarcadero and service to and under Market Street.
You can learn more and sign up for updates about the Central Subway Project here.
Bus Routes and Rail Lines