7th Street & 8th Street Safety Projects
Project Introduction
Project Update:
Boarding island installation has started and will continue on a rolling basis until they are all completed, pending weather and staff availability/capacity under COVID-19 safety guidelines. The boarding islands will be constructed at the following locations:
7th Street between Cleveland and Harrison school bus boarding island

7th Street and Harrison transit boarding island

7th and Bryant transit boarding island

7th and Brannan transit boarding island
We ask for your patience and consideration as we continue working to bring these vital safety improvements to the 7th Street corridor. General work hours will be from 7 a.m. to 5 p.m., Monday through Friday, with some weekend work as needed.
Project Overview
7th and 8th are one-way streets in the South of Market (SoMa) neighborhood running north (7th Street) and south (8th Street) as a couplet. As 7th and 8th provide access to freeway on- and off-ramps, and are part of the 19-Polk bus route, the streets' existing design presents the potential for crashes between people walking, bicycling, taking transit and driving.
With bicycle facilities already located on Market, Howard, Folsom, Brannan, and Townsend Streets, 7th and 8th are important bicycle network links, connecting people on bike to the City's south and east neighborhoods, which include destinations like the Caltrain station and Mission Bay. 
In 2016, former Mayor Ed Lee issued an executive directive on bicycle and pedestrian safety, explicitly calling for a focus on delivering near-term safety improvements on 7th and 8th streets. In 2019, Mayor London Breed further underscored the importance of building a connected network of protected bikeways to make streets safer through quick-build improvements on 7th Street.
Comprehensive traffic safety improvements were installed throughout 8th Street and parts of 7th Street between May 2017 and July 2019. The project team is now finalizing installation of additional improvements on 7th Street from Folsom Street to Townsend Street as the 7th Street Quick-Build Safety Project, connecting previous traffic safety installations to create one continuous protected biking corridor along 7th Street.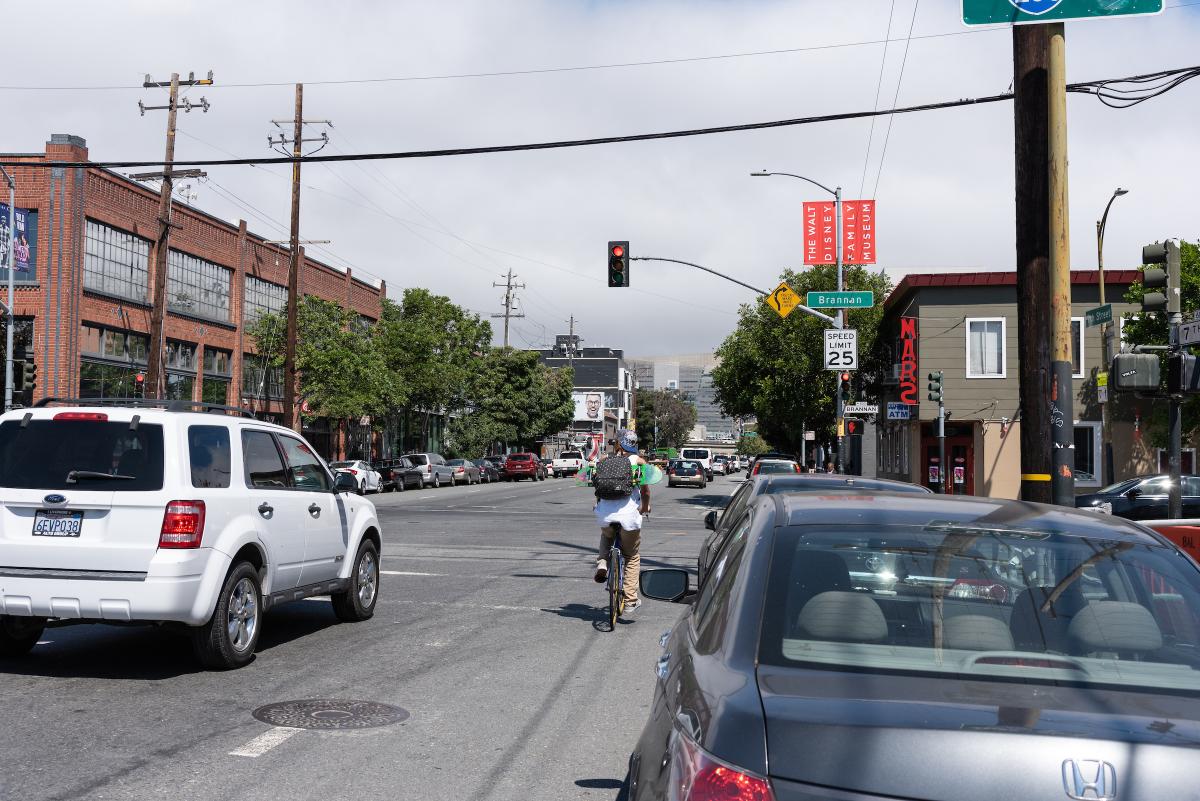 Previous conditions on 7th Street


Project Timeline
Fall 2019
Design and Community Outreach
Improvements
Leading pedestrian interval
Bus Routes and Rail Lines
Project Goals:
7th Street and 8th Street are on San Francisco's Vision Zero High Injury Network, which are the 13 percent of city streets that account for 75 percent of San Francisco's traffic crashes.
This project's main goal is to improve safety and comfort for all modes of transportation along these corridors. This project will implement targeted improvements to better facilitate the interactions of various modes and minimize the potential for conflicts.
The 7th Street and 8th Street Safety Project is in support of San Francisco's Vision Zero commitment of eliminating all traffic deaths and serious injuries.
---
Project Scope:
This project will implement quick-build bicycle, pedestrian, transit, and curb management improvements along 7th Street between Market Street and 16th Street and 8th Street between Market Street and Townsend Street.
The next set of quick-build measures (implemented through the third phase of the 7th Street Safety Project) includes the following:
Protected bikeways to increase separation for people biking and walking from moving traffic
Boarding islands to reduce potential for conflicts and improve passenger loading activities
Bus stop relocation to improve Muni transfers between the 19 Polk and 10 Townsend routes
Curb management to better facilitate commercial and passenger loading needs
Signal timing changes to provide dedicated phases for people traveling across the intersection
Travel lane reduction to encourage traveling at safer speeds
---
Previous Efforts:
7th Street & 8th Street Phase 1 Timeline:
(7th Street from Market to Cleveland Street & 8th Street from Market to Harrison Street)
July – August 2016: Conceptual Design and Environmental Review
September – October 2016: Community and Stakeholder Outreach
October 14, 2016: Public Hearing
November 15, 2016: SFMTA Board Meeting (final approvals)
March – May 2017: Construction
8th Street Phase 2 Timeline:
(8th Street from Harrison Street to Townsend Street)
August – November 2017: Conceptual Design
September – December 2017: Community and Stakeholder Outreach
January 12, 2018: Public Hearing
March 6, 2018: SFMTA Board Meeting (final approvals)
April – May 2018: Construction
7th Street Phase 2 Timeline:
(7th Street from Townsend Street to 16th Street)
June – July 2019: Conceptual Design and Community and Stakeholder Outreach
July 9, 2019: Open House & Public Hearing
July – August 2019: Construction
7th Street Phase 3 Timeline:
(7th Street from Folsom Street to Townsend Street)
September – December 2019: Conceptual Design and Community and Stakeholder Outreach
December 11, 2019: Open House & Public Hearing
May 2020 – January 2021: Construction