About SFMTA Board Meetings
The SFMTA is governed by a seven-member Board of Directors appointed by the mayor. The SFMTA Board has the authority to appoint the Executive Director, approve the budget and set agency policy. The SFMTA Board meets on the first and third Tuesday of every month at 1:00 p.m. at City Hall, Room 400, unless otherwise noted.
Watching SFMTA Board meetings
Regular SFMTA Board meetings and selected other meetings are broadcast on cable via SFGTV and streamed on the internet. Broadband service is recommended for access. The SFMTA is generally broadcast on SFGTV2, cable channel 78.
SFGTV archives of the SFMTA Board include a recording of each meeting, an agenda with links to the specific portion of the meeting, a file containing all closed captions for the deaf from the meeting and an MP3 recording of the meeting.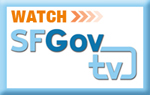 Calendar of upcoming Board meetings.
Past agendas of Board Meetings (back through 2012).
Archive of agendas of Board Meetings (earlier than 2012).