Climate Action at the SFMTA
Every day, San Franciscans are confronted with the impacts of climate change. Fires, flooding, heat waves, poor air quality; threats to the health of human beings and the planet. In 2019, city leaders declared a climate emergency to take bold and immediate action to address these threats. While San Francisco has been a leader in cutting transportation sector greenhouse gas emissions, it hasn't yet achieved the transformative change that is needed to meet the urgency of the moment.
Tackling transportation emissions will make a meaningful difference in meeting the challenge of the climate emergency. Transportation is the largest source of greenhouse gas emissions in San Francisco, and private cars and trucks produce the majority of those emissions.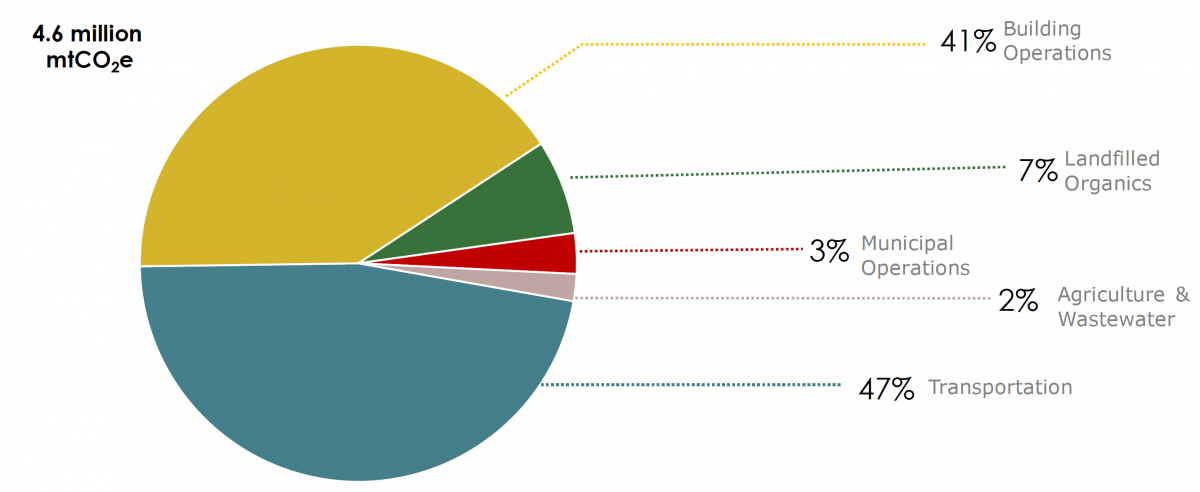 The SFMTA has taken decisive steps to address the climate crisis: 
Providing public transportation that generates less than 1% of citywide emissions while moving 700,000 passengers 

Expanding the network of protected bikeways to 42 miles 

Rapidly adding new transit-only lanes to improve transit speed and reliability 

Creating safer walking conditions by installing high visibility crosswalks at 200 intersections in a year 
But we can do better! More progress is needed for the city to meet its climate goals. By the year 2030, at least 80% of all San Francisco trips should be low-carbon trips—trips by transit, walking or biking—and by 2040 the city has a goal of net zero emissions.     
Policies that prioritize street space for public transit and active transportation are climate action policies. Climate action means making walking, rolling, and using transit cheaper, more convenient, and more attractive than driving. Helping San Franciscans transition away from reliance on cars and trucks, the largest single source of emissions in the city, means giving them better alternatives.  
Implementing these strategies will not only lead to emissions reductions, they will also create broader benefits for the community. Access to quality transportation options for everyone is key to realizing these benefits. 
Health. Better air quality, less injuries and deaths from traffic collisions, and more physical activity 

Racial Equity. The opportunity to correct past injustices caused by car-oriented development 

Economic Vitality. Expanded access to jobs, employees and businesses 
Resilience. Having a diversity of high-quality transportation options keep the city running in unexpected crises