The San Francisco Municipal Transportation Agency (SFMTA), a department of the City and County of San Francisco, is responsible for the management of all ground transportation in the city, including oversight of the Municipal Railway (Muni), as well as bicycling, paratransit, parking, traffic, walking, and taxis.
The SFMTA is governed by a Board of Directors, appointed by the Mayor and confirmed by the San Francisco Board of Supervisors. The SFMTA Board provides policy oversight, including budgetary approval, and changes of fares, fees, and fines, ensuring representation of the public interest.
Established by voter mandate in 1999, the SFMTA aggregated multiple San Francisco city agencies, including the Taxi Commission, the Department of Parking and Traffic, and the Municipal Railway (Muni).
Find out more about the origins of the SFMTA in the timeline below.
---
Launch of the Municipal Railway 1912
Muni begins service with the debut its first line, the A Geary, an electric streetcar on Geary Street. Today, San Francisco's transit agency is known as "Muni," and is recognized as the oldest publicly-operated transit system in the nation. Muni became a division of the SFMTA in March of 2000.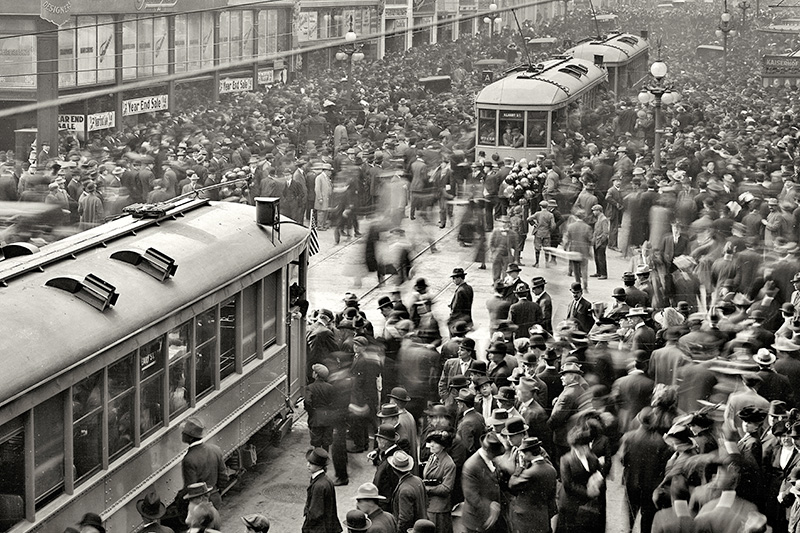 Opening day of the Municipal Railway on December 28, 1912, with a large crowd of San Franciscans on Geary Street near Grant Avenue. Image U03815 from the SFMTA Photo Archive.
---
SF Creates Parking Authority 1949
With the growth of automotive traffic in the years following World War II, the Parking Authority is established as a city department in 1949.
---
Cable Cars Join the Historic Register 1964
The iconic San Francisco cable car system and car house are listed as historically significant on the National Register of Historic Places, a testament to the hard work and unrelenting efforts of the Committee to Save the Cable Cars, established and spearheaded by Friedel Klussman beginning in 1947.
---
Muni Public Service Bureau 1973
In order to better communicate with passengers and the general public, Muni creates a Public Service Bureau, merging the role of transit information services with passenger complaints and commendations. Now, many of these functions are part of the SFMTA Customer Service Center, located at 11 South Van Ness Avenue.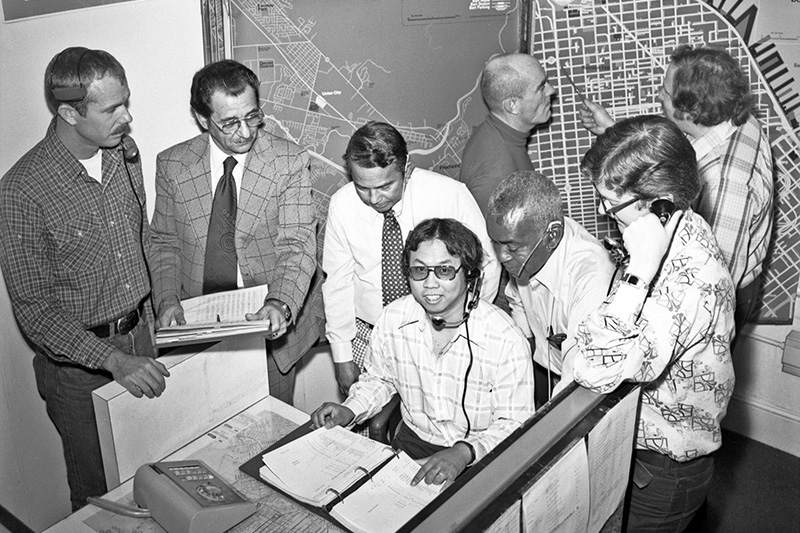 Staff of the Muni Public Services Bureau in 1977, in their office at Muni's first headquarters on Geary Boulevard at Presidio Avenue. Image M2433_2 from the SFMTA Photo Archive.
---
Regional Disabled Rider Discount Fare 1979
In early 1979, a Bay Area Regional Transit Discount Card is offered for persons with disabilities, following the creation of a regional standard discount fare in 1977, as well as the monthly-rate Fast Pass in 1974. This discount card simplifies transfers across systems, a particular need after the opening of Bay Area Rapid Transit (BART) service in the mid-1970s. Also in 1979, Muni establishes its Elderly and Handicapped Program Office. These programs eventually became today's SFMTA Regional Transit Connection Office.

Senior and handicapped Muni discount passes from the early 1980s. Image from the SFMTA Photo Archive.
---
Accessibility Advisory Committee Is Established 1980
MAAC, the Muni Accessibility Advisory Committee-- which still acts in an important advisory role to this day, now as the SFMTA Multimodal Accessbility Advisory Committee-- is established in 1980 to guide transit and infrastructure design and policies by gathering input from senior and disabled San Franciscans.
---
Parking Authority Becomes DPT 1990
The Department of Parking and Traffic (DPT) is created, incorporating the over forty-year-old Parking Authority.
---
Formation of Taxi Commission 1998
The Taxi Commission is established. Prior to its creation, regulation of taxis had been overseen by the San Francisco Police Commission, as well as other city deparments such as the Tax Collector's Office and the Department of Public Health.
---
Prop E Mandates SFMTA 1999
San Francisco voters approved Proposition E, combining Muni and the Department of Parking and Traffic under a single agency, the SFMTA. In March of 2000, SFMTA becomes a department of the City and County, replacing the Public Transportation Commission. By mid-year, Muni is officially incorporated into SFMTA management.
Passengers in a Muni Metro Station in 1999, the year the SFMTA was established. Image from the SFMTA Photo Archive.
---
SFMTA Merges with DPT 2002
The Department of Parking and Traffic is incorporated under the umbrella of the SFMTA.
---
Responsibility of SFMTA Increases 2007
SFMTA's authority over transportation and responsibility for oversight increases with the passage of Proposition A. The proposition authorizes SFMTA to issue bonds, and requires measurable standards for traffic and parking.
---
Taxi Regulation Is Added 2009
In spring of 2009, the SFMTA officially undertakes responsibility for taxi regulation, authorized by both propositions E and A. Taxi regulation becomes part of already existing programs for oversight of public transit service via Muni, as well as parking, traffic, paratransit, and cycling and pedestrian infrastructure.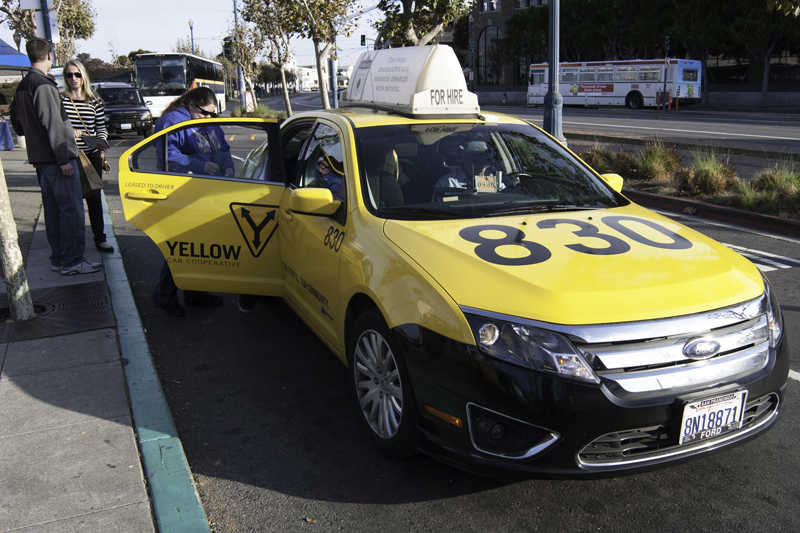 A Yellow Cab picks up passengers near Fisherman's Wharf in 2009. Image 2091107-039 from the SFMTA Photo Archive.
---
SFMTA Today
The SFMTA is responsible for robust planning, design, management, and construction projects, supporting all elements of San Francisco's transportation infrastructure. SFMTA also partners with other city and regional agencies to define long-range transportation and equity goals.
Today, Muni is the eighth largest public transit system in the nation. The agency also manages paratransit service, regulates the taxi industry, and oversees on- and off- street public parking spaces.
By performing these multiple essential functions, the SFMTA directly impacts San Francisco's quality of life and economic vitality, as well as regional efforts to achieve California's climate and sustainability goals.
Muni and SFMTA Leadership 1912 to Present Day
General Managers, San Francisco Municipal Railway (1912-2000)
From 1912 to 1932, the SF Municipal Railway (Muni) was under the Bureau of Engineering within Public Works. From 1932 to 1994, Muni was a division of the SF Public Utilities Commission (PUC). Between 1994 and 2000 Muni was overseen by the Public Transportation Commission (PTC). The managers listed below from 1994 to 2000 were officially considered to be serving as directors of the PTC.
1912 – 1917 Thomas Cashin
1917 – 1940 Frederick Boekin
1940 – 1951 William H. Scott
1951 – 1960 Charles D. Miller
1960 – 1968 Vernon W. Anderson
1968 – 1974 John M. Woods
1974 – 1982 Curtis E. Green
1982 – 1985 Harold H. Geissenheimer
1985 – 1989 William G. Stead
1990 – 1994 Johnny B. Stein
1994 – 1996 Philip H. Adams
1996 – 1999 Emilio Burton Cruz
1999 Nancy Whelan [acting]
1999 – 2000 Michael T. Burns
Executive Director, San Francisco Municipal Transportation Agency (2000-Present)
The San Francisco Municipal Transportation Agency (SFMTA) officially took over management of Muni on July 1, 2000. GM Michael Burns transitioned from his role as head of the PTC into the first Executive Director of the SFMTA. The Department of Parking and Traffic joined the agency in 2002; taxi regulation was incorporated in 2009.
2000 – 2005 Michael T. Burns
2005 – 2006 Stuart Sunshine [acting]
2006 – 2011 Nathaniel P. Ford Sr.
2011 – 2019 Edward D. Reiskin
2019 – Tom Maguire [acting] 
2019 – present Jeffrey Tumlin