Daylight Saving, Big Book Sale, Golden Gate Half Marathon and Dia de los Muertos
Thursday, November 1, 2018
Daylight Saving Time Reminder:
This Sunday, it's time to fall back one hour as Daylight Saving Time ends at 2 a.m. While most smartphones will make the time adjustment automatically, don't forget to wind those watches and clocks back one hour. This is also the time of year when collisions tend to spike as people are traveling in the dark more often. However you are traveling, remember to bring your bike lights, turn on your car lights, look for pedestrians, slow down and be safe.
Election Day Reminder:
Please remember to cast your vote next Tuesday, November 6. Check the San Francisco Department of Elections' website for polling locations and ballot information.
Events: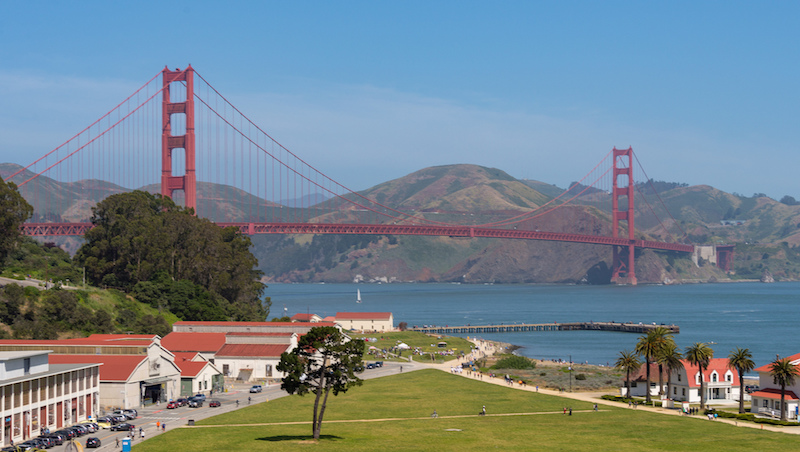 The Golden Gate Half Marathon takes runners through the Presidio and across the iconic bridge that is its namesake. Photo: xiquinhosilva/Flickr
Big Book Sale at Fort Mason
Wednesday-Sunday, 10 AM to 6 PM
Fort Mason
An iconic San Francisco tradition, the 54th Big Book Sale returns to Festival Pavilion Pier at Fort Mason with thousands of books spanning multiple genres. This multi-day event attracts people from all over the Bay Area and beyond. Categories in the sale include hundreds of cookbooks, graphic novels, literature, children's books, science fiction, mystery, LPs and more. Hardcovers, paperbacks, 1st editions, classics and best sellers can all be found and the shelves are restocked each day. As a bonus, the last day of the event, November 4th, all books will be just $1!
---
How to Get There on Muni: Riders may take the 19 Polk, 28 19th Avenue, 30 Stockton, 43 Masonic, 47 Van Ness, or the 49 Van Ness/Mission routes to near the event.
Muni Service Notes: There are no planned service changes for this event. Increased ridership is possible in the area of the event.
Dia de los Muertos (Day of the Dead) Procession
Friday, 7 to 11 PM
Mission
A tradition with roots that trace back hundreds of years, Dia De Los Muertos has become one of the city's best known cultural events and a Mission District institution. The procession, celebrating and remembering departed ancestors, will mix music, art and performances. In addition to the procession, there will be a Festival of Altars at Garfield Square from 4 p.m. to 11 p.m.
The procession will take place in the heart of The Mission District commencing at 7 p.m. from Bryant and 22nd streets moving along Bryant Street up 24th Street then across Mission Street down 22nd Street and back to Bryant Street.
How to Get There on Muni: Procession watchers and participants may utilize the 12 Folsom/Pacific, 14 Mission, 14R Mission Rapid, 27 Bryant, 48 Quintara/24th Street, 49 Mission/Van Ness, 67 Bernal Heights routes, or BART to 24th Street station.
Muni Service Note: Due to the procession route and the large number of anticipated participants, the 12 Folsom/Pacific, 14 Mission, 14R Mission Rapid, 27 Bryant, 48 Quintara/24th Street, 49 Mission/Van Ness, and 67 Bernal Heights will have re-routes.
Golden Gate Half Marathon
Sunday, 7 AM start time
Aquatic Park
Runners from around the Bay Area and beyond will descend upon the north shores of San Francisco as the sun rises this Sunday morning to take part in the Golden Gate Half Marathon and 5K. One of the few races in the city that actually takes participants across the famous bridge, the race showcases some of the most stunning views of the city and many of its iconic landmarks such as Alcatraz Island. The race will begin in Aquatic Park, take runners across the eastern walkway of the Golden Gate Bridge to Vista Point in Marin County before runners return to the city via the bridge's western walkway, passing through the Presidio and Marina before concluding back in Aquatic Park. There will be a Finish Line Festival at the conclusion of the half marathon and 5K featuring food, drinks and a beer garden.
How to Get There on Muni: Runners and spectators alike may take the Powell-Hyde Cable Car Line, 19 Polk, 22 Fillmore, 28 19th Avenue, 30 Stockton, 47 Van Ness or 49 Van Ness/Mission routes to various sections of the course.
Muni Service Notes: The 28, 30, 47 and 49 routes will have reroutes for this event. All routes in the area may see increased ridership and possible minor delays.
Remember that you can Muni the entire day for a single $5 fare. The new $5 Day Pass, available on MuniMobile®, is part of Muni's recent fare changes. The pass is intended to encourage a safe, convenient way to pay your fare and quickly board Muni vehicles, which reduces overall travel time for everyone. The $5 Day Pass is Muni bus, rail and historic streetcars only. 
"On Tap" gives you a heads up about the big events in town and what Muni routes and lines will get you to the party. Look for this feature to be posted usually on Thursdays for a look ahead to the weekend. Check out our Weekend Traffic & Transit Advisory for more details.