This Weekend: Bastille Day Festival and Sunday Streets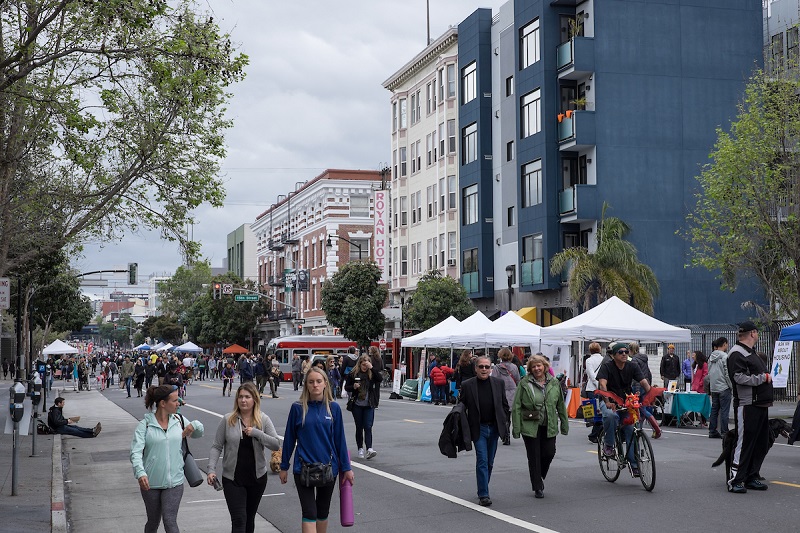 Enjoy everything Valencia Street has to offer during this weekend's edition of Sunday Streets in the Mission. Photo: SFMTA Archive
Bastille Day Festival
Saturday, 11 a.m. to 7 p.m.
Ferry Plaza
With origins in San Francisco dating back to 1880, it's not a stretch to say that the annual Bastille Day Festival is something of a tradition in the city. Bastille Day is the common name given in English-speaking countries to the national day of France, which is celebrated on 14 July each year. The French National Day is the anniversary of Storming of the Bastille on July 14, 1789, a turning point of the French Revolution, as well as the Fête de la Fédération which celebrated the unity of the French people on 14 July 1790. Here in the city, the festival will be a time to discover French cuisine, wines and crafts. There will be tours of San Francisco's French Quarter, French musicians and much more fun for the whole family.
---
How to Get There on Muni: Riders may take any Metro line to the Embarcadero, the F Market and Wharves or E Embarcadero streetcar lines, as well as the 1 California, 2 Sutter/Clement, 5 Fulton, 6 Haight/Parnassus, 7 Haight/Noriega, 9 San Bruno, 14 Mission, 14R Mission Rapid, 21 Hayes or the 31 Balboa routes to the event.
Muni Service Notes: There are no planned service changes for this event, though routes in the area may experience some increases in ridership or minor delays.
Sunday Streets: Mission District
Sunday, 11 a.m. to 4 p.m.
Mission (Valencia St.)
Sunday Streets returns to the Mission for the second time this season, this time transforming Valencia Street from Duboce Avenue in the north to 26th Street in the south into a car-free zone for all to enjoy. There will be Activity Hubs located at 16th and 24th streets, a Pop-Up Play Streets featuring sports, bubbles and family fun, as well as all the restaurants and shopping Valencia has to offer. 
How to Get There on Muni: Riders may take the 12 Folsom/Pacific, 14 Mission, 14R Mission Rapid, 22 Fillmore, 27 Bryant, 33 Ashbury/18th Street, 36 Teresita, 48 Quintara/24th Street, 49 Van Ness/Mission, 55 16th Street or 67 Bernal Heights routes to the event. 
Muni Service Notes: The 12 and 55 will have reroutes through the area. Other routes may experience increased ridership and some minor delays in the area of the event.
Remember that you can take Muni for the entire day for a single $5 fare. The new $5 Day Pass, available on MuniMobile®, is part of Muni's recent fare changes. The pass is intended to encourage a safe, convenient way to pay your fare and quickly board Muni vehicles, which reduces overall travel time for everyone. The $5 Day Pass is Muni bus, rail and historic streetcars only.
"On Tap" gives you a heads up about the big events in town and what Muni routes and lines will get you to the party. Look for this feature to be posted usually on Thursdays for a look ahead to the weekend. Check out our Weekend Traffic & Transit Advisory for more details.