This Weekend: Bay to Breakers Brings Competition, Costumes and Traffic Closures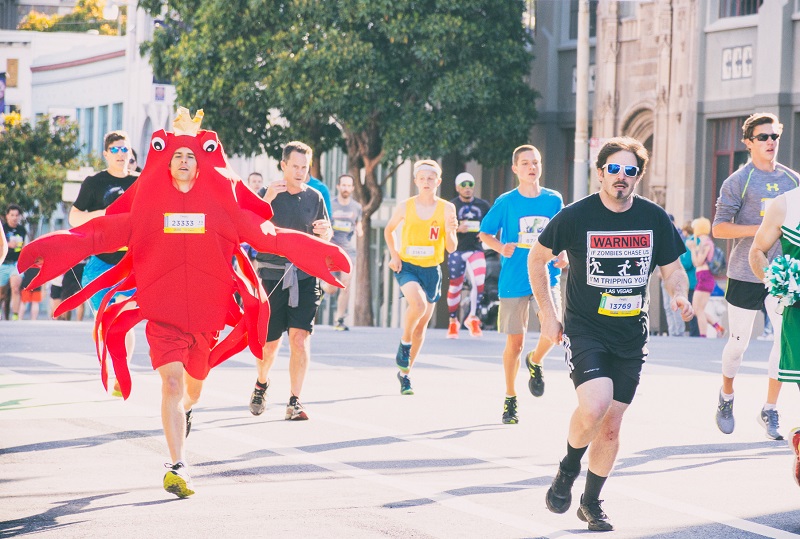 Participants at Bay to Breakers 2016. Photo: David Goehring/Flickr
Bay to Breakers
Sunday, 8 a.m. to 3 p.m.
SoMa to Ocean Beach
It's that time of year again: The annual Bay to Breakers 12K race through the city is this Sunday. First held on January 1, 1912 as one of many events designed to lift residents' spirits after the 1906 earthquake, the race and unofficial costume parade has become a San Francisco staple as unique as the city itself.
Runners and walkers will start the route at Howard at Main streets in SoMa before setting off to traverse the iconic Hayes Street Hill and Golden Gate Park to Ocean Beach.
How to Get There on Muni
Pre-Race Service: Extra service will begin at 6 a.m. in the Muni Metro subway and on the NX Express, 5R Fulton Rapid, 38R Geary Rapid and the N Judah..
Post-Race Service: From 8 a.m. to 2 p.m., extra service will be provided on the N Judah Line and the NX Express, 5X Fulton Express, 7 Haight/Noriega and 29 Sunset routes.
For complete details on extra service, please visit our Bay to Breakers Express Service page.
Muni Service and Traffic Impacts
Major traffic and Muni impacts across the city on Sunday will start as early as 5 a.m. and end as late as 4 p.m. For full details, please visit our Bay to Breakers Service Alert page.
Sunday morning and afternoon: Numerous Muni routes will be rerouted for the race across the city. For full details, please see the Transit Impacts section of our Bay to Breakers Service Alert page.
Starting Saturday at 6 p.m.: Due to event setup, there will also be reroutes near the start and finish lines on the 5, 7, 18, 25 and 38/38R routes.
For region-wide Bay to Breakers transportation information, please visit our partner transit agencies' websites: BART, SamTrans, Caltrain, Golden Gate Ferry, AC Transit as well as 511.
J Church and K Ingleside Service Changes Update
Due to construction for the Balboa Park Station Area and Plaza Improvement Project, temporary stop changes are in effect for the J Church and K Ingleside lines at Balboa Park Station.
Beginning Saturday, May 20, the K will resume regular service at all stops near Balboa Park Station. The J will continue to serve alternate stops on San Jose Avenue until the fall.
For details, please visit our Green Light Rail Center Track Replacement Project page.
Van Ness Construction Reminder
All left turn lanes on Van Ness Avenue have been removed with the exceptions of those at Broadway (southbound), Lombard Street (northbound) and temporarily at Hayes Street (northbound).
Van Ness traffic lanes have been reduced from three to two on these segments:
Northbound from Post to Filbert Street
Southbound from Filbert to Washington Street
For complete details on these changes, please our Van Ness Improvement Project page.  
On Tap" gives you a heads up about the big events in town and what Muni routes and lines will get you to the party. Look for this feature to be posted usually on Wednesdays for a look ahead to the weekend.