This Weekend, Enjoy the Dickens Fair and a Pilgrimage March
Wednesday, December 7, 2016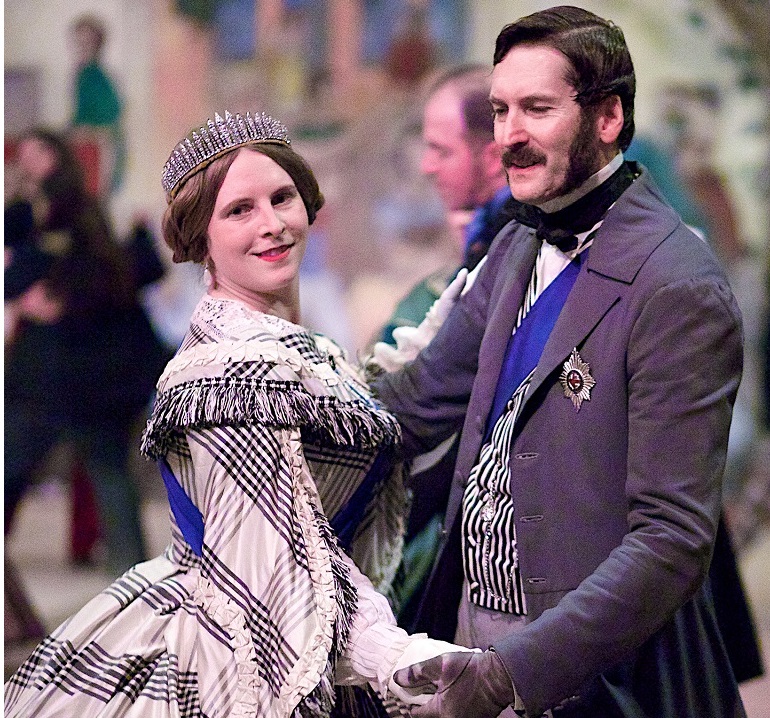 The Great Dickens Christmas Fair on November 22, 2014. Photo: --Mark--/Flickr
Dickens Fair
Now through December 18 (weekends only)
Cow Palace
It's that time of year when of the Cow Palace is once again transformed into Victorian era London, England for the Great Dickens Christmas Fair. Whether it is your first experience or your umpteenth, there is always a great adventure to be had.
A local holiday tradition since 1970, visitors will walk the streets and alleys of "London Town" as the colorful characters and writings of Charles Dickens come to life. Performers, in period costumes, will sing holiday favorites and recite pieces of classic Dickens literature on seven stages and in the "streets". The smell of roasted chestnuts will fill the air while the cries of street vendors will surely take you back to a bygone era.
The 8 Bayshore and 9 San Bruno routes will take fair goers to the Cow Palace for all the holiday merriment.
Muni service note: No Muni service will be affected by this event.
Cruzada Guadalupana
Saturday, 6 a.m.
South San Francisco to St. Mary's Cathedral, via Mission Street and Van Ness Avenue
The Guadalupana Pilgrimage will begin in South San Francisco at 6 a.m. and will cross into San Francisco at Mission Street and Sickles Avenue at around 9:30 a.m. The procession will culminate at St. Mary's Cathedral on Gough Street and Geary Boulevard.
The march will take place on the sidewalk and in one northbound lane on Mission Street from Sickles Avenue to 14th Street. From 14th, the march will turn north onto South Van Ness Avenue across Market Street and proceed up Van Ness Avenue west onto Ellis Street, making its final turn onto Gough ending at the cathedral.
For those wishing to partake in the pilgrimage or the special mass at St. Mary's, you can take either the 14 Mission, 14R Mission Rapid, 38 Geary, 38R Geary Rapid, 47 Van Ness, and 49 Van Ness/Mission.
Muni service note: the 14 Mission, 14R Mission Rapid and 49 Van Ness/Mission will have re-routes. The 8 Bayshore, 12 Folsom/Pacific, 22 Fillmore, 23 Monterey, 24 Divisadero, 27 Bryant, 29 Sunset, 36 Teresita, 38 Geary, 38R Geary Rapid, 43 Masonic, 44 O'Shaughnessy, 47 Van Ness, 48 Quintara/24th Street, 52 Excelsior, 54 Felton and 55 16th Street may experience minor delays.
Van Ness Construction Reminder:
All left turn lanes on Van Ness Avenue have been removed with the exceptions of those at Broadway (southbound), Lombard (northbound), and temporarily at Hayes (northbound).
In addition to the left turn removals, there will be a re-configuration of traffic lanes from three to two lanes in both directions.
For complete details on these changes, please revisit our November 4 blog post.
Ocean Avenue Construction Reminder:
Eastbound Ocean Avenue between Geneva and San Jose avenues now closed until mid-December due to the Balboa Park Station Area and Plaza Improvements project. As a result of the partial street closure, three 29 Sunset and 49 Van Ness/Mission stops have been temporarily relocated.
For complete details on the stop relocations and traffic detours, please visit the project's service alert page.
Temporary J Church and K Ingleside Service Changes Reminder:
Due to Balboa Park Station Area and Plaza Improvement construction work, there are now temporary stop changes in effect for the J Church and K Ingleside lines at Balboa Park Station. These stop changes will be in place through the end of the year. For details, please read our September 1 blog post.
"On Tap" gives you a heads up about the big events in town and what Muni routes and lines will get you to the party. Look for this feature to be posted usually on Wednesdays for a look ahead to the weekend.