This Weekend: Glen Park Festival and DogFest
Wednesday, April 24, 2019
Events: This weekend will be packed with fun, sometimes eclectic events all around the city that should ensure that there's a little something for everyone. Starting this Friday and lasting throughout the weekend, Fort Mason will host Art Market San Francisco, the Bay Area's premier art fair. Also over the course of the weekend, the Giants will host the New York Yankees for some interleague baseball action. Saturday is for the dogs when McKinley Elementary School DogFest fundraiser returns for a 12th year to Duboce Park. Sunday along the northern waterfront from Crissy Field to Pier 39 will showcase a wide range of historic boats during the 102nd annual Opening Day on the Bay, which marks the official opening of the 2019 boating season. Lastly, art, food, drinks and live music return to Glen Park on Sunday for the 21st annual Glen Park Festival. Read more about our featured events below.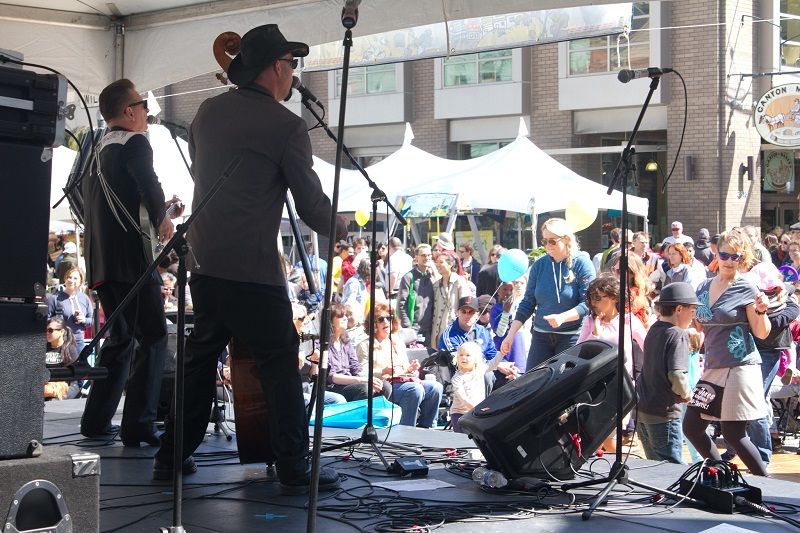 Multiple local bands will grace the stage during this Sunday's Glen Park Festival. Photo: moppet65535/Flickr
DogFest 2019
Saturday, 11 a.m. to 4 p.m.
Duboce Park
What better way to raise money for children than by having a big dog party in the park? DogFest is a celebration of dogs and kids that benefits McKinley Elementary School, a K-5 public school at Castro and 14th Streets. Taking place at Duboce Park, the day will feature a silent auction, fun and games for kids, a dog show and much more. 
---
How to Get There on Muni: Parents, kids and dogs (be sure to pay the extra fare for your furry friend and follow Muni's pet policy) can take the N Judah Line, 6 Haight/Parnassus, 7 Haight/Noriega, 22 Fillmore  24 Divisadero or the 37 Corbett routes to near the park.
Muni Service Notes: There are no planned service changes for this event, though service in the area may see minor delays and increased dog ridership.
Glen Park Festival
Sunday, 10 a.m. to 4:30 p.m.
Glen Park
While the official festival wasn't established until 1997, the residents of Glen Park marked their first all-neighborhood gathering 90 years ago in 1911! In its current incarnation, the spirit of celebrating the plethora of artists, musicians, and craftspeople in the community has continued in the form of the Glen Park Festival which returns this Sunday for a day of music, food, art and fun. Along with the community-building aspect of the festival comes its contributions to children's programs located in the neighborhood which, to date, total tens of thousands of dollars ($25,000 in 2014 alone!). You don't need to live in Glen Park to enjoy this event and you'll find the residents are always happy to welcome newcomers to the neighborhood.
How to Get There on Muni: Riders may take the J Church Line, 23 Monterey, 35 Eureka, 36 Teresita, 44 O'Shaughnessy, or the 52 Excelsior routes to near the festival.
Muni Service Notes: The 35, 36, and 52 routes will have reroutes around the area of the event which could cause minor delays. Other routes in the area may also see minor delays and increased ridership. 
Remember that you can take Muni for the entire day for a single $5 fare. The new $5 Day Pass, available on MuniMobile®, is part of Muni's recent fare changes. The pass is intended to encourage a safe, convenient way to pay your fare and quickly board Muni vehicles, which reduces overall travel time for everyone. The $5 Day Pass is Muni bus, rail and historic streetcars only.
"On Tap" gives you a heads up about the big events in town and what Muni routes and lines will get you to the party. Look for this feature to be posted usually on Thursdays for a look ahead to the weekend. Check out our Weekend Traffic & Transit Advisory for more details.