This Weekend: Golden Gate Kennel Club Dog Show and Walk for Life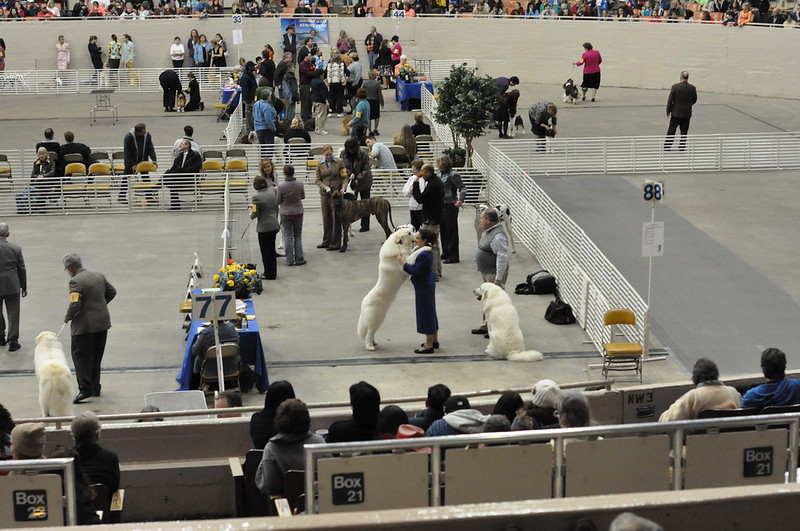 The Cow Palace will be for the dogs this weekend at the annual Golden Gate Kennel Club Dog Show. Photo: Flickr/aforonda
Golden Gate Kennel Club Dog Show
Saturday and Sunday, 8 a.m. to 5 p.m.
Cow Palace
The Golden Gate Kennel Club Dog Show returns this weekend to the Cow Palace and will feature 1,000 dogs from over 100 different breeds competing in the largest benched dog show on the West Coast. Anyone attending this event can meet and get to know the dogs (and their owners!) The show will have special benches organized by breed where you can learn more about the dogs, get training tips and more.
How to Get There on Muni: Riders may take the 8 Bayshore or the 9 San Bruno routes to the Cow Palace for this event.
Muni Service Notes: There are no planned service changes for this event.
Walk for Life
Saturday, 12:30 p.m.
Market Street East of Civic Center
The annual Walk for Life, which draws thousands of participants each year, will begin at 12:30 p.m. with a rally in the Civic Center/UN Plaza. At 1:30 p.m., the walk will move east on Market to Justin Herman Plaza.
How to Get There on Muni: Anyone interested in attending the march can get to the Civic Center via any Muni Metro line to Civic Center station, the F Market and Wharves Line, as well as the 6 Haight/Parnassus, 7 Haight/Noriega, 9 San Bruno, 14 Mission/14R Mission Rapid, 19 Polk or the 21 Hayes routes.
Muni Service Notes: The F Market and Wharves Line as well as the 1 California, 2 Clement, 5 Fulton, 6, 7, 8 Bayshore, 9, 10 Townsend, 12 Folsom/Pacific, 14/14R, 19, 21, 27 Bryant, 30 Stockton, 31 Balboa, 38 Geary/38R Geary Rapid, and 45 Union/Stockton routes will have reroutes during this event. Delays and extended wait times may be possible during the event.
Remember that you can take Muni for the entire day for a single $5 fare. The new $5 Day Pass, available on MuniMobile®, is part of Muni's recent fare changes. The pass is intended to encourage a safe, convenient way to pay your fare and quickly board Muni vehicles, which reduces overall travel time for everyone. The $5 Day Pass is Muni bus, rail and historic streetcars only.
"On Tap" gives you a heads up about the big events in town and what Muni routes and lines will get you to the party. Look for this feature to be posted usually on Thursdays for a look ahead to the weekend. Check out our Weekend Traffic & Transit Advisory for more details.