This Weekend: Holiday Vibes Spread Across the City
Wednesday, November 28, 2018
Weekend T Third Line Bus Substitutions:
In anticipation of the new Golden State Warriors' Chase Center and the growth in jobs, housing, healthcare and retail in the Mission Bay, the SFMTA is constructing a new center platform along Third Street between South and 16th streets. This weekend beginning Friday, November 30 at 7 p.m. through early Monday, December 3, continuing work on the platform will again require bus substitution on a portion of the K/T: K Ingleside/T Third Line. K Ingleside trains will operate from Balboa Park to Embarcadero Station. T Third buses will travel from Spear & Market to Bayshore Boulevard and Sunnydale Avenue. For more information please check out our project page.
Events: There will be plenty of fun, holiday-themed activities this weekend all around the city. Saturday will feature the Union Street Fantasy of Lights in Cow Hollow, Dogpatch will host a holiday block party, cyclists can race (and shop) for a good cause beginning on the Embarcadero during the Supermarket Street Sweep, and the Italian Christmas Market opens up for the weekend at Fort Mason. Read more about our featured events below.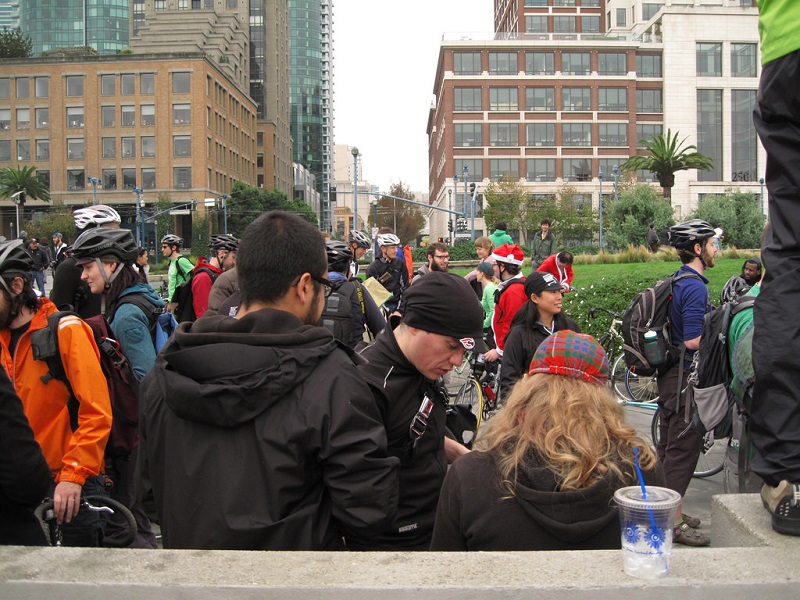 Cyclists assemble at the starting line for the 2010 Supermarket Street Sweep to benefit the SF-Marin Food Bank. Photo: meligrosa/Flickr
Supermarket Street Sweep 
Saturday, 10:30 a.m. to 4 p.m.
Embarcadero
The annual Supermarket Street Sweep returns to the Embarcadero for its 13th year in support of the San Francisco-Marin Food Bank. Over its history, close to 2,000 participants in total have biked around the city to local supermarkets and brought back over 87,000 pounds (more than 43 tons!) to date to donate to the SF-Marin Food Bank. Anyone interested in contributing to this great cause is invited to bring a backpack, bag, crate or whatever they normally use to carry groceries while on their bike, whatever amount of cash is comfortable (for the shopping portion, of course), and to be prepared to race around town in support of needy local families.
---
How to Get There on Muni: If you aren't riding a bike to the starting line, the E Embarcadero Line, K Ingleside/T Third or N Judah lines will take riders close to the race start on Embarcadero at Folsom. Additionally, riders may take any of the Market Street bus routes, the 14 Mission or 14R Mission Rapid routes to their respective terminals in downtown near the Embarcadero.
Muni Service Notes: There are no planned service changes for this event.
Union Street Fantasy of Lights
Saturday, 3 to 7 p.m.
Cow Hollow
An annual tradition in the Cow Hollow neighborhood, Saturday's Union Street Fantasy of Lights celebrates the arrival of the holiday season as its beautiful Victorian homes are adorned with festive decorations and thousands of holiday lights. Stretching along Union Street between Van Ness Avenue and Steiner Street as well as along Fillmore Street between Union and Lombard streets, the festival will also feature horse-drawn carriage rides from 3-5:30 p.m., ponies dressed up as Santa's reindeer (the real ones are busy preparing for a busy night later in the month!), live entertainment and much more for young and old and everyone in between. 
How to Get There on Muni: Riders may take the 19 Polk, 22 Fillmore, 28 19th Avenue, 30 Stockton, 43 Masonic, 45 Union/Stockton, 47 Van Ness, 49 Van Ness/Mission or the 76X Marin Headlands Express routes to the Cow Hollow area.
Muni Service Notes: There are no planned service changes for this event, though routes in the area may see higher than usual ridership or minor delays near Union or Fillmore streets due to increased pedestrian activity.
Remember that you can take Muni the entire day for a single $5 fare. The new $5 Day Pass, available on MuniMobile®, is part of Muni's recent fare changes. The pass is intended to encourage a safe, convenient way to pay your fare and quickly board Muni vehicles, which reduces overall travel time for everyone. The $5 Day Pass is Muni bus, rail and historic streetcars only.
"On Tap" gives you a heads up about the big events in town and what Muni routes and lines will get you to the party. Look for this feature to be posted usually on Thursdays for a look ahead to the weekend. Check out our Weekend Traffic & Transit Advisory for more details.