Weekend Marathons, Giants Baseball and BART Station Closure
Regional Transportation Alert:
Select weekend BART closures between Daly City and Glen Park stations begin this Saturday and run until October 16. Muni will be providing free shuttle service and extra service on several routes. For details, check out our July 18 blog post.
Events: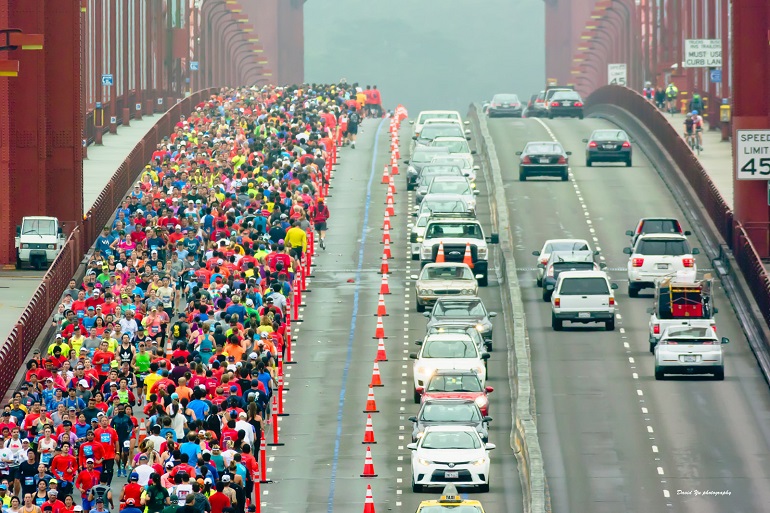 Runners crossing the Golden Gate Bridge during the San Francisco Marathon on July 26, 2015. Photo credit: David Yu/Flickr
In addition to Giants baseball and the San Francisco Marathon, the Up Your Alley Fair takes place on Sunday, 11 a.m. to 6 p.m., in SoMa (the 9 San Bruno, 12 Folsom/Pacific, 27 Bryant, and 47 Van Ness routes will be affected). After a successful inaugural campaign, Public Works kicks off a new season of Art Night SF in UN Plaza this Friday from 5 to 9 p.m. Make sure you stop by to enjoy some art, food, music and more.
Giants Baseball
Thursday through Sunday, various times
AT&T Park
After a less than stellar road trip to start the second half of the season, the Giants are back in China Basin looking to regain their mojo. Starting tomorrow the Giants welcome the National League East's best team, the Washington Nationals for a four game set.
If you're planning on heading out to the ballpark, let Muni take you to AT&T Park. Service on the N Judah, T Third, E Line, 10 Townsend, 30 Stockton, 45 Union/Stockton, and 47 Van Ness will get you to or near 24 Willie Mays Plaza.
For complete details on taxis, biking, and parking during baseball season, visit our service alert page.
Spend more time cheering for the Giants and less time in line by purchasing your Muni fare in advance through MuniMobile.
Muni service note: Muni Metro will provide additional ballpark shuttle trains to assist fans with both pre- and post- game service. Patrons should expect minor service delays near the ballpark due to heavier pedestrian and vehicle traffic.
SF Marathon
Sunday, 5:30 a.m.
The Embarcadero
Thousands of runners will take to the streets this Sunday for the San Francisco Marathon. The marathon event is actually comprised of five different races: a full marathon, two half marathons, a 5K run, and the ultramarathon which is two full marathons. The race courses will take runners through many of the city's neighborhoods including the Mission, the Haight-Ashbury, Dogpatch, Golden Gate Park and out along the bay. Once runners have crossed the finish line, there will be a post-event festival along The Embarcadero.
You can take the Muni Metro Subway to Embarcadero Station to congratulate runners as they cross the finish line and then partake in the post-race festival. Numerous Muni bus routes will take you to different segments of the various races throughout the city.
Muni service note: the E Embarcadero, 6 Haight/Parnassus, 7 Haight/Noriega, 22 Fillmore, 24 Divisadero, 28 19th Avenue, 29 Sunset, 33 Ashbury/18th Street, 37 Corbett, 43 Masonic, 44 O'Shaughnessy, 48 Quintara/24th Street, 55 16th Street and Metro Owl routes will have re-routes. Other service routes along the race courses may see minor delays and increased ridership. F Market streetcars will operate on Market Street only.
On Tap for next week: Outside Lands Music Festival and the Nihonmachi Street Fair
"On Tap" gives you a heads up about the big events in town and what Muni routes and lines will get you to the party. Look for this feature to be posted usually on Wednesdays for a look ahead to the weekend.Check out our Weekend Traffic & Transit Advisory for more details.