This Weekend: Root for the Giants, Remember Cesar Chavez, and Discover Glen Park
Wednesday, April 20, 2016
Service Improvements:
This Saturday, Muni's latest round of service improvements will go into effect. For details on which routes will be affected, please see the Muni Forward page.
Subway Service Alert:
The Muni Metro subway will open as regularly scheduled this weekend: Saturday at 6 a.m. and on Sunday at 8 a.m.
Ocean Avenue Plaza:
This weekend, sewer work for the new Unity Plaza along Ocean Avenue, near City College will require the bus terminal to be closed. The 8 Bayshore and 49 Van Ness will us the 43 Masonic stop in front of the old CCSF book store on Phelan Avenue. For more project details, please visit www.sfmta.com/unityplaza. 
Events: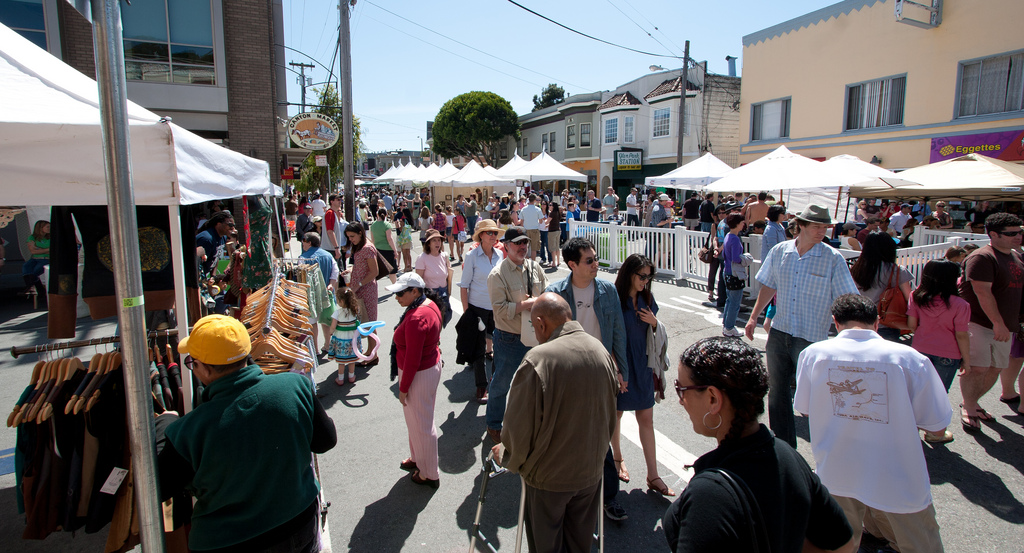 Merchants and visitors enjoying a pleasant, sunny afternoon at the Glen Park Festival on May 1, 2011. Photo credit: Moppet65535/Flickr.
Giants Baseball
Now thru April 27
AT&T Park
In the midst of a 10-game home stand, the Giants continue their series with the Arizona Diamondbacks tonight at 7:15 p.m. with a matinee game tomorrow at 12:45 p.m. Then the G-men will play host to the Miami Marlins followed by the San Diego Padres for three games apiece.
Heading to any of these games?  Let Muni take you to AT&T Park. Service on the N Judah, T Third, 10 Townsend, 30 Stockton, 45 Union/Stockton, and 47 Van Ness will get you to or near 24 Willie Mays Plaza.
For complete details on taxis, biking, and parking during baseball season, check-out our service alert page.
Remember, you can save yourself some extra time by purchasing your Muni fare in advance through the MuniMobile app.
Muni service note: Muni Metro will provide addition ballpark shuttle trains to assist fans with both pre- and post- game service. Expect minor service delays near the ballpark due to heavier pedestrian and vehicle traffic.
Cesar Chavez Parade & Festival
Saturday, 11 a.m. to 6 p.m.
Mission District
Nearly a quarter century after his passing, Cesar Chavez continues to inspire and influence. Aiming to keep his message of labor solidarity and social justice alive, the Cesar Chavez Festival will celebrate his life, legacy and activism.
This year's festivities will begin with a parade. Starting near Dolores Park, the parade will head down 19th Street turn onto Mission Street and end at 24th and Folsom streets. The accompanying street fair featuring arts and crafts, music, sidewalk sales and a classic car show will be held on 24th Street between Folsom and Bryant streets.
Public transportation will be your best option. Muni service on 12 Folsom/Pacific, 14 Mission, 14R Mission Rapid, 27 Bryant, 48 Quintara/24th Street, 49 Mission/Van Ness, and 67 Bernal Heights will get you close to the celebration.
Muni service note: Due to street closures the 12 Folsom/Pacific, 14 Mission, 14R Mission Rapid, 48 Quintara/24th Street, 49 Mission/Van Ness, and 67 Bernal Heights will have service adjustments.
Glen Park Festival
Sunday, 10 a.m. to 4:30 p.m.
Glen Park
Since 1997, the Glen Park Festival has evolved into a popular, community supported family friendly event that promotes the very best of Glen Park's eateries, artisans and musicians. A children's entertainment area will feature a jumpy house, story time and fire trucks — not to mention puppet making and a visit by the tooth fairy.
Parking in the area will be limited, so consider taking public transportation. Muni service on the J Church Line, 23 Monterey, 35 Eureka, 36 Teresita, 44 O'Shaughnessy and 52 Felton routes will take you into Glen Park.
Muni service note:  the 35 Eureka, 36 Teresita and 52 Felton routes will have re-routes, while other service routes may see an increase in ridership.
Winter Storm Information:
The Department of Emergency Management has prepared a Comprehensive Guide to Everything El Niño in order to prepare and assist people on what to know and what to be aware of during the storms. We've been preparing for months and know you'll want to plan your trip before you head out into inclement weather. Sign up for Muni Alerts to get real-time service updates on your most used Muni routes and lines.
On Tap for next weekend: Urban Air Market, How Weird St. Faire, Sunday Streets: Bayview
"On Tap" gives you a heads up about the big events in town and what Muni routes and lines will get you to the party. Look for this feature to be posted usually on Wednesdays for a look ahead to the weekend.